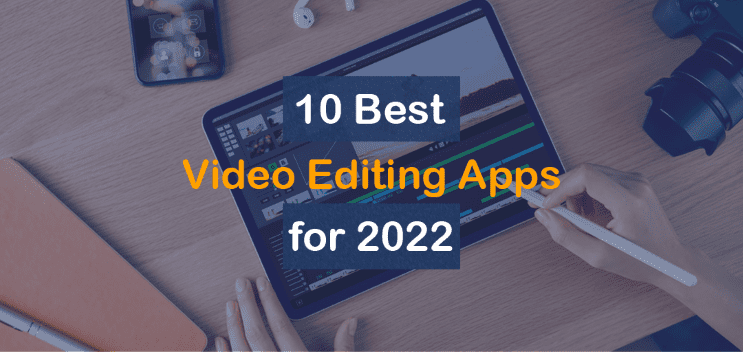 When developing a successful video marketing plan, using a video editing application is vital. Moreover, if you're reading this blog article, chances are you already know that you should include more video content into your marketing efforts, particularly in light of the development of remote working. However, as with most innovative techniques, you'll need to demonstrate its effectiveness before receiving funding. And that may not be easy since, to create a beautiful film, you'll need a few tools, such as a camera and video editing software.
Although your smartphone may already have a high-quality camera built-in, editing your raw video and preparing it for publishing will need the use of third-party mobile software to be effective. You may even be required to use a computer to complete the more active post-production jobs for the more active post-production jobs. If you're reading this, there's a high chance you already have video editing software on your computer. For example, movie Maker is the app for Windows, whereas iMovie is for Macs. However, it is possible that these alternatives may not provide adequate functionality, depending on the aim of your film and the content channel through which you want to distribute it.
The good news is that you can download various free and low-cost video editing applications that range from very basic to Hollywood-level capabilities.
Features that are included in most video-editing apps
Even though every editing app will be different, there are a few characteristics that you should search for. Because most applications will have both a free and a premium edition, it's crucial to understand what features are necessary and which features may be worth upgrading to.
Check that you can do the following tasks without having to pay for a premium version:
You may import movies and photographs from your camera or record videos and photos directly from the app.
While you're editing the video, go back and forth through it.
Music should be added to the video.
Select an aspect ratio that is compatible with your intended platform (Instagram, Facebook, YouTube, Vimeo, and so on).
Export video at a resolution of at least 480p.
Depending on your device, you may save the video to your camera roll or the app's cloud storage service.
At a bare minimum, provide text and popular shapes.
Increase or decrease the speed of the video by 1-2X.
The following are examples of premium features that you may encounter:
Stickers, filters, gifs, and typefaces that are one-of-a-kind
Transitions between pictures that are professional-looking
Premium music selections as well as high-quality stock film
Exports of high-definition images (720p, 1080p, or 4K)
Technologies like layering, masking, and green-screen detection are used.
Editing with several tracks and timeframes
Extreme speeding up and slowing down of the film (>4X) create the effect.
There is no branding watermark.
The options listed below may assist you in creating video magic, whether your video is intended for Instagram, YouTube, or another social media channel where your audience is eager for new material. To discover more about a certain app, click on one of the links below, or continue reading to learn about them all.
Magisto
Video automation has arrived in the shape of the Magisto video editor, which can be downloaded for free. Magisto, which Vimeo owns, enables you to create beautiful films without ever having to leave your smartphone in three simple steps: The first step is to decide on your video editing style (which corresponds to the sort of tale you're telling), after which you'll choose the photographs and video clips you'd want to add, and finally you'll select your music from Magisto's onboard music collection.
Artificial intelligence (AI) is used by this user-friendly tool to assist you in organizing your footage into a film that effectively conveys the message you have in mind. Why not just use the free version for now? You may pay a modest monthly charge to upgrade to Premium or Professional status, which will allow you to create longer videos with more of your material.
Pros
Templates that are simple to utilize for hassle-free development
The UI is simple and user-friendly, even for beginners.
Laptops running both Windows and Mac OS may be programmed using the online version.
Professional and business strategies are important. come with a free one-year membership to Vimeo Pro
Cons
Unless you pay Premium, the "Created with Magisto" watermark will be shown on your work.
There is no multi-track editing or 4K exporting available.
Ideal for short social media films (less than 3 minutes in length).
Stock videos are only available to subscribers of the Professional plan.
Hyperlapse
Hyperlapse is an app developed by Instagram that condenses recordings into short, hyper-speed films shared on social media platforms such as Instagram and Facebook. It is possible to choose from several various speeds, and the app will display how long the hyperlapse movie will be at each speed in contrast to the length of the video in real-time. For example, when viewed at 6X speed, a 40-second movie in real-time becomes around a 7-second video in Hyperlapse. Photographing something that generally lasts a long time, such as a sunset or an event setup, is a fantastic way to capture the moment. The video above shows what occurred when I used Hyperlapse to shoot sunrise at 12X speed.
Pros
Process movies may be accelerated.
The software has a simple interface virtually equivalent to the iPhone camera. You may record films directly from the app.
To get started, there is no need to sign in.
Cons
It only has one function: it can accelerate videos.
You will not be able to import videos that have already been recorded into the app.
The movie is saved to your camera roll, consuming valuable storage space.
There is no multi-track editing, no 4K exporting, and additional functionality generally associated with video editing apps.
Wondershare Filmora
Wondershare Filmora is an excellent choice if you want to get started with basic video editing capability while still having the flexibility to progress to more complex features as you gain experience. The app is ideal for Instagram, but it can also be used to make films suitable for various other networks. Filmora is accessible for both Windows and Mac PCs, while the FilmoraGo mobile app is available for both iOS and Android smartphones and is completely free to use.
Using Filmora's "Easy Mode," you can quickly and easily drag and drop video segments, add music, and create a polished film in minutes rather than hours or days. Many of these tools are available in the FilmoraGo app, as well as an Effect Store, which allows you to add pre-made intros, themes, and transitions into your video creations. Sounds too good to be true. You're correct: With the free version of Wondershare Filmora, your films are marked with a watermark, which can only be removed by subscribing to their commercial service.
Pros
A powerful tool for video editors of all levels, from beginners to experts.
With the PC version, you can do multi-track editing and more standard video editing functions.
The mobile edition contains simple-to-use effects, stickers, and filters that can be used on any device.
In the mobile app, you may layer music and various noises together.
Compared to rivals such as Adobe, Filmora X is quite inexpensive (beginning at less than $50 per year for Filmora X and free for the mobile version).
Cons
Although the desktop applications are not free, a trial version is available.
Unless you subscribe to a premium subscription, all of your videos will be watermarked with the Wondershare logo.
InShot
It is possible to edit a video without using any special effects or elaborate collages. This is made possible by InShot, a convenient app that allows you to cut, speed up, and add music and effects to videos. It's elementary, but it's also quite simple to use, which is a plus. In addition, you may choose to include or exclude a backdrop. However, we believe it's amazing to overlay photos as we did in the example movie above.
I started with a basic video of a peaceful beach scene, which I improved using InShot's "warm filter" and then added a suitable audio track to it – a song by Kalani called "Pikake Stream." (I urge that you watch the film in its entirety with headphones, especially if you're having a very stressful day.)
Pros
This is a fantastic app for novices and marketers who don't have much spare time to devote to video editing.
A built-in music library with possibilities for using royalty-free music
You have the option of adding voice overs and your music to your video.
The app has received a 4.8-star rating on the Apple Store and over 1 million reviews.
Cons
There is no desktop application available.
Filters and stickers are only accessible to subscribers who have paid for them.
Unless you upgrade to the premium version, your video will have a watermark over it.
VideoShow
VideoShow enables you to edit video footage in various innovative ways that go beyond just cutting and pasting clips together on a timeline. For example, adding text overlays, stickers, music, filters, and sound effects to your film using the award-winning software with more than 400 million users worldwide is possible. In part because of these capabilities, it is well suited for duplicate videos removal who wish to inject a little more creativity into their video blog (vlog) series, which typically consist of one person speaking directly to the camera.
Pros
The software is simple yet quite powerful, with HD outputs accessible for free users.
A large and diverse music collection.
Cons
If you are not using the premium version of VideoShow, your video will be watermarked with the company's logo.
You won't export the video until you upgrade to the premium version.
PowerDirector
This powerful video editor comes with a set of creative design options exclusive to Android and PC users. The app, which CyberLink developed, allows you to make 4K-quality films from footage captured by various devices. Some of the more unique features include motion tracking, which allows you to focus on specific subjects in each frame; video collages, which allow you to piece together a collection of still photos to create a motion video; and video stabilization, which allows you to eliminate instances of "shaky camera" in your footage. PowerDirector can also assist you in adding voice overs and innovative sound effects to your videos via the use of a chroma key.
PowerDirector's functions are available for free via the PowerDirector for Android application. However, if you're looking for a more extensive set of editing tools, you may purchase one of CyberLink's premium apps, which starts at $99.
Pros
Green screen editing, motion graphics, and keyframe controls are just a few of the many tools available.
Compared to rivals such as Adobe Multi-track editing and timelines, this is an incredible bargain.
The firm continually updates its library of pictures and templates to provide consumers with a greater selection.
Cons
Some users have complained that it might be glitchy at times.
For newcomers, there is a steep learning curve.
Quik
Since GoPro launched, Quik has been the software of choice for users who edit film captured by their GoPro camera. However, it is capable of editing material from any source. When working on a project, the app can handle up to 75 photos and video clips simultaneously, and it can even sift through this material to assist you in making intelligent editing selections depending on what the app identifies in the footage. Quik may modify your media in various imaginative ways, ranging from time lapses to panoramic photographs. There are more than 20 pre-designed themes to pick from, and the software supports eight popular file formats.
Pros
The app is simple to use and intuitive
Import photographs from your camera in an automatic manner.
Cons
The maker of this app no longer provides software updates for it.
You will only have access to the cloud if you upgrade to GoPro PLUS or above.
KineMaster
KineMaster is a powerful video editing application that enables you to edit films on "many levels." It is really easy to use. What exactly does this mean? Content makers may add an endless number of text overlays, photos, sounds, and even free handwriting to their film to provide the aesthetic touch that they or their brand need for their work. You may even combine numerous bits of film and utilize double-exposures to alter the backdrop in various ways that are entirely up to you.
Of course, for smaller editing chores, this app provides easy cutting and splitting options to ensure that your video progresses in the direction you want it to go.
Pros
Multi-track editing, layers, and blending modes are just a few of the powerful capabilities available.
Google Play has received over 3 million reviews, with an average rating of 4.5 stars.
Sharing options include direct posting to YouTube, Instagram, and Facebook from inside the app.
Exports in 4K resolution are available.
Cons
If you do not subscribe to Premium, your film will be watermarked with the KineMaster trademark.
You will also have limited access to materials on the free version.
VivaVideo
VivaVideo simplifies the process of creating professional-quality edits for video makers. The app, which is available for free on all mobile devices, enables you to edit, combine, speed up, slow down, and reverse video and picture clips in a short period. In addition, the app includes a straightforward college and slideshow creator and a selection of camera lenses for capturing new, edit-ready film immediately inside the application.
Pros
Filters, templates, and effects that are fun and on-trend.
A large music collection with hundreds of clips to pick from is available.
Multi-track editing is a feature that enables you to combine voice recordings and music tracks.
Cons
Videos are limited to five minutes in length.
WeVideo
Cloud-based video editing software (i.e., software that is accessed via a browser rather than being downloaded directly to your hard drive) is becoming more popular. WeVideo is one of the apps that spearhead the push. In terms of sophisticated features and usefulness, WeVideo undoubtedly stands out, with audio editing, a collection of legally licensed music, and the option to share films in 4K quality. The free edition of WeVideo, on the other hand, comes with several restrictions.
One significant drawback is that you are only provided with 10GB of cloud storage. If you're creating a one-time video, this is OK. However, if you want to edit many films, you will almost certainly need additional storage capacity. In addition, the free version adds a WeVideo watermark to your movies, which is less than ideal. WeVideo is also accessible as a desktop computer application, with free and paid subscription options.
Pros
You may watch your videos on any device you like.
Paid versions are reasonably priced (beginning at $4.99 for the Power version), and there are other options.
Exporting at 4K resolution is possible.
Cons
The free version offers just 10GB of storage and 5 minutes of published video, which is not enough for most people.
On the free membership, the highest possible resolution is 480p.
Your video will be watermarked with WeVideo's logo unless you upgrade your account.
Conclusion
The value of video cannot be emphasized in today's world when most people work from home. However, if you do not use the proper video editing software, you run the danger of uploading amateurish films that are unpolished in appearance. When you use these tools, you can be certain that you will produce a video that attracts, converts, and delights your audience. Your ability to develop your audio/video producing talents and attract more people to your business will improve the sooner you acquire one of these apps.