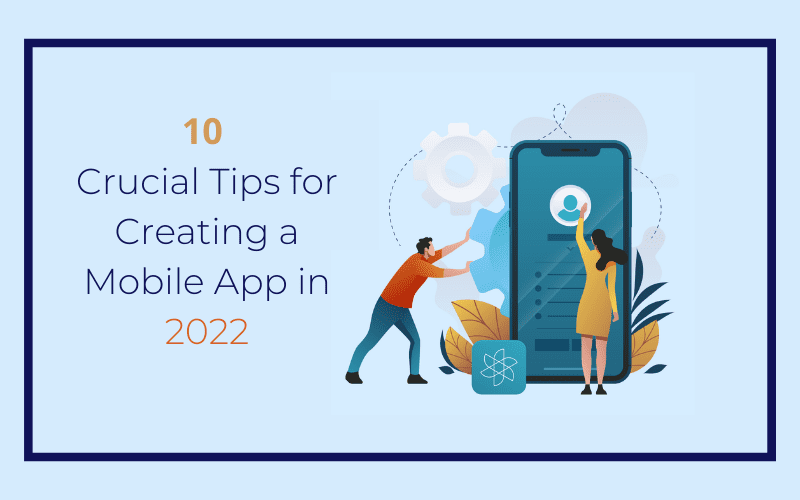 The Smartphone revolution has made businesses adopt digital transformation in their business operations. Speed, convenience, and reliability are the essential components of today's interconnected digital world. Thus, mobile app development has seen massive popularity among businesses to remain relevant and competitive in the changing market. In this blog, we are going to learn about the 10 crucial tips for creating a mobile app in 2022.
The Mobile App Market
The increasing demand for convenience, speed and security has led to the massive growth of the mobile app development industry. As a result, businesses are moving from age-old websites to fully interactive mobile apps that can cover a massive market and engage more users. Thus, there's no better time to develop your mobile app.
Let's Learn about the Crucial Tips for Creating a Mobile App in 2022
1. In-depth Research
Research is the most important aspect before you even consider an idea for mobile app development. The market is already very crowded with competitors. Thus, you have to figure out the right demand and perfect loophole to make an entry with your solution. Proper research will help you discover the mistakes that you could make in the long run and help you get a competitive edge.
When you start your in-depth research, try to answer the following questions;
What is your business domain?
What is your position in the market?
Who will be your target audience?
How can you make a difference in the marketplace?
Will I be able to make the transition from offline to online?
What is your marketing strategy?
After answering these questions, you will be able to have the vision to see how far you can go with your business model. Above all, a mobile app development company can help you in the research for developing an app.
2. Find Your Goals and Requirements
After conducting proper research, you can define your goals and requirements clearly. In mobile app development, you must have concrete reasons to start developing your mobile app. Having a clear vision of your goals will help you to convey the app idea to the best mobile app development company. Then only the developers will be able to understand your business goals and provide mobile app development services accordingly.
You must figure out the following goals and requirements;
The need for a mobile app for your business
The set of services your app will be providing
How will the users benefit from the app?
How will you engage the users with your app?
3. Finding the Right Development Team
In the age of cutthroat competition in mobile app development, it is not ideal to develop the mobile app on your own. You might not be having the required expertise and skills to develop a high performance, secure, and reliable mobile application. Therefore, it is always better to consult an industry expert mobile app development company for the job.
Reasons for choosing the right development team;
NDA protected development
Timely delivery of app development projects
Guaranteed clearance on stores
Access to a huge talent pool and cutting-edge technologies
Save time and resources
Improved chances of success
4. Consistency with Branding
Branding is everything in the age of digital communication and marketing. Your branding impressions leave a greater impact on your customers than you could possibly imagine. In fact, a study conducted by Oberio states that consistency in branding can help businesses to increase revenue by 33%.
By making your branding consistent throughout your mobile app, your users will instantly recognize your business. Thus, you have to define certain branding rules that will be implemented throughout your digital products. Ultimately, a mobile app development company can also help you to maintain consistency with branding.
5. Choosing the Right Platform
There are primarily two dominant platforms in the market; iOS and Android. However, there are other platforms as well which help you to capture a specialized market. You might have a sufficient budget to develop a mobile app for multiple platforms. However, it will still take a considerable amount of time to release the finished product. Generally, businesses prefer Android if they are trying to target a huge audience and iOS if they are focusing on a wealthier group of users.
6. Choosing the Right Development Approach
There are multiple development approaches when you are trying your hands at mobile app development. These approaches are suitable for businesses with different requirements and goals. Lastly, here are the most popular development approaches;
Native App Development
This approach is considered by businesses who want to build a dedicated app for a single platform with the best features and user experience.
Hybrid App Development
This approach is ideal when you want to combine the best native experience and web applications in your mobile app.
Cross-Platform App Development
This approach is used when businesses want to develop an app for multiple operating systems with reusable codes.
7. Build an MVP (Minimum Viable Product)
It is very important to create a Minimum Viable Product to test your app before it rolls out in the market. MVP is a barebone version of your app that consists of only the most critical features. With an MVP you are able to retrospect your app in a quick glance. Moreover, it helps you to understand the potential flaws of the app as well.
8. Work on the Performance
These days people have got access to high-performance smartphones with octa-core processors and extremely high clock speeds. Thus, they will automatically expect high-performance mobile apps for their devices. During the mobile app development, you have to monitor the critical performance metrics to avoid any bottleneck, performance issues, or device overheating.
You need to consider different parameters to determine the performance of your app. Try to evaluate user engagement KPIs, user growth rate, loading times, UI/UX, app store optimization, etc.
9. Think About the Monetization Methods
When you are building a mobile app, you must have a clear idea of how will earn from your app. There are certain strategies that can help you ensure earning from mobile apps. Thus, this is a very important tip to sustain and maintain your mobile app in the future. Lastly. these are some mobile app monetization methods;
In-app advertising
Freemium model
Subscription-based services
Sponsorship model
Crowdfunding model
Affiliate Links
10. Ensuring Smooth Navigation
People don't have much time to understand things while being busy in their hectic lifestyles. For this reason, their attention span has also massively decreased in recent years. Therefore, you have to ensure smooth navigation throughout your mobile app without including any complex design elements. A clean and minimalist UI/UX design is the key to intuitive navigation and better user engagement. Above all, consulting a leading mobile app development company can help you create the most intuitive and engaging navigation.