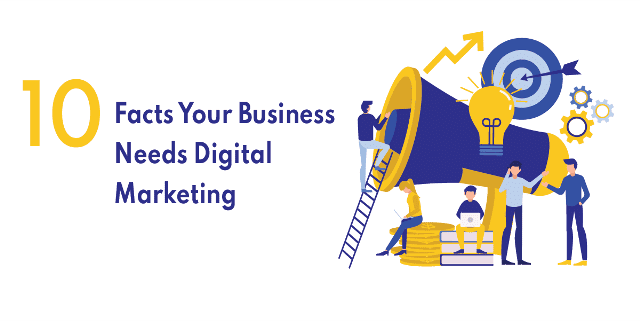 Why is it so important to get into digital marketing? Every business or company will have various specific objectives and goals in the minds. They are trying to reach their targets by calling more loyal customers and pushing them to buy. To make it work more effectively, you ought to take all the advantages of the most qualified marketing resources, such as the various financial marketing firms, and advanced technologies in the developed world. Undoubtedly, many companies under this criteria are utilizing digital media more powerfully to get better impacts from social media marketing, emails, and search results.
It's time to talk about how you begin to grow digital marketing strategies? It is still very challenging as many businesses and industries are utilizing digital marketing and mobile channels required to acquire and retain buyers. You should always have a perfect plan to help the digital marketing transformation and enhance the company's growth to transform the audience effectively online. You can check on a few online providers that can help you know more about digital marketing. PayMetoo is one of the best among the list of a few best service providers which can help you out on why your business needs digital marketing. However, it is more vital to know the advantages of digital marketing. The following are a few for your reference.
At A Considerable Cost
Marketing is available at a very affordable cost, and it is much less expensive than any other marketing strategy. Sometimes the prices vary depending upon the features it has gotten to work the right way possible.
Access Through Mobile

Undoubtedly, the majority of adults worldwide have their mobile phone or a smartphone. They are possibly utilizing it to check on news, social media activities, and so on. Digital marketing supports them while they are working on various things. For example, utilizing social media advertisements, text marketing, and emails can help you stay in front of the audience when they use many applications on their smartphones.
The Flexibility
There are a lot of ways to make use of digital marketing. It includes a few like email marketing, social media advertisements, social media updates, and content marketing. Just by knowing how to market yourself innovatively, you give a choice of more options for future strategies. In addition, with the help of digital marketing, you can more likely test and stop performing bad campaigns in reality.
Better Expansions
The customers and buyers prefer more online shopping. Digital marketing helps you ask for something from these people, enabling you to expand your company. Using All the above, you can further expose your brand to more people and grow the sales volume.
The Technology
Buyers and customers would always like to engage with the materials of marketing. The materials include videos, audio, and pictures. It is simpler to commence all these types of content in digital marketing than any other publicity, and it is vital.
Connectivity
Digital marketing helps you to have better communication with your customers, who would effectively check on your content, more likely via comments on the website, posts on social media, and reviews. It exposes the more important customers to you, what they think and feels about the community you develop. It permits you to gain more data on customer preferences and reactions.
A Perfect Track Over Everything
Rather than connecting with customers, digital marketing permits you to track all of their activities. For example, you can check on the advertisement and various types of content that they have watched before making purchases. In addition, it will help you know the kind of marketing that works well to enhance your marketing strategy. It is very much vital to have or maintain a track over everything you come across through the internet.
Get Into A Huge mobile Market
Businesses and companies with more knowledge about digital marketing and the businesses that have got their excellent digital marketing tactics will never fail to make their product reach the customers very fast. The customers include the majority of smartphone users. So any firm with active access to e-commerce will gain better growth than those who don't.
Stay Victorious In Competitions
It is one of the primary reasons behind the need for digital marketing. Even minor concerns can rebel against large-scale businesses without even getting acknowledged about their competitors. In the world of social media, the internet, tv, computers, and newspapers, it is less possible when digital marketing lets you do that.
Come Up With Better Future Business Ideas
The internet will be the savior of businesses and any firms in the coming days. That means the people will make use of it for all of the business requirements. Irrespective of the firm being B2B or B2C. We believe the procedures are more profound and will get perfect with the time passing. Any company or firm that is more traditional will encounter many visitors who walk into the stores, do window shopping which means they look into products and do not buy anything. In general, a lot of reputable businesses use to put more money into the outlet's maintenance.
Final Thoughts
Many experts assume that digital marketing for firms and businesses will perform nicely and better than any other methods of promoting the products and services in the future periods. That is why you can find a few reasons for the need for digital marketing in businesses. Digital marketing is something that helps you to promote a company or brand using its tools that are provided by the internet, and that includes social media tools too. So this will prove that digital marketing is the key to future businesses. Not every company can work or be stable in the market with an excellent digital marketing strategy. The business that rightly understands what digital marketing is will strike its competitors for sure.
We believe that the above information would have made you clear about the need for digital marketing for the future. Kindly share your ideas with us in the comment section below. We are looking forward to hearing from you.