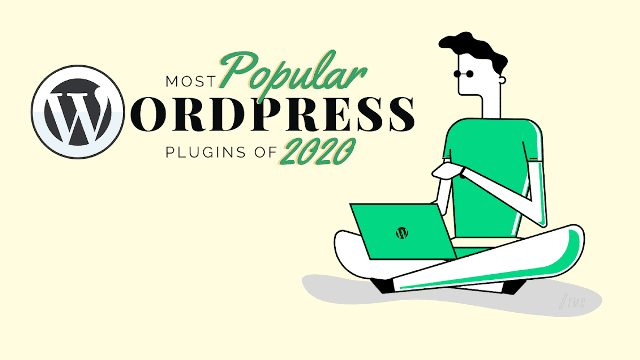 The most popular WordPress plugins of 2020 are the most downloaded and highly rated by users and developers this year. And with just the right set of plugins to integrate, you can significantly improve the look, the effectiveness, and capability of your website. It would enhance the experience for your audience in navigating your site. But with so many plugins to choose from, the main task of selecting the optimum WordPress plugins can be downright overwhelming.
But having the right combinations of WordPress plugins at your disposal can benefit your business or cause. For whatever reason, these plugins add value to your website (or websites), and also the lives of your audience. The right plugins can suddenly boost your SEO, for example, and consequently, increase your conversion rate.
Let us see what the most popular plugins are and why they are so popular.
Top 10 WordPress Plugins of 2020
WPForms
Contact forms are essential tools for any website. It is a way for your guests to keep in touch with you. It is also a way for you to build your email database should you need it for an email marketing campaign.
Designed to be user-friendly, WPForms allows you to make different kinds of forms. It could be anywhere from surveys, polls, email subscription forms, order forms, payment forms, among others.
With its integration with other payment and marketing platforms, you can create and build interactive online forms in a few minutes. WPForms also gives you the option to create your custom WordPress login page and user registration form.
This plugin has an outstanding 4.7 out of 5-star rating average with over 3 million websites that utilize WPForms. Because of its features and user-friendliness, it comes as no surprise that this plugin is so popular.
Jetpack
As an all-in-one plugin, Jetpack offers a comprehensive set of features. You can activate this on a module-by-module basis. Created by the developers of WordPress (Automatic), this plugin includes features such as site security, contact forms, site backups, user engagement options, among others.
The plugin has a premium version. This version allows you to access features that help you improve in SEO rankings and lets you access valuable advertising tools. You can get this version for free because some hosting plans bundle it for free with their hosting package. You would then have a fully-managed hosting system, as well as a complete collection of features to keep your website secure.
Jetpack offers a lot more such as it protects your website from cyber-attacks. It also allows you to secure your logins by having multi-factor authentication set up for your website. It also provides social media tools and important analytics so you can monitor the growth and improvement of your site.
There are other security plugins that are popular among users as well, and Jetpack are one of those that lead the pack.
Yoast SEO
Yoast SEO is a plugin known for efficiency and its usefulness. It is an excellent tool in monitoring and improving your on-page SEO. The plugin provides a step by step guide so you can optimize your new content, once you have already conducted optimized keyword research. It prepares your new content for search engines.
SEO can be a complicated strategy because of the guidelines and rules that you would need to follow correctly. It can help you rank higher in search engine result pages.
Yoast SEO offers a collection of tools that optimizes your keywords and customization of what appears in search engine result pages, including meta-descriptions, titles, and URLs. This plugin also analyzes your pages and highlights areas that would need improvement.
Akismet Anti-spam
To maintain the long-term integrity of your website, you need to protect and secure it. Akismet Anti-spam is a plugin that filters every comment and reviews shared on your website. The plugin provides a report of every comment so that you'll know which one appears like spam, thereby keeping spammers away.
This plugin is easy to overlook, and some forget to activate it because this plugin comes pre-installed on numerous WordPress installations. This plugin is an excellent tool that you should take advantage of because it protects your website by filtering spam messages, such as repeat messages and inappropriate advertisements.
It results in your viewers having a meaningful interaction with your content or with other visitors.  Apart from this, the plugin lets you view the URLs in the comment body (and remove any link that is not useful for your site) and view the number of approved comments for each viewer or user.
UpdraftPlus
Creating websites takes much work, time, effort, and resources. It is very frustrating when something goes wrong and you lose all your hard work because you have no backup.
It's critical when you were unable to make a backup before installing a faulty update, an unproven plugin, or just a random coding fluke. With UpdraftPlus, you can ease up on those frustrating moments.
Highly rated with more than 2,000 5-star reviews, this WordPress backup plugin allows you to make automatic backups and store them on remote locations such as Dropbox, Google Drive, and many more.
It also provides you with the smooth restoration of your website from a backup. Though the plugin is free-to-use, it has a premium version that gives you added features and priority support.
MonsterInsights
This plugin is a Google Analytics plugin for WordPress that allows you to connect your website quickly to the Google Analytics platform. Right in your WordPress Admin panel, you'll get a Google-specific dashboard that you need in making decisions based on context and data provided by the analytics.
With these features, you'll get a complete picture of what's happening with your website and how you can make improvements on it.
This plugin is beneficial in helping you track your customers throughout multiple platforms and devices. Another benefit of this plugin is that it integrates well with Google's Accelerated Mobile Pages (AMP). It provides custom reports about data and analytics relevant to your Customer or Audience, their Behaviour, eCommerce, Forms, and many more.
This plugin also effortlessly combines with WooCommerce to enable you to track your sales and product movement.
WooCommerce
WooCommerce lets you create an eCommerce store directly from your website that would sell digital and physical products. It helps in converting visitors into consumers because this plugin lets you display products on your website.
You can also integrate eBay and Amazon in WooCommerce, which makes it more convenient for eCommerce entrepreneurs. The digital marketing strategies of Amazon sellers and eBay sellers can also be optimized further with their own website and with the WooCommerce plugin.
With this plugin, you also get multiple payment and shipping options for your store. The developers of WooCommerce offer other useful extensions, both free and premium versions, that can provide a broader range of functionality and features for your online store.
WP Rocket
WP Rocket is a caching plugin for WordPress. Even without technical skills, the plugin allows you to vastly and instantly improve your WordPress speed and performance. With the recommended WordPress caching settings, WP Rocket automatically turns on gzip compression, page cache, and cache pre-loading.
You can turn on optional features that further improve page load times, such as minification, lazy loading images, DNS pre-fetching, and CDN support. This plugin also provides instant performance boosts by automatically crawling and building your website cache.
WP Rocket also helps to further speed up your website by offering Imagify, a free image optimization service. The only downside for this caching plugin is that it is premium and you would need to pay for it.
Constant Contact
Email marketing is still the most effective marketing tool at your disposal. It allows you to connect with your audience beyond your website further. This plugin maximizes the email list that you have built up.
This plugin will enable you to create beautiful email newsletters and campaigns, as well as build your email list further. It is easy to set up, and even non-techy users can set it up.
Furthermore, the plugin works well with OptinMonster and WPForms, the famous lead generation plugins for WordPress.
TinyMCE Advanced
TinyMCE Advanced is a free-to-use plugin. It allows you to manipulate and rearrange the buttons shown in the Visual Editor Toolbar. The plugin allows you to modify up to four rows of buttons. It may include font family and sizes, insertion of tables, background and text colours, and a whole lot more.
TinyMCE Advanced allows you to simplify and streamline your backend WordPress experience. You can concentrate your efforts on other things that need your focus, like tracking real-time traffic details for your website.
Conclusion: Be Productive, Even Under Lockdown
The website we maintain and grow still runs and operates even amid a lockdown or a pandemic. In this simple way, we remain productive and useful, just like the plugins that we have listed down. This list includes the most popular WordPress plugins, as well as those that make WordPress better.
These are useful tools that you would want to add to your website. These plugins would help improve your website. The challenge would be to choose the right one. Use this list to make that decision and get the best plugins to use for your website.
About Author:-
Mayleen Meñez worked for seven years in TV and Radio production, and also as a Graphic Artist/Editor. Finding her true passion, she devoted 15 years in NGO and community development work, where she experienced being a coordinator and teacher, traveling both in the Philippines and countries in Asia. She home-schools her three kids and reinvents Filipino dishes in her spare time. Writing has always been a hobby and pursuit, and she recently added content writing with Softvire Australia and Softvire New Zealand up her sleeve, while preparing for her next adventure in the nations.