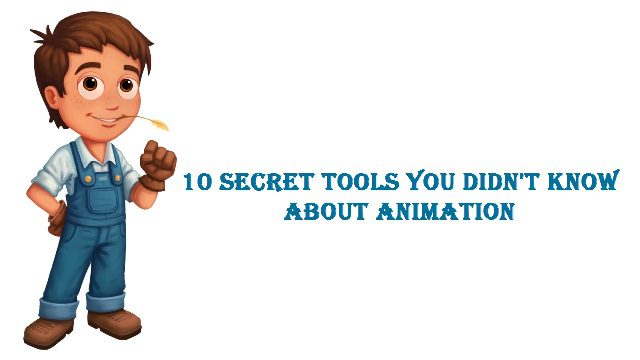 Animation is one of the most benefiting techniques used in the digital marketing industry. It has positioned itself as the most prominent factor to enhance brand recognition. Animation is taking over every other field due to its captivating and compelling appeal. With animation, you can efficiently deliver your idea across your target audience and can convert a huge percentage of potential visitors into valued customers.
Though animation is a bit challenging, you can make it as easy as a breeze by getting your hands on some amazing tools and software. Here is a list of some secret tools that can help you make your website video animations efficiently. Read on!
1. 3Ds Max
3Ds Max is one of the most professional tools that is used by a number of animators to make incredible animated movies and films. Its low price motivates novice animators to invest on it for making low-budget animations as well. You can use its uncountable features to create appealing illustrations and motion graphics.
2. Adobe Creative Suite 4 Master Collection
it's not just a software it has a number of incredible tools all packed inside of it. This amazing illustrator and animation-making tool are known for its finest quality artwork. It offers images in vector formats and allows creators to indulge in advance animations. This master collection combines the industry tools like Dreamweaver CS4, Premiere Pro CS4, Encore CS4, Contribute CS4 and Soundbooth CS4.
3. Blender
A Dutch application studio had developed this tool to provide animators and creative artist a medium to flow creativity to its max. It is a free and open source platform that encourages a number of designer and animators. From 3D animation to highly technical video making, it fascinates brushes and tools for each kind of production. You can easily perform remodelling, rigging, rendering, shading, image compositions and UV wrapping.
4. DigiCel FlipBook
DigiCel makes animation fulfilled. If you want to save yourself from the hassle of painting stories on a paper and then transferring the picture to the computer from making the digital illustration, you can use the FlipBook. It allows users to make storyboard directly on the computer. You can go either way. It provides a broad range of tools and brushes to help animators bring their imagination to reality.
5. Moho
A vector-based 2D animation-making tool that is used for making enchanting drawings and graphics. The Moho software has a range of different versions that includes Anime Studio Debut and Pro. It offers an easy to use interface to the users.
6. Adobe Animate
Adobe Animate is an incredible tool for making highly advance animation for your animated video. You can make appealing 2D and 3D animation in a blink. It facilitates customers to download files in every format as well. You can make an animation for your websites, logo, videos, and even for short GIFs.
7. TupiTube
TupiTube offers an open source platform to the users. You can easily sign up to use the tool. For novice animator, it offers a sleek and easy to understand interface. Among its prominent features, efficient functionality, drag and drop tools are there.
8. KeyShot
KeyShot offers a fast and efficient interface to novice and professional animators who can effectively create appealing animation for their video. From re-modelling to rendering, the platform allows to make even the most technical and advanced animations. You can design a complete animated model and showcase the handling of your trickiest equipment using the proficient tools and brushes available in the software. Dynamic texturing, real-world camera behavior, light and effects adjustments, HDRI lighting, focused caustics and realistic appearance are all part of the features offered by the tool.
9. K-3D
K-3D is a super seek and ultra-professional re-modelling tool that helps users and animators to produce appealing animations and advanced animated videos. It facilitates users with a broad range of flexible and powerful tools. You have the convenient undo feature to bring back the previous curves and the adjustments options to set shadows, lightings and other effects according to get your will.
10. Pencil 2D
Pencil 2D is also another open source platform that facilitates users with an incredible functionality to create animation way more easily.
Wrapping Up
Most of the tools and software listed above are unknown to most of the animators, as people prefer to use the very first suggestion they get from their browser's searched list. You must try these tools, as many industry leaders prefer using them.
Article By:- Lara Hawkins