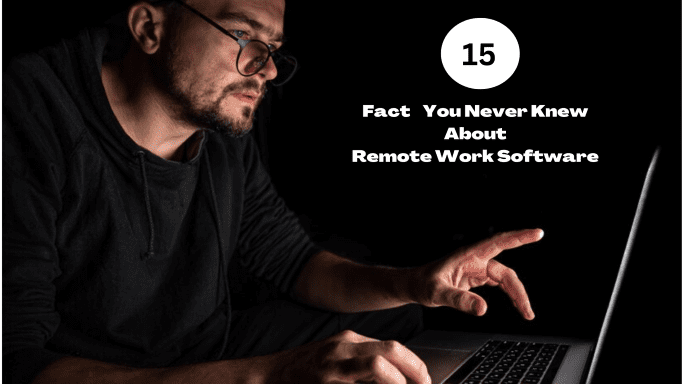 The aftermath of the pandemic pushed multiple sectors to continue the remote work policy as it provides commendable productivity and cost-effectiveness. Since more and more companies are using Remote Work Software, developers have introduced and enabled multiple features on the system's dashboard for different industries to maximize opportunities. However, users are still unaware of the qualities of software for remote working. Hence, it becomes necessary to know the unique dimensional effects of software for remote work.
This article enlightens interesting and impactful facts about remote work software unknown to wider audiences.
15 Technical Facts About Remote Work Software
1. Cloud Accessibility
In order to reduce IT costs and to improve efficiency with the highest business continuity, and collaboration,  multiple industries are adopting cloud-based remote working software. This feature of remote work software makes the system adaptable for remote and hybrid work models. Companies, specifically startups, can save cost, increase productivity and efficiency, and work with utmost security while working with cloud-based remote working tools. Users need to have a proper web connection to get access to cloud services.
2. Integrated Project Management
Several industries hire employees according to the requirement, especially when giant corporations engaging in international businesses opt for gig workers. These freelancers and contractors are given access according to the need of their work to provide the best results. Project-based tools integrated with remote work software keep track of every activity of the projects and keep team members in the loop. For full-time employees, it becomes effortless to keep a trail of previous and upcoming tasks of various projects. Managers can smoothly navigate multiple projects simultaneously due to project management tools.
3. Communication & Collaboration
Without constructive communication, employees cannot collaborate and achieve great results. With an active communication line, different departments of a company generate a robust and streamlined workflow. Numerous industries shake hands with national and international businesses to expand their market and work together through online communication tools. A common platform to discuss expectations, stay in touch, update recent activities, avert complications, and many crucial details make it easier to work together.
4. Security Walls
Multiple companies invest heavily in cybersecurity. Gartner research recently indicated that users can spend up to $267.3 billion by 2026 on information security and risk management. Two-factor authentication and online backup provided by remote work software are some of the famous ways small to giant companies maintain the cyber security of their data. Such practices prevent malware, viruses, spyware, phishing scams in emails, trojan and worms attacks, etc., from succeeding.
5. Video Conference
In the growing age of the hybrid work model, this feature provides a better platform for virtual meetings. The remote work tools' video conferencing feature helps employees make better professional bonds and conduct timely conferences without hindrance.
6. Timesheet
In order to keep track of employee activity, a time tracking and management feature incorporated in the remote work tool is essential. This tool can easily keep a trail of an employee's work hours and segregate them into free time, productive time, and break time. This tool is most beneficial when workers are from different time zones and have to collaborate or streamline processes.
7. Live Chat
This feature helps employees in the same department or team to communicate during an ongoing process. Multiple workers can have an overview of a task and amend necessary details in real time while updating everyone online. E.g., remote working software engineers can make critical and developing decisions in the live chat during a test run to create a perfect final product.
8. Employee Monitoring
For confidentiality and credibility purposes, numerous sectors need to preserve the safety of their customer details, financial reports, investments, and future transitions. Moreover, companies need to keep a record of the working hours of every employee to have insight into productive hours and to ensure their active participation in work to avoid delays in achieving targets. Thus, employee monitoring tools help them in creating a healthy office culture.
9. File Sharing
Remote work software requires an agile file-sharing facility adaptable to any device and interface. Such adaptability makes it easier for the employees to share necessary data across the company and generate an active workflow.
10. Meeting Management
Meeting management software is responsible for organizing meetings to ensure that everyone optimizes such team gatherings. As a tool of remote work software, this feature helps employees to keep a note of multiple meetings, including their agenda, members, timings, duration, etc.
11. Remote Access
Remote access tools enable access to a computer device through a cloud computing system, so users can work remotely and still utilize devices sitting in the office. Due to remote access tools, employees can efficiently conduct file transfer, data storage, and other work-related activities and avoid security breaches and technical glitches.
12. Reporting & Analytics
The timely generation of reports and analytics make understanding details related to customers, markets, and products easier. Such analytics may include graphs, charts, and other visualizations to understand the company's progress and future prospects. The Decision-making process becomes much easier due to this feature of remote work software.
13. Work Evaluation
The primary reason for work evaluation as a part of remote work software is to keep a record of performance reviews and to check if individual employees are meeting their goals and targets to meet the company's objectives. Work evaluation also helps promote, reward, and recognize real talent so companies can sustain them.
14. Risk Management
Almost 70% of institutions have experienced breaches from external sources, including hackers, customers, and organized crime. Risk management tools caution management about external factors which act as a threat to the company. This remote work software feature proactively identifies vulnerable spots in a workflow and helps mitigate them quickly.
15. Audio/Video Calls
Remote work software creates a safe place for workers to articulate their thoughts, ideas, and plans without hassle; audio/video calls are mainly used for that. This feature increases employees' reach ability using such tools on their mobile phones. As per the convenience and requirement of employees, they can get in touch through internet calling from any device.
The Bottom Line
Keeping the above-mentioned facts and components of remote work software in mind, owners from various industries can plan to invest wisely in a system that fits their budget and requirements. Remote working tools can enable any industry to face any unexpected situation, strengthen workflow and generate a better working space.