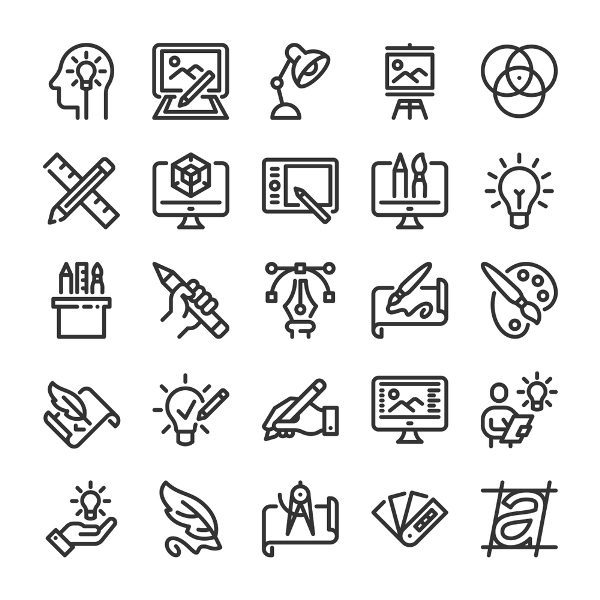 A unique logo is what sets your business apart from its competitors. A logo can be considered as a graphic mark or emblem that is used to promote and aid public identification and recognition of a product or service. In short, it stands as a memorable symbol of who you are. Whether you're starting a new online business or you're looking to refresh your current one, a fresh and innovative logo always comes in handy.
However, designing a logo for your business website can be costly and a small-budget team may not have the software programs or skills to design a logo on their own. Luckily for you, nowadays, there are tons of free logo makers and generators online. These online tools provide logo designing services free of cost. They allow entrepreneurs to create high-quality, professional looking logos in just a few steps. We all know that creating a logo can sometimes feel like quite the intimidating task, but don't worry, using a logo generator can help especially for those on a tight budget. In this article, you'll find a list of online logo designing services (logo makers and logo templates) that you can use to design your own logo without spending a single penny.
So without further ado, here is a list of 15 free logo maker tools that you definitely must have in 2020:
Logaster
Logaster is a free logo maker that allows you to create a logo in four simple steps. Just put in the name of your company or brand. Then you will be shown a huge variety of logo concept examples. After choosing the design you like, you can sign up and save it in order to edit it later on. You can then explore the possibilities of editing your logo with the help of color pallets, various text formats, and unlimited icon to choose from. You do not need to have any special graphics skills…it's that simple!
Wix Logo Maker
With Wix logo maker, not only are you getting a free custom-looking logo, but you'll also be receiving its full commercial rights. This means that you can use it for business and profit without worrying about who holds the license. You will have complete rights to use the logo as you wish. 
Canva
You may know Canva as a social media tool, but it can actually be used to create logos as well. Simply drag and drop your preferred design with the Canva interface, where you have hundreds of templates to choose from. To start, just enter the name of your company, you will then be asked a few simple questions to customize your logo search. The best part is that the logo will be of high resolution at no extra charge. So you get to use a great logo creator, that you can use easily without any design experience.
LogoMaker

For over a decade, Logo Maker has served more than 3 million entrepreneurs and small business owners. With this website, you can choose from over 10,000 icons, after which you can build and save various logos in your account, completely free of cost. 
Online Genie

With a very user-friendly interface, Online Genie allows you to use its logo designing tools for making vibrant logos. With this website, you can customize the logo according to your own preferences, such as alter the color, orientation, size adding some gradient, etc. 
Ucraft

With Ucraft, you can create a logo using a wide variety of icons, shapes, and text. You can design and export your logo in less than 10 minutes with this easy-to-use logo creator. You can choose from over 220,000 icons that you can use in your design. Export your transparent, high-resolution PNG file completely free of charge! 
Oberlo Logo Maker
With navigational options, Oberlo Logo Maker is user friendly and allows you to create the logo of your choice. Just enter your company's name then choose between a great selection of icons, and play around with the color, size, frame, and positioning. Have fun while creating the logo of you dream at no cost! 
Hipster Logo Maker
As we can guess by its name, this logo maker was developed due to the wild hipster movement that took place a few years back. The logos generated, reflect the hipster style, and may not be for everyone. On the other hand, companies that are targeting younger audiences may just find this to be the right tool for them. 
MarkMaker
Even though this software is still considered a prototype, it is really an awesome one. Just enter the name of your company and MarkMaker will generate many logo options for you. You can select the kind of logos you like as well as define the kind of industry your company is. Overtime, the software learns your preferences and provides you with suitable designs.
Vectr
This is an awesome online tool that you can download and use for free. Vectr even has live editing, so you can collaborate or share your progress with a team. The files you create will all be of high resolution at no extra charge. The site even has a user guide and tutorials if you need. 
Envato Elements
Through single commercial licensing, Envato Elements provides unlimited downloads of high-quality logo designs for free. Using a network of independent designers, Envato Elements supplies a huge variety of creative logo designs that you can choose from. 
Designmantic
Select from over 30 industry categories with Designmatic. Customize the colors and font as you wish once you have found a suitable logo. The tool is free but downloading your design comes with a fee. And if you don't want to pay the download fee, then you can just look around for inspiration. 
Shopify
For online businesses, Shopify has a lot to offer. This includes the tools needed to start an online store. Although you will be charged a monthly fee for some of its services, there is also a wide range of free tools like business name generator, QR code generator, and even a free logo maker. With Shopify, you can start generating logos within seconds without the need for any technical expertise. Just type in your business name and your good to go! 
Designhill
A great thing about DesignHill is that it comes with the benefit of a community of designers. The tool uses a quick three-step process where you pick a template and tweak it to suit your brand. You can also seek assistance from the design marketplace. A customized logo will then be generated to you according to the information you provide. So be as accurate as possible!
SquareSpace Logo Creator
SquareSpace includes everything you need to start your own website. With SquareSpace, you can browse icons and customize your design whether you're looking for inspiration or a completely customized logo. After creating your personalized logo, you can download your design in low-resolution for free, or if you want it in high-resolution, then you can buy it at a minimal cost of $10. However, if you have a membership, then these high-resolution will be free of cost for you.
Final Thoughts
Apart from all these, you can also get logo designing services from freelancers on websites like Fiverr and Upwork for as low as $5.00. Managing a business whether big or small, can have its challenges, but with this wide range of tools available at your fingertips, you can experiment with a variety of logo designs no matter what your budget is.