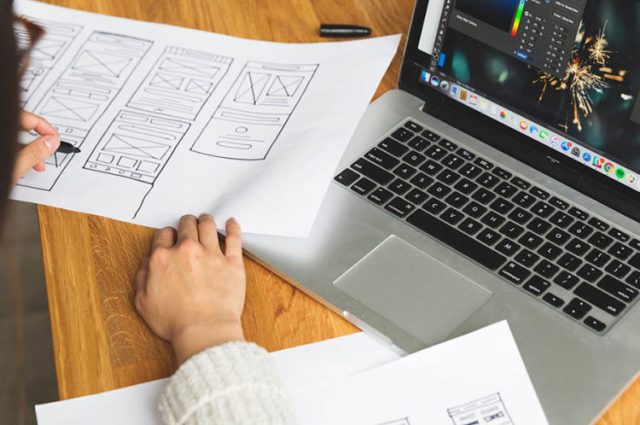 Today it has become crucial to be updated with what are the top trends considering the fierce competition. This even applied to the designing world, and web design & UI are no exception. From the beginning of this year, there have been over 1.94 billion websites in existence and over 4 million mobile apps for download on Android and iOS jointly. This calls for the best web design and UI & UX.
Of course, when it comes to designing a flawless and appealing website that is intuitive, accessible, and all-inclusive, there is only one thing that comes to mind: UI designers! Designers are what makes a web aesthetically pleasing and user-friendly for everyone.
Each year observes new trends in web design, UI, and UX. These trends are essential for UI and web design to meet the ever-changing needs in the modern world. A website design company should be updated with these trends to have a competitive advantage.
2020's Top UI & Web Design Trends
Numerous design elements were hot this year and maybe beyond. The significance of the trending web design themes is the continuity of things that have been developing in design projects, such as minimalism, gradients, and rule-breaking topography. Nevertheless, there are upcoming trends, too, like the 'dark mode' feature, more audio element interfaces, and an excellent push towards 3D elements and images.
Minimalism
The best thing about this trend is that it evolves continually. This year, minimalism exhibited huge strips of white space & not every time where one expects.
Simple design does not call for easy navigation; they put people at ease, which eventually keeps them active on the website, an app, or other digital platforms.
Beautiful Illustrations
Elements that have the hits of line -style drawing & animation continue to be famous. The UI & web trend is grabbing attention since it feels & looks aesthetical, unforced, and a bit uncanny. There is a broad spectrum of the selection of artistic elements that are imaginative, creative, and slightly spunky.
Dark Mode Design
Several apps and websites have observed dark mode design this year, including Google Chrome search engine. Whatsapp, Facebook, and a few others have switched to dark mode. The reason for its high demand is the dark interface that makes it easy for eyes to read even when lights are turned off. It is more appealing and looks sexy to eyes. Other hot trends are animation with bold letters, almost neon-accent colors, elegant gold colors call to action, and white block letters.
Rule-Breaking Typography
This has been the year to break all the conventional typography rules. Despite breaking all the rules, like old spacing, sizing, even line spacing, a user should still understand what you're trying to convey.
The trend absolutely proved stable and the one which will also continue in 2021. As a matter of fact, Maxi typography would be so maximized that designers would divide words into many lines.
Liquid Animation
There is always some animation on all websites you land on. This year the trend was liquid style animation that has a movement like water. Liquid animation could work for entire scenes to transition video elements, like the one that attracts users and drives more clicks.
For this to work, the speed movement should be looked on. It must be timed perfectly, fluid, and seamless for the most real-world feel. The best part about this design is that you could use it in several ways to develop an interface that works with the content.
Blending Illustration & Realism
The trend this year is a blend of art with cool pictures & illustrations. It combines illustrations with real photos and art elements in cool ways. It's novel, unusual, and beautiful.
Initially, it seems like a mash of visual elements that do not seem to go together. However, once done, it could create a stunning aesthetic that's hugely engaging and delightful.
Everything 3D
Creating a greater sense of realism is possible for web design by adding depth. The extension of this idea is a 3D picture. It's a trend that has been going around this whole year and should expect in the coming year as well. The best 3D designs deliver users something they pretty much don't expect.
Audio User Experience
There has been a lot of web and UI design with sound this year. There's no denying that sound UX's are the trend. Immersive sites like games and world-building models, in-world web experiences could be improved significantly by musical scores & sound effects.
Websites and apps with dynamic 3D or visuals, animations depend on robust sound design. Even the simplest website could significantly benefit from meaningful signals and user feedback via sounds. Sound UX's best use is for web designs with a hefty language barrier, as music could be an excellent unifier in web-based storytelling.
Color-changing Gradients
This trend went off for a brief time, but it was back this year and even more significant. From multi-color bold backdrop gradients to subtle text gradients, the trend is booming. Gradients are the new normal—a blend of various colors with slight contrast instead of subtle boring ones.
The object stands out among the rest by adding a new dimension and realism. In simple words, Gradients add depth.
Overlapping Layers & Elements
The web design and UI trends are layers and more layers. Overlapping elements & layers add a sense of dimension & depth to projects. The trend includes many features that overlap.
The best part is that it works well with almost any design. Backdrops and boxes could be overlapped, and text images, images of UI icons, videos, and elements could be overlapped as well.
Conclusion
This year was full of colorful and unique trends. The modern UI and web design trends work with one another to create something trendy and sophisticated. It is essential to keep your eyes open for the trends coming in the year 2021 to have a competitive edge in this fast-paced era.
About Author:-
Harnil Oza is CEO of Hyperlink InfoSystem, one of the leading app development companies in New York and India, having a team of the best app developers who deliver the best mobile solutions mainly on Android and iOS platforms. He regularly contributes his knowledge on leading blogging sites.