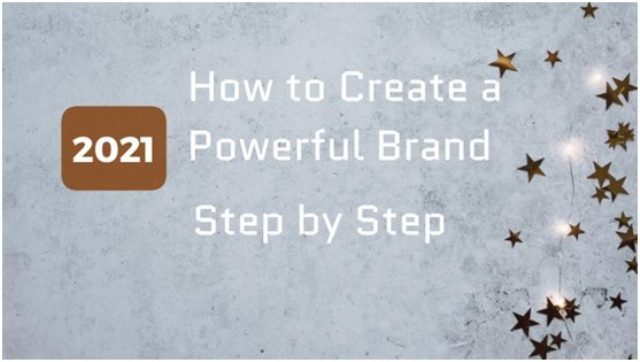 Creating a brand is not easy. It is one of the most difficult task that every entrepreneur must go through. Often, the brand's concept is taken as the synonym of the logo when in reality, it goes much further than that. So, want to learn how to create a brand step by step? Then look further at this post.
Today, the most important thing for the consumer is that their products follow their ideals and show coherence between what they promote and what they offer.
What is a brand?
The brand is a commercial instrument that identifies its origin. In turn, it influences the perception of it and its positioning. Thus, you can define a brand as the symbolic representation of a company. For example, just by naming "Coca-Cola," you all know that you mean a specific soft drink because this brand is already positioned in our minds.
What are the functions of a brand?
Refers to which company offers it
Serves as an advertising element
Inform about the product
Synthesize prestige
It is important to emphasize that the brand concept implies its name and everything it transmits at its purpose, value, identity, and philosophy. The brand identity comprises graphic elements such as the logo, the typography, the color palette, the icons, etc. In this way, the brand has value in its own right, representing an image or an idea in the consumer's mind.
Types of logos
Wordmarks: only made up of words, letters and/or numbers.
Mixed or figurative trademarks: graphic symbols and logos. A combination of letters and figures.
Three-dimensional marks: protects the shape of the products. For example, it can include packaging.
How to create a brand?
Here are some tips to define a brand correctly and then make it a reality:
Define your audience
Defining your target audience is crucial to setting the communication tone and visual identity of your brand. Identify the values shared by your client, their demographic and psychographic characteristics, values, dreams, expectations, and aspirations. Creating a buyer persona is very useful to represent your ideal client.
Think about the engine and philosophy of your company
What motivates you to get ahead? What is the purpose of your company? It is very important to gather all kinds of information that indicate the organization's pillars to transmit it through the brand.
To land this, you can lean on the "Golden Circle" proposed by Simon Sinek. This methodology serves to inspire and convey a message. Thus, it seeks to transmit ideas and beliefs to attract the attention of those who share them.
Start building your brand identity.
The brand identity is the reputation built through the messages, the values, the purpose, and the communication between the public and the company. In other words, it is talking about the personality of the company. This part is extremely important because:
Allows your potential customers to learn the brand
Build credibility and trust
Increase the impact of advertising and experience
Attract new customers
Build loyalty with current customers
Thus, based on all the information mentioned in the three previous tips, it is time to give your brand a real meaning.
Step 1: Naming
The naming refers to the name of the company. It is the maximum identity of any brand and the term by which it will be recognized within the market and differentiate itself from its competitors.
Step 2: Slogan
A slogan is a short and concise phrase that seeks to convey brand identity. Generally, the slogan seeks to include the main attributes or benefits of the brand.
Step 3: Determine the visual identity.
Visual identity includes all those graphic aspects that represent and communicate the identity of a brand. It is impossible to position yourself and gain prominence in the market without a visual identity.
Elements of visual identity
The logo: It is important to know the different types of logos to give them a correct use and application.
The color palette: Helps build a strong and consistent brand identity. Likewise, each color conveys different sensations and emotions. Therefore, we recommend you apply the psychology of color when you put together your color palette.
Typography: Having a small group of fonts in the different communication channels helps the target audience associate your brand with their personality.
Bonus: A user-friendly tool to create a logo.
For many, it is difficult to create a logo from scratch or establish the right colors and typography to convey identity. There are a huge amount of tools to create your logos in minutes.
DesignEvo is a super dynamic platform and easy to move around, as it already has a wide range of pre-created templates. As soon as you access DesignEvo and choose one of them, you will be automatically directed to an editing page so that from there, you can tweak and configure your company logo in your way. A great advantage of this platform is that you can create logos simply and intuitively without downloading anything. Liked?
If you want to invest your limited budget in the tool's advanced features, it is recommended that you click on the button in the upper right corner where Download is written when downloading your design. Some people don't know, but it is also possible to create high-resolution logos in DesignEvo for free. The service ranges from $24.99 to $49.99.
In the slightly higher cost-benefit option, you have access to files in PNG format in addition to having the help of lifetime support. With the application, you can download vector files and have full ownership of the copyright of the logo you created.
Besides DesignEvo, there are massive tools for your to get your logo tasks finished. Here are three other tools you can try.
This website is a great tool available so that any internet user can create a logo according to their needs. This is a little more limited than the first option because it has more than 100 templates ready to be edited and create a spectacular logo. In addition, there is the possibility of changing the typography, and it is a tool that works for free.
This is an interesting option to create a high-quality logo, but it is worth mentioning that it is a paid tool and allows you to create social media kits. You have the possibility of using state-of-the-art tools and can be accessed for up to 11 euros per month if it is a tool that requires investment and is to be used professionally.
This tool is a feasible option for creating a branding kit, which is ideal so that the identity of a company can be formed and has a free version.
Conclusion
After you have read this post, do you have any idea about design logos? If so, you can turn your creativity and theory to do your own, and do not forget to try these easy-to-use logo makers to customize your logos.