Mobile apps have proved fruitful for various purposes. These apps have helped many students in understanding difficult subjects. They can get useful tips to learn the technical terminologies from these mobile apps. Students of all levels are using these apps and app developers are also working hard to present new apps which can benefit the students in all subjects. There are dictionary apps, science apps, and the list goes on. Now, you can download any app on your cellphones and access the educational content without any difficulty. There are plenty of educational apps but there are 4 most helpful mobile apps for students which you can download from app store or play store. These apps are presented as follows.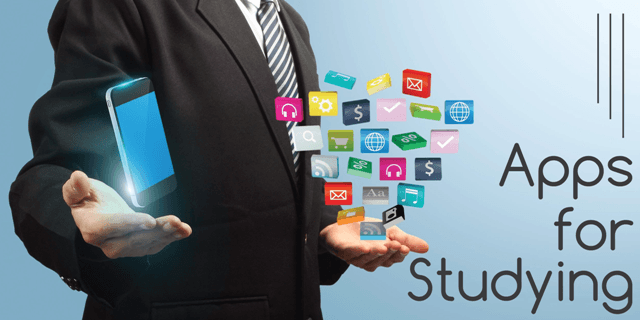 Technology has helped students in every possible way. Ages ago, students used to write down all the lectures in order to note down all the important points but sometimes it's quite difficult to note down all the important lectures without missing any point. But, now you can use lecture noting app which can help you with noting lectures. SoundNote is available for iPhones and IPads. You can simply download this app from Play store and enjoy it without any cost. It will help you in recording the entire lecture with clear audio. You can also make video if you are allowed to. This app is quite famous among college students because it is free and is very easy to handle as well. You can record the audio in just seconds by just clicking the SoundNote icon and your recording will get started. This app will help you in recording every bit of your lecture. It can be downloaded from the link given above.
The problem of revising for exams and tests is being solved with the help of this Revision app. It is available for iOS and you can download it for free. It will help you in creating tables, charts, flash notes and audios which are useful for going through the important lectures before exams. this app has helped students of all levels and students can also get help from other classmates or students from other parts of the world. Revision app is quite successful in attracting different students. It is not only easy to use but you can get authentic educational material from this app. It keeps you organized and make your student life tension free because all the lectures of different subject are now available and you can revise them anywhere with the help of your mobile apps. This app is full of quizzes and tests which will help you in reducing exam anxiety and you will also learn useful things which will help you in exams for achieving good grades. So, what are you waiting for? You are just one click away from this amazing revision app. Download it for free by clicking on the given link to Revision App.
This app is being presented for all the business students across the world. The students from India and USA are actively using this app. It is available for Android and tabs. You can get lots of information for MBA, GATE and GRE tests. There are different quizzes and tests designed to enhance your knowledge in your relevant field. Students use this app to keep track of their learning process which keeps them ready for surprise quizzes as well. Students can also collaborate with each other and can also get information from students around the globe. Prepare for your exams by downloading this app. download it from the given link.
This app is present for Android users. This app has helped many students to organize their student life by downloading this app. There are color coded timetable, notifications for upcoming tests, assignments and quizzes of different subjects and it can auto mute your mobile phones during lectures. You can have a glance on important points in the form of widgets. This app has helped many students in managing time for all the subjects and it has also helped students in making assignments before deadlines by getting notifications which keep students updated with their assignments. This app also tells the students about next lecture. So, make your student like organized by downloading this app for free. You can download this app by clicking on the above link.
These are the 4 most helpful mobile apps for students. These apps are not only free to download but are easy to use as well. You can record your lectures and manage your everyday life with the help of these apps. Furthermore, you can also get notifications which helps in submitting assignments on time. Therefore, be an organized student by downloading these apps.
About Author
The writer of this guest post is Ronald Thomas. He is a Researcher and an Associate Professor. He write my dissertation uk for various magazines and blogs on topics related to education, student life and technology.