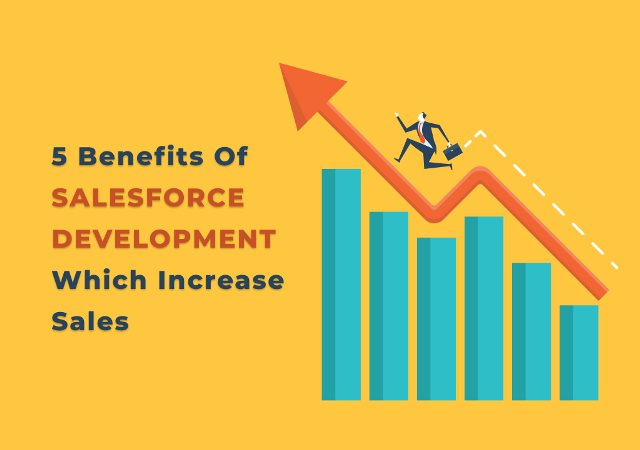 Salesforce is the world's largest CRM that is widely used among the top MNCs and business organizations. Salesforce benefits a lot to its users with its incredible features and extensive resources.
In this article, we are going to detail out all those features and benefits of using Salesforce. Furthermore, we will highlight some ways how Salesforce development services can help in increasing sales.
Salesforce is designed in such a way that it favors business, increase ROI, and assist your team in the entire customer lifecycle. Also, it helps in tracking lead generation!
"According to 40% of Salesforce in mobile consumers, they have seen a good rise in sales counts & business productivity."
With Salesforce the data analysis is strong and you can also anticipate your every customer needs just by staying proactive to them. The CRM mainly focuses on building relationships such that the business can provide stellar services 24×7.
A few of its key products are ExactTarget Marketing Cloud, Chatter, Service Cloud, Salesforce1 Platform, Work.com, Salesforce Communities, Pardot, and Sales Cloud. You can refer to many top Salesforce professional web services in USA to know more about these products.
"Salesforce in business increases the lead conversion ratio by 38%. Not only it has given growth to the businesses by giving 28% extra of the investment but has increased the business forecasting accurately by 45%."
Therefore, below are some of the benefits of Salesforce development which increase sales.
Let's discuss each of them one by one!
Salesforce Is Easily Accessible!
Salesforce is a cloud product, therefore, it is always available everywhere unless you have the internet to access it. Along with this, Salesforce benefits you with an app that keeps you in touch with your teams and business every hour.
The app is a good match for all the hands-on business owners, CEOs, CTOs, business development managers, marketing managers, etc. who prefers staying in constant communication with the team members.
"Its easy accessibility keeps the data location centralized in a safe and secure cloud, where one can access it anytime if he/she has the permission to do so!"
Furthermore, your team remains reliant, reliable, and can keep themselves up-to-date about the clients & accounts, wherever they are. As a result, you can provide the best customer services to the client in a more secure way.
The AppExchange
It is true to say that the mobile applications have exploded the public consciousness in a big way, in some recent years. Nowadays, if people want to accomplish something digitally, then they run to their app stores to check if there is any for that!
One of the best benefits of using Salesforce is its AppExchange. There are several easy to access applications that can provide users with more resources, can add more functions, expand the functionalities, and add better features to make business more suitable and seamless (take for example Salesforce power dialer to reach 447% more customers every hour).
"LinkedIn and Microsoft Outlook are the two big names which use Salesforce services and the AppExchange."
The AppExchange is a new hub of ideas and capabilities that can fine-tune the business and helps the clients to connect to more users, customers, and deepens the relationship with them.
Conduct Marketing
In every sales process, the first step is to gather leads. The best way to gather leads is to make full use of inbound and outbound marketing strategies
Inbound marketing is a part of a digital marketing strategy that involves blogging, SEO – search engine optimization, email marketing, social media campaigning, etc.
Today these strategies have grown so high in use that the outbound marketing strategies like cold calling, direct mailing, advertising, etc are less used.
This means you cannot overlook the inbound strategies!
Once you start getting leads due to your marketing efforts, Salesforce starts storing that leads. At this point, the data quality is highly important.
That means the information you need and you get must always lead to leads and business. For that, the conduct marketing feature is one of the best benefits of salesforce!
Logging and Analyzing Data
The user data that you log in Salesforce is very advantageous. It is one of the key benefits of Salesforce, where you can access the shared data to make better sales and business decisions.
With the data in your hand, gaining insights becomes easy to improve sales. As a result, the Salesforce benefits in visualizing your sales pipeline, at the same time, it also prioritizes leads to understand the revenue projections in a better way and track the customers easily.
However, sometimes your business might face questions over email marketing and integrity. That is why it is important to store data in Salesforce because it establishes trust among the users about the data accuracy.
"If the people fail to make transitions on the old CRM, then your business organization can make a better ROI with the salesforce."
Industry Specific
Salesforce is an industry-specific software used by 1,50,000 businesses of all sizes; big or small! With the help of Salesforce services, you can deliver better and personalized experiences to many of your customers at the same time.
Today it is used in financial services, media & communications, healthcare & hospitality, consumer goods, manufacturing & retail, food 7 restaurant solutions, education & eLearning, and eCommerce industry.
It is easy to customize and modify this CRM software. You can extend and add functionalities to grow your business over time. This makes it the biggest benefit of the Salesforce service cloud.
Salesforce is an ideal choice for your company that is rapidly innovating itself while positioning to stay competitive and relevant in the landscape of the business of all sectors!