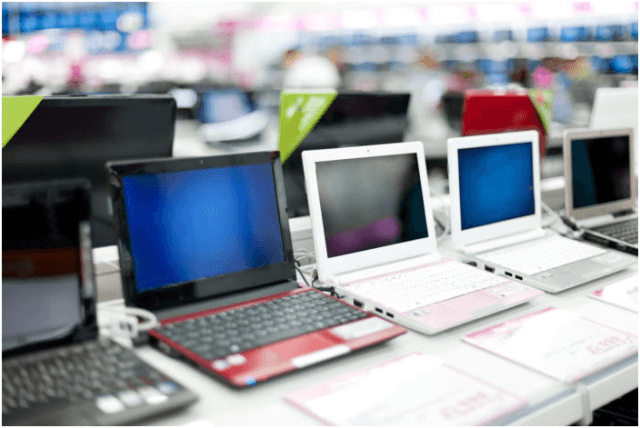 In the market for a laptop to meet your everyday needs? Then you don't need to really spend much if you're not in for gaming or professional usage. There is a plethora of cheap options are available that are bang for the buck when it comes to features but won't burn a hole in your pocket. So let's dive right in to find the perfect fit for you!
Dell Inspiron 5567 Notebook:
Built to bridge the gap between power and performance, the Inspiron 5000 series rarely fails to deliver. And so, it has another gem powered by the i3 processor from intel, clocked at 2GHz, which offers a blend of ample power and high efficiency. With various performance-based enhancements like the RAM expert to manage memory, or the Anti-Glare screen, this laptop is every bit worth the price and certainly is a steal when it comes to performance.
4GB, DDR4 RAM with RAM expert for smooth performance and fast load times with expansion available.
15.06-inch Anti-Glare, Full HD LED backlit display to provide the best experience however the surroundings are
The i3 processor also provides Integrated HD Graphics 520 chip, which works out well for daily usage
The Laptop comes with preinstalled Ubuntu and offers dual boot capability
A 1TB hard drive makes sure ample storage is provided while a HD front camera is also available for your video calls.
Averages 4.5 hours of battery life on normal usage.
Reviews: laptopmedia.com consider it as best suited for students and office work. They found the backlit keyboard joyful while typing. While they find viewing angles satisfactory, they believe there was space for improvement. Notebookcheck.net found the speakers very nice. There was also quite some praise for the HD camera with but they thought the screen could have been better. The laptop is rated very highly at 81% on Notebookcheck.net and is definitely bang for the buck.
Original Price: Rs. 30,990
Flipkart Discounted Price: Rs. 28,990
Asus might be a new player in the Indian market, but it is a top player all over the world. Already having a good public image thanks to their top graphic cards, The Vivobook series is another top product from them to give an enriched experience. Running on the 7th Generation Intel Core Processor, and even equipped with a Nvidia Graphic Card, the laptop really delivers when it comes to all round performance. And as they have proved before, there products are sturdy and with multiple service centres around, you can't really be worried once you choose it.
Running the 7th Gen i3 processor with 4GB DDR2 RAM, multi-tasking is smooth with fast loading times.
Comes with a 15.6-inch Full HD Anti-Glare Backlit screen and Gaming-grade Nvidia Graphics to deliver a mesmerising experience.
The hard disk Provides 1TB of space with both USB 3.1 and 3.0 slots for fast connectivity.
The Speakers are B&O verified and incorporated with ICEpower technology to deliver the best audio output
The laptop is billed as perfect for gaming and everyday usage and promises 4.5 hours of normal usage battery life.
Reviews: gadgets.ndtv.com found the product worth the price on Amazon. They praised the performance and considered the keyboard well designed. The gaming experience is better than other options at this price. Techadvisor.com even praised the cooling system while gaming which certainly is a huge plus in terms of performance. The Laptop is rated 3.5/5 on ndtv.gadgets.com and is a worthwhile option.
Original Price: Rs. 35,990
Amazon Discounted Price: Rs. 32,599
Acer is a top option when it comes to laptops that are built to last and this one is another sturdy device from them. With 6th generation intel core processor, this laptop is built to deliver for years for everyday usage or office work. The laptop is also billed to provide high battery backup and easily one of the best in this price range. Despite it's size, the laptop is very portable and is a perfect option for on the go users thanks to the combination of ergonomical build and good battery life.
Runs a 6th generation i3 processor combined with a 4GB DDR4 RAM to deliver smooth usage and fast loading for all software's.
Comes with A 15.6-inch HD LED Backlit screen and built-in Dual speakers to deliver the best audio-visual experience.
With a 2GB GDDR5 Nvidia 940MX graphic card, this laptop is a good fit for mild gamers.
HDD with 1TB space and expandable RAM up to 32 GB, and USB 3.0 and even C-type connectivity.
Finetip Keyboard and a HD camera with even a Kensington Lock slot make this a feature rich laptop.
Battery life of 8 hours on normal usage to keep you going even on the go.
Reviews: gadgetsnow.com called it a good product in this price range and considered the graphic card as the best feature. Deemed as a must buy for those looking for medium gaming, photoshopping or coding. Digit.in called it as perfect for its price. Although they mentioned that the viewing angles could have been better. They faced a few hardships with the battery but got it sorted after a replacement from the company. This one is rated 3.9/5 on Gadgetsnow.com.
Original Price: Rs. 32,987
Flipkart Discounted Price: Rs. 31,338
Self-Proclaimed as the number 1 Laptop brand in India, The BE product series offers users an optimal performance for both work and play without any headaches. With a perfect design and a top cover made to be scratch resistant, this one would stay beautiful even after a long time. The laptop weighs just 2.19 Kg, which is incredibly light for this screen size and adds to its portability. And with expanded battery backup also included, this one is a must in all wish lists. If you are looking for some discount then Just signup and login there to grab up to Rs. 4500 off by using AliExpress coupons.
Powered by the 6th generation i3 intel core processor, this one provides a perfect blend of smooth and efficient performance.
Integrated Intel HD graphics 520 might not be the best of the lot but would handle low to medium graphics demands.
With a 1TB hard disk to meet all your storage demands, no need for external drives for your movies.
A 15.6-inch HD SVA WLED backlit display with Brightview technology to provide perfect view at the worst of angles.
An enhanced battery with a battery backup of 7-9 hours, perfect for on the go usage.
Reviews: 91mobiles.com were quite impressed with this one and deemed its performance as sheer quality for the price. They praised the battery life and the ability to expand the RAM and were also quite impressed with the processor. Gadgetsnow.com have praised the body build factor of the laptop while terming it as a brilliantly designed laptop. This one is rated 4/5 on 91mobiles.com being termed as the perfect choice looking for a strong multitasker at a budget range.
Original Price: Rs. 39,465
Amazon Discounted Price: Rs. 29,499
Lenovo may have taken the mobile phone market by storm but it hasn't taken a backfoot in the laptop segment by any means. And here it is with a very strong contender to the other models, with the Ideapad 320. Perfect for general usage or office work, this one is not very bulky and a perfect fit for your lap. Running Windows 10, this sleek and stylish laptop is definitely worth checking out if you are in the market for a new laptop.
Powered by a 7th generation dual core 2.4GHz i3 processor to deliver efficient performance and battery backup.
The laptop comes with 4 Gigabytes of RAM with seamless multitasking.
With a storage of 1TB, it doesn't fall behind the competition while the 4-hour backup seems a good deal at this price.
With the integrated intel graphics 620 embedded in the Intel core processor, the laptop is able to handle basic graphic demands with ease.
The laptop has a Full HD 14-inch display which is both portable and rich when it comes to colour and viewing angles.
With dual Harman speakers supporting Dolby Audio technology, this laptop can get the best out of your music.
Reviews: It is certainly a hit on digit.in as not only did they find it a top product, but many of their readers also praised it. Gadegstnow.com were so impressed by the laptop and called it a mind0blowing product. With praises for the speakers, the slim ergonomical design and fast processing, this one has impressed reviewers all round. Digit.in have called it an excellent product and termed it just as good as it is described by the company which is a rare commodity these days. This one is rated 3.5/5 on digit.com.
Original Price: Rs. 34,990
Flipkart Discounted Price: Rs. 33,990
If you're in the market for a new laptop, this is definitely worth a read for you. If your budget is low but you need a strong multitasker, you really don't need to spend any more than 35,000/- unless you're going to use high-tech software. Make a choice out of these top 5 laptops with 4GB RAM, add in some coupons and get yourself the perfect deal. You can be assured that you won't be disappointed by any of these!
Happy Shopping!