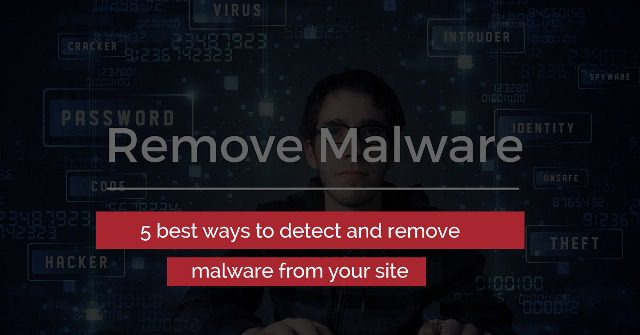 The simple definition of malware is any software piece devised to harm data, computer applications or entire website structure. Every year a huge number of digital businesses experience major loss because of malware attack on their sites. Malware is not a single element. It actually refers to a number of malicious digital elements that infect your site including not limited to viruses, Trojan horses, spyware, worms, botnets, adware and ransomware. The major question is how to detect the malware on your website and the best ways to remove the same. In this blog we have presented a few strong ways to detect malware presence and how can you remove them before they may considerably harm to your website.
Don't just wait for external changes
A common notion among non technical clients is that the change in the external appearance of your website is the best way to gauge the presence of malware. However it may not be the best parameter to confirm the malware presence.  In fact, sophisticated hackers have learnt to remain elusive for a long time after attacking your website. It helps them to maximize the exploitation of your site. Besides as per one study – out of the websites that were infected with malware in 3rd quarter of last year only 15% of them experienced external signs.
So, along with external changes you also need to look out for other signs of alert like
Changed login information without your information
Modified/deleted website files (that you are unaware of)
Sudden website freezing/crashing
Surprising and often disconcerting search engine actions on your website including but not limited to warnings on harmful content
Sudden changes in traffic (positive or negative)
Create website backups
One of the major factors to keep in mind is that the hackers of modern era are far more sophisticated as compared to their traditional counterparts. So, always be ready for a situation where it will not be possible to save your website from malware impact. Thus you need to play safe and eliminate the possibilities of any major data loss during such situations.
Creating periodical website backups on a recurring basis can help you in restoration of your site during the instances of cyber attack. Thus restoring your website during the instances of malware attack can eliminate the possibilities of any acute harm in your digital business.
Check Scripts source code
If you would love to go for the DIY methods to check the malware in your source code then you can look for script attributes and frame attribute. In most common cases keep a sharp eye on the syntax <script src =>. For the iFrame you need to look for <iFrame src =>. If you find any alien URLs /file then you are most probably on the radar of cyber-attacker.
Automatic scanner and removal tools
Manual scanning of malware requires you to go through tedious and complicated processes and in many cases you also stand a risk to warn the cyber-attackers before they are nabbed. A better option would be to use the automatic scanner and removal tool. You can utilize the premium automatic malware scanners that scan your website on a daily basis and keep you a step ahead of the smart hackers. Besides, it also allows you to take proactive actions instead of waiting till cyber-attackers fully execute their plans. Thus it limits the capabilities of cyber-criminals to amplify their malicious impact risking your site as well as the safety of your users who share key information (like patent cards and giving credentials) on your site. These tools warn you upon discovering any suspicious activity that might be linked to the malware. It also offers the automated functionality for Malware removal. However, the capability of the malware scanners may vary greatly depending upon the sources; the reputed malware scanners derive their capabilities from extensive record of most current malware threat thus empowering them to offer the best protection to your site against the latest threats.
Best practices
While the technical tools can help you reduce the possibility and impact of malware you simply cannot afford to neglect the role of best practices. Here are a few things to keep in mind in order to enjoy the maximum protection against malware
Frequent password changes
Avoid using your server system for opening any other website checking mails or simply for any IT related operation
Not displaying your real email addresses and other vital contact information on your Whois database
Disabling Java, Active X
Avoid opening any unknown link even if it seems legitimate
Avoiding any new browser that doesn't share the reputation of Chrome or Firefox
Disabling Pops-us
Avoid using any plug-ins on your website until or unless they are indispensable. In that condition too, thoroughly check the safety level and use only trusted plug-in
Not sharing the administration access to any user even if it is your own employee. In that case you might add to your tasks but it is better to increase your work rather than risking your entire site by sharing the administrative access.