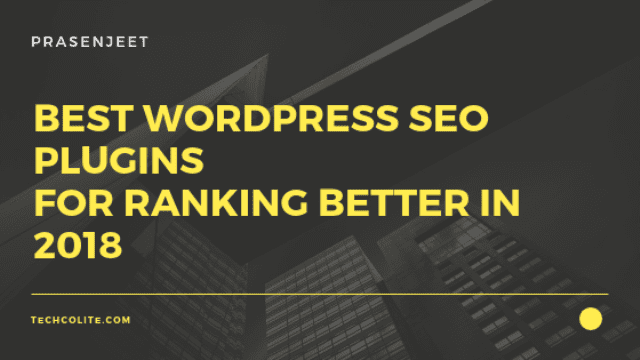 Search Engine Optimization is the major traffic source for most of the websites. Traffic from search engines is one of the cheapest ways of getting high-quality traffic. Search engines like Google take many factors into consideration for positioning the websites in their results.
You need to make sure that your website is properly optimized for search engines to do well in the results. Almost 90% of the traffic goes to the top 5 results on Google and the people don't look past the 5 results. So, it is extremely important to optimize your website or blog to stand out from the competition.
WordPress is the one of the most popular blog publishing platforms. More than 60 million websites are powered by WordPress at the moment. It offers lots of native features which makes it comfortable for the webmasters to manage their websites.
WordPress plugins allow the WordPress users to add additional functionalities to their blogs. In this article, we'll share 5 best WordPress SEO plugins that help you to achieve better rankings on search engines.
SEO by Yoast
SEO by Yoast plugin is considered as one of the comprehensive solutions for the on-site SEO of the WordPress blogs. It offers dozens of actionable and efficient on-site SEO the features and that's the reason why it is being used by thousands of WordPress users. It allows you to write a custom title for the home page, categories, archives and tag pages.
You can add SEO title, meta keywords, meta description for each and every page and post on your WordPress blog. It pings the search engines whenever you've posted a new article on your site. Some of the best features of Yoast plugin are .htaccess redirect, Robot.txt edition, breadcrumbs, open graph implementation, easy to add canonical URLs, rel="next" and rel="prev", XML sitemap access, etc.
The SEO Framework
The SEO Framework is an amazing lightweight SEO plugin. It works super fast and it is available for free on WordPress plugin repository. Though it is not as popular as Yoast plugin or All in One SEO Pack, it has got tons of features and received great positive reviews in recent times. It helps the users to automate the on-site SEO in an easy way. You don't see any unnecessary notifications or bloat on the plugin.
You can even transfer your SEO data from other SEO plugins and thus you need not fill all the data again. It works great for preventing 404 errors, adding meta descriptions and titles, adding sitemap functions, automatically updating when you post new stuff on the site and many more.
All in One SEO
All in One SEO plugin is probably the second popular SEO WordPress plugin. It has over 2 million active installations from WordPress plugin repository. It has a bloat-free and lightweight interface which is easy to use. It has tons of features which are suitable for both the beginners and advanced users.
The best thing about this plugin it comes straight out of the box and none of the features are enabled by default. You just need to enable and disable the modules as per your requirements.
Best Features
It makes it simple to edit .htaccess and robots.txt files.
It highlights the duplicate content.
It supports Google Analytics.
It prevents the spammy bots from reducing your site speed.
Easy meta-tag and sitemap generation.
You can export and import the settings to use them on your other sites.
Google Analytics support
and many more.
Squirrly SEO plugin
Squirrly SEO plugin is specially designed for beginners. For the major part, the Squirrly SEO plugin focuses on the keywords and content. It helps you to craft the content in an effective manner to be able to rank your website. It'll also guide to write your content in a human-friendly manner. It is endorsed by pro internet marketer Neil Patel.
One of the best things about Squirrly SEO plugin is their tutorials. Their slideshow tutorials make it really easy to use the plugin. Here are the key features of Squirrly SEO plugin.
Best Features
It provides good keyword suggestions for headlines.
SEO audit report.
Efficiently uses AI to help you craft high-quality content.
The Weekly Monitoring features monitor your progress regularly.
Rank Math Plugin
Rank Math plugin provides a comprehensive solution for all your SEO needs. It is power packed with lots of features and it's pretty simple to use it. One of the most useful features in Rank Math plugin is the snippet preview. It provides the preview of the snippets so that you can check how it appears on the search results.
It also shows you how your post looks when someone shared it on social networks. It presents the useful info from Google Search Console in your WordPress dashboard. So, you can see the sitemap status, keywords for which you are ranking, indexing issues, broken link issues etc on your WordPress dashboard itself.
Whether you have a niche blog or e-commerce site or a small business website, Rank Math plugin makes sure that it uplifts your SEO efforts to next level. Rank Math plugin is certainly one of the best SEO plugins for WordPress platform.
Wrapping up…
The above 5 WordPress plugins pretty much cover all the major SEO needs. You do not need to install all of them. Pick one or two based on your priorities. Page speed is one of the crucial factors that decide your search engine rankings. You need to ensure that your WordPress blogs load as fast as possible.
You can check out site speed with Google Page Speed tool. Use Image compression plugin for compressing the size of the images without losing the quality. If your hosting doesn't provide an inbuilt caching feature, it is recommended to use plugins like WP Super Cache and WP Total Cache.