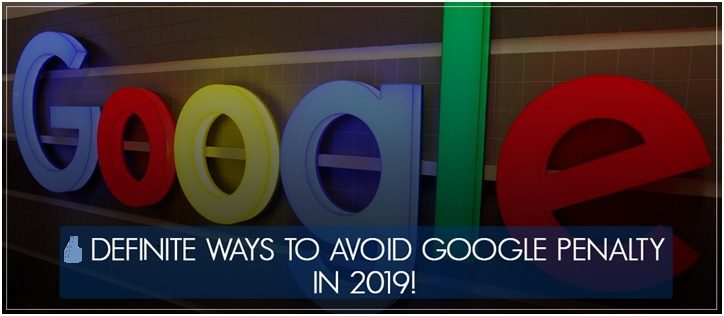 Search engine penalties are the bogeyman of the digital marketing world. They are lethal to your platforms. A few tweaks in the tricky algorithms of a search engine can force all your online business efforts to go in vain. If you do not play carefully, it will crush your business. I've very closely seen it happening to a business which actually motivated me to write this guide and it definitely will help you stay safe from the penalties in 2019.
I've successfully guided people out from Google penalties. Along the way, I discovered several ways through which you can steer clear of such problems. The article will greatly help you avoid search engine penalties and how you can stay on Google's good graces and keep generating high revenues.
Before getting started there are a few things you need to know about the penalties:
There is two types of search engine penalties:
– Manual: Manual penalty happens when an actual human looks at your content or platform and thinks of putting an end to it. So he/she reports it to Google. Whenever such action is done, you'll get a Google Webmaster tool notification.
– Algorithmic: Algorithmic penalty happens when your site is detected violating Google's quality guidelines. It suffers from rank loss and in swear cases, your site can also be banned. If you utilize black hat techniques to gain higher positions on SERP, then beware of the Search engine penalties.
When you get hit by the algorithmic penalty, rankings decline relative to the severity of the violation. Recovery from such penalties is possible, but it is a gradual process. However, in this article, we are going to discuss how NOT to get whacked in the very first place.
So, without further ado, let's discuss how we can avoid Search engine penalties:
Stay Updated:
Staying updated with the latest algorithmic updates of search engines is crucial to online businesses. You need to be familiar with all the rules to keep all the activities as much legal as possible. You need to perform all the activities within the drawn boundaries to gain success for your online business. The days of gimmicky SEO tricks are long gone now.
If you're unfamiliar with Google's guidelines then visit here. Google allows you to know the rules in simple language so that you can understand them better. If you're earning your bread and butter online then these guidelines are your bible. The simplest of all ways to imply those rules is to create original, meaningful and informative content that adds value to the users. Content is the backbone of SEO. There is a lot more to the basics. Read the attached guideline for better understanding.
Perform a content audit on your website:
A content audit may sound sickeningly corporate but is essential to the rankings of your site. It clearly indicates what you're doing wrong on your platform or what is actually wrong with your content strategy. It can be of great help in getting out of crosshairs of algorithmic penalties.
A content audit doesn't necessarily have to be complicated. Here's an idea to it:
Understand Google guidelines clearly
Utilizing this knowledge and audit every page of your website to see if the content elements and quality are up to mark. Check if images are optimized. See if the keyword density is alright.
If you own a big website which has thousands of pages, you can utilize Google analytics to find yourself the top performing pages. Conduct an audit on your top performing pages and then work yourself down. Spammy content is a major reason for Google penalties.
Scan your linking profile:
Keeping your Google penalties profile clear from spammy or low-quality links is of great importance. Google takes your link profile into great consideration while ranking your website on SERPs. The algorithms analyze your website based on two following features of the related links:
Quality of the linking website – is it a reliable source or not? For example: if the Cox San Diego's website is getting a link from Forbes, then it would be considered a high-quality link which will directly impact the rankings of the website. However, if the website is getting a link from a poor quality website having low DA then it would impart a negative impression on the credibility of Cox's site.
The anchor text used to get a link back to your site.
So constantly scanning your link profile is highly important to save yourself from search engine penalties.
Constantly create High-quality content:
"Content marketing is the king," said Bill Gates. It is the core of online marketing. Content marketing is just plain work but holds great importance. Here is what you have to do in order to stay safe from online penalties:
Constantly create high-quality content because content marketing is not a one-time thing. It requires constant efforts.
Utilize visual content for better interpretation
Utilize the potential of infographics
State facts and figures from reliable sources to provide precise information
When you will create high-quality content, targeted audience will automatically visit, click, read, share and convert.
Fuel up your SEO:
You may have not realized that many of your SEO efforts are harming rather than benefiting you. Why? Because they are obsolete techniques which are considered fraudulent by search engine algorithms. Even if they are not considered fraudulent, they may or may not be considered credible by search engines.
So be very careful with your Google penalties, and fuel your SEO up with all the legit and white hat techniques. Before forming an SEO strategy for your website, conduct an open and productive conversation to welcome new ideas.
In order to win the search game, you need to play smart. You'll start sensing what Google requires from you, how the algorithm works effectively, and what tactics should you adapt to succeed. The discussed five tactics can help you big time in avoiding penalties.