The sysadmin profession is one of the most popular in the modern world. Sysadmins serve small and large companies, helping many offices to have a stable connection between servers, the Internet, and computers. Regular users often ask administrators for help in setting up the PC or in case of a breakdown. The sysadmin must know everything about the systems running on the network and quickly access them. The built-in software administration tools are often not so convenient or functional, so eventually, some useful utilities start to come to the sysadmin arsenal to simplify his daily tasks. Moreover, many solutions are available completely free and cover a wide range of aspects of system administration: from server monitoring, mail flow management to troubleshooting, and backup. With their help, you can not only ensure the smooth operation of the IT infrastructure but also make it more efficient and safe. Let's check out these prominent top 5 cloud-based tools for sysadmins that easily automate the daily managing business process.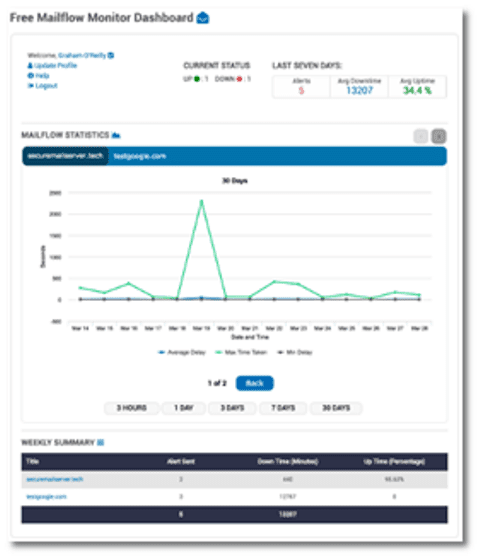 Until recently, in the IT mail flow monitoring world, any developed brand new tool, with all its pros and cons, has cost an arm and a leg. Well, in truth, it doesn't quite fit in the case of newly opened businesses or small companies. For now, the EveryCloud created a perfect service that contributes increasing productivity by round-the-clock mail flow managing. The point is that it's no less useful stuff for sysadmins, but the first of its kind that is absolutely free.
Mail Flow Monitor (MFM) allows (to):
-Prompt email tracking and monitoring on a 24-hour basis.
-Solve the problem immediately upon its detection. Whenever a backlog or idle time, you'll be notified by cell phone or email.
-Get a test email from a system into your monitoring mailbox every a few minutes.
-Forget about updates and installations due to cloud-based feature.
-High quality and fast support.
-Lead collaboration with MSP's and IT Resellers via the EveryCloud Partner Area.
Even momentary idle time can cause a permanent damage and bring heavy losses. Control the email-flow managing process from top to bottom, run the business without interruption, save money and at the same time normally pay for equally-aimed tools.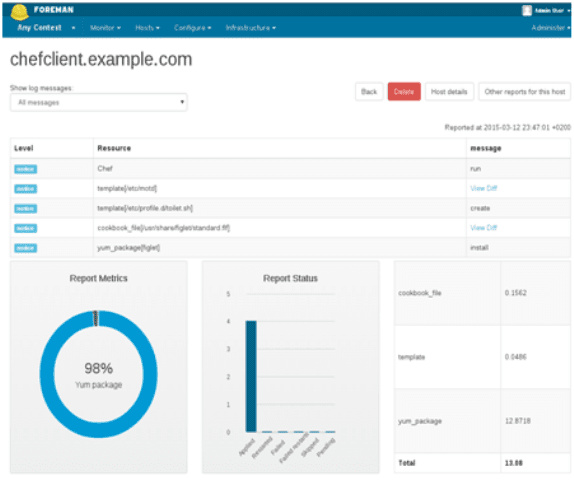 Here's another worthwhile tool that focuses on automation of recurring tasks. Using Foreman enables implementation of all the processes used to run the application to be gathered in one from start to finish. Useful management system for physical and virtual servers that is entirely free.
Foreman tool main features:
-Improve, update and fulfill your bare-metal framework.
-Make and lead the copies across public and private cloud-accounts.
-Connect hosts and keep it controlled, no matter what point on Earth you're located at.
– Use the analytical dashboard to monitor and solve problems quickly.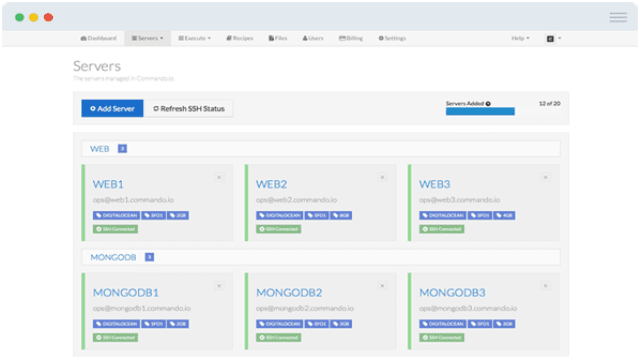 Commando.io facilitates the organization and management, as well as the execution of different commands on the server with its nice interface. When using Commando, sysadmins don't spend too much time to automate the cloud infrastructure. So the productivity increases while the working process is flowing.
When choosing Commando product, the user receives:
-Only native SSH.
-Clear statistics and mistake reports saved in a history for strict audit.
-Provide an opportunity for anyone you want to run the commands on servers from a lovely interface.
To get Commando for controlling one server is free of cost, but managing 3 or more servers easily online costs a reasonable price. It starts from 12$ per month and increases due to a bigger amount of servers and users. You can apply to the Commando support to figure out the perfect plan for you personally, according to the requirements you have.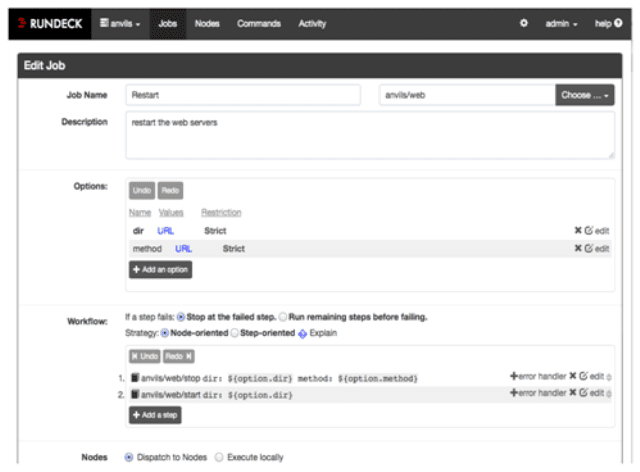 Rundeck is an open source project that allows sysadmins to organize a certain script server, automating routine and template work. Actually, it's a key that helps to run scripts and shell commands on any number of nodes, with a possibility to control its execution and describe every action, successful or not.
Its main features include:
-Cross-platform.
-Eliminate and reduce the errors using a timely bug report. In consequence, saving time by reducing the hours wasted on solving problems.
-History and audit of scripts and commands.
-The ability to take all parameters and settings on the URL from a remote node.
-Run the access controls tool to give an access to people you would like to manage a server.
The standard set of Rundeck services is FREE. The Pro version includes more extensive abilities and the price starts from 5,000 $ per year. Refer to the website for a detailed specification.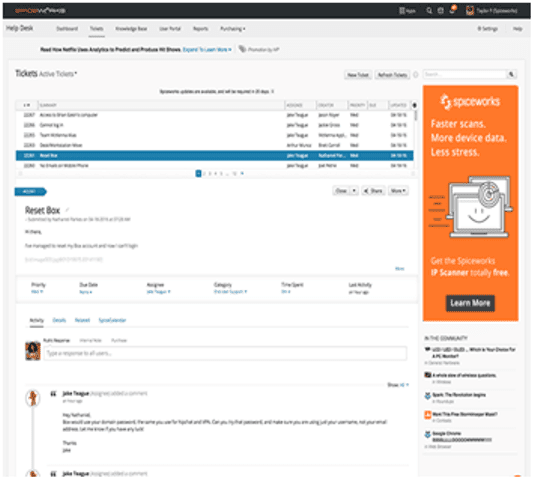 Intended to simplify the working stream of the whole IT team, the help desk software contributes the successful management of your business no matter what size and term it is.
The opportunity that user gets:
-Free help desk software that simplifies the requisition and task tracking.
-Spiceworks Help Desk Mobile App that allows managing the process from your cell phone.
-Custom Help Desk Reports.
-Help desk support and knowledge base.
– Track the productivity of your team success, giving the access to whoever you would like to.
Easy IT ticket tracking system that promotes leading the business on the professional level.