5 quality features of Pinngle messaging app you may enjoy in 2017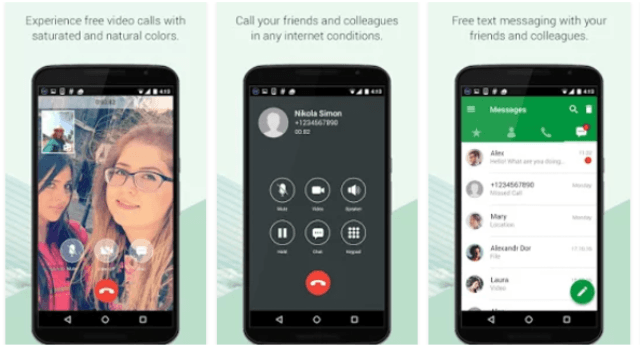 There are plenty of messaging apps that you can download from Google Play Store in order to stay in touch. However, everyone must choose the app according to demands and expectations. We would like to introduce you a new messaging app that recently becomes quite popular among users. Particularly five quality features might interest you and give a comprehensive image of Pinngle.
Pinngle is a free messaging app that connects millions of people worldwide. Currently Pinngle is available for both iOS and Android. Pinngle allows you to make audio/video calls, text, share photos and videos, express yourself with different stickers, record audio messages, and send files without any limit. You just need to choose a contact from your phone book or enter a phone number to add a new contact on Pinngle.
So what are those five quality features of Pinngle that you can enjoy in 2017?
1) End-to-end encryption: Information exchange safety is a priority for Pinngle and therefore, it offers the end-to-end encryption for all messages, photos, videos, video and voice calls. All information you send via Pinngle will be automatically encrypted before they are stored. Confidentiality and security are among the most important features offered by this app and it guarantees ultimate protection for your information. This means, your calls and messages become available only to you and the person you're talking to or sending a message to.
2) Available with slow Internet: Pinngle works everywhere, even in the most remote corners of the world. One of the unique feature of Pinngle is ability of this app to work even with very weak internet and overloaded WiFi or 2G networks. This feature allows making free audio calls even with 2G internet. Furthermore, Pinngle allows you a callback option for international calling if you have very poor internet access. This feature is not available even for most famous messaging apps. Pinngle app takes care about its users comfort and works even in extreme conditions.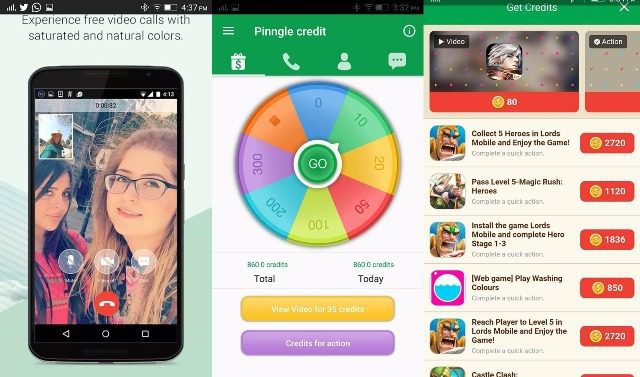 3) Credit Earning System: This feature is something new in messaging apps and it gives a great motivation to install app as soon as possible. With Pinngle's special credit earning methods you can gather credits and make completely free internationals calls to all mobile phones and landlines.  Even if you don't have credits, you can still make super cheap international calls and always stay in touch with friends, relatives and colleagues. In order to earn credits, you can scroll the roulette that you can find on the app, watch videos, or install/play games. What can be better than earn credits by playing games or watching videos and use those credits for free international calls? This sounds like a perfect deal for users! You may read more about this awesome feature in Pinngle's official blog:
http://pinngle.me/blog/pinngle/how-to-earn-more-with-pinngle-credits-for-international-free-calls
4) Public Chanels:
Pinngle is constantly surprising its users with new exciting features. Upcoming features are Public channels, which will become available by July 15, 2017. In Public channels you can post your daily activities, comment on your friends' posts, connect directly with your favorite celebrities and companies, you can enjoy discussions with different personalities and celebrities. Public channels will provide a gateway to entertainment and lifestyle apps that will keep you entertained and bring new convenience to your life. Users will be able to find photos, audio, stickers, web links, and more. In addition, users will have an opportunity to invite their friends to Public Chats. More info about Public channels is available in Pinngle's official blog:
http://pinngle.me/blog/pinngle/announcing-public-channels-of-pinngle-what-to-expect
5) Desktop version:
Finally, the most expected desktop version of Pinngle will be available by September 1, 2017 and via web browsers, you will be able to enjoy all features mentioned before and even more. In order to create your account, you will need to enter your name and provide a valid mobile phone number, which is used for generating a security code. About upcoming desktop version and its new features, you can find here:
http://pinngle.me/blog/pinngle/meet-pinngle-on-desktop-what-to-expect
Pinngle is the best match to your budget, it makes you feel secure and helps you to always be in touch. You may now decide whether Pinngle is suitable to be your next downloaded app in Google Play Store or not. Meanwhile you can follow Pinngle's news on:
Facebook – https://www.facebook.com/Pinngle.me
Twitter – https://twitter.com/pinngle
Pinngle official – http://pinngle.me