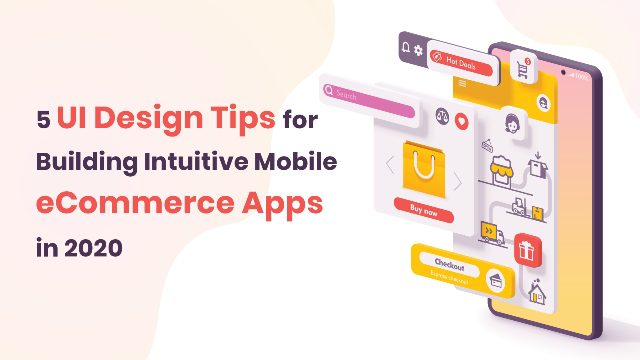 No matter how bad people are at their personal finance, they'll never stop shopping. Thanks to technological advancements, people now also have the comfort to shop from their couch.
Today, mobile eCommerce (or mCommerce) has become the new norm.
A study revealed that 69% of Americans have already shopped online.
According to Statista, nearly 1.92 billion people shopped online in 2019 and the same number is expected to rise to over 2.14 billion by 2021.
In fact, the online shopping trend is growing so fast that it will hit 4 trillion by the end of 2020.
What's even more surprising is the fact that more than 72% of eCommerce retailers will generate revenue via mobile eCommerce apps.
This clearly proves that the world of shopping is moving towards mobile and that's why you need to make sure that your eCommerce mobile app is up to the mark in order to get the most out of it.
In this article, I've shared the 5 best UI design tips for designing intuitive mobile eCommerce apps.
5 UI Design Tips for eCommerce Apps
1 – Minimize Buyers' Efforts 
It's a universal fact that if you want people to take action, then you need to minimize their efforts as much as possible.
In the case of eCommerce mobile app, if you want to increase sales, then you need to simply minimize their efforts in the purchase process.
For instance, you can begin by understanding what each user is searching for and then display related products every time they open your app.
One popular eCommerce app that follows this practice is Myntra, an online fashion retail store in India.
Myntra, in addition to displaying related products, also uses algorithm to modify the process of search, which as a result makes the browsing faster for the users.
2 – Clear & Visible Call-to-Action
The design of an eCommerce app, in case you didn't know, needs to be significantly different from an eCommerce website.
As you already know, the mobile apps usually get quite smaller screen size and therefore you need to ensure that you're utilizing it correctly.
In other words, you need to plan the user interface design of your eCommerce mobile app beforehand and make sure that all the top priority buttons are clearly displayed in your entire app.
This includes the related products section, popular items, important categories, discount offers section, and one-click checkout buttons.
Implementing such UI strategy will help to effectively highlight all call-to-actions and encourage users to take actions. 
3 – Fast Signup & Checkout
Today, the average eCommerce shopping cart abandonment rate is at 60 percent.
You see, the signup process is significantly annoying for almost everyone nowadays.
Therefore you must make the signup process in your eCommerce app as short as possible.
In fact, you should also consider allowing users to make a purchase as a guest user, which will drastically lower your shopping cart abandonment rate.
Here are a couple of things you could consider implementing to reduce abandonment rate in your eCommerce app:
Keep the signup/registration form as short as possible. For instance you can ask to fill only important information such as name, email id, phone number, and password.
Another way to encourage users to fill registration form is by creating an interactive design for the sign up process to keep them engaged.
Lastly, you can allow users to signup using their social media accounts like Facebook, Google, or Twitter. This will save plenty of time and decrease
4 – Use the Three-Tap Rule
When designing a mobile app, especially an eCommerce app, it's crucial to keep the structure as simple and clear as possible.
In other words, follow the three-tap rule when designing an eCommerce application.
The three-tap rule basically means it should not take more than 3 taps for a user to get to any product he or she wants to purchase.
To implement the three-tap rule, you need to arrange products in a simple following method.
First display categories. This could be like Men's Fashion.
Then secondly, display subcategories. This could be like Shirts, T-Shirts, Shoes, etc.
And lastly, display the products.
As simple as that.
And while you're at it, you can also consider displaying special categories like valentine outfit, wedding outfit, formal outfit, and so on.
Following such three-tap rule will help users to get to their desired products faster, and as a result, it will drastically increase the overall conversion rate.
Apart from the three-tap rule, you can also consider integrating the smart search functionality.
The smart search functionality displays suggestions and options as soon as the user type a couple of characters in the search bar, just like the Google search.
This functionality will also contribute a lot in helping to save users' time and efforts, which will ultimately increase the conversion rate.
5 – Maintain Consistency
Keeping the UI of your eCommerce mobile app look consistent is extremely important. In fact, it's actually a key principle of UI design.
For example, if one "Buy Now" button in your eCommerce app is orange, then you need to make sure that all "Buy Now" buttons in your eCommerce app are orange and in the same exact design.
That being said, here are the 3 main parts of consistency you need to maintain in the UI design of your eCommerce mobile app.
External Consistency: If you also have website, apart from an eCommerce mobile app, then they both should share a similar design. This also applies to having an Android app and an iOS app.
Visual Consistency: All the color schemes, typefaces, and buttons in your mobile app should look exactly alike across the entire app.
Functional Consistency: All the elements in your app such as animations should work exactly same in all pages/screens of your eCommerce mobile app.
These are the primary consistency factors you need to take care of when designing the UI of your eCommerce app.
Conclusion
So, these are the key UI design tips that you can use to design eye-catching and intuitive eCommerce apps. I hope that you will find all these tips handy and that these tips will help you increase conversions in your eCommerce business.
About Author:-
Being the CEO of Credencys – Mobile App Development Services Company, Sandeep helps clients to bridge the execution gap with services including Consulting, Design & Architecture, Product strategy, software development, DevOps, Managed Services. With a motto of 'Go Digital, Sandeep delivers an Extraordinary Customer Experience to its every client. Connect with Sandeep at LinkedIn.