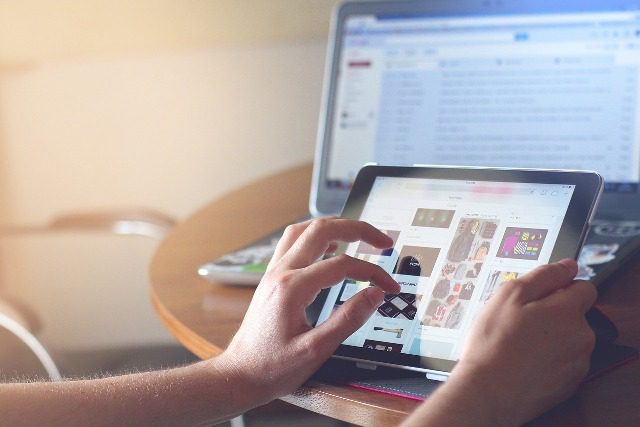 Have you bought your first iPad? Do you wish to deck it up with cool appearing accessories that have been recently announced by the company? The 6th generation iPad comes with a 9.7-inch Retina display. Check out the cool accessories which have been brought out in the market by the company itself.
iPad Bean pad
This is the best accessory brought out by the company. When you get hold of a bean pad you will be in cloud nine thinking why didn't you buy this previously. This accessory actually helps you to position your iPad in three different directions thereby letting you view the screen from three different angles. It's completely your wish in which angle you want to place it. This depends on your comfort level. The Zenn movement of the bean pad actually lets you place the iPad in three different directions. There is no way of it slipping down.
The bean pad has been carved out of the best materials namely polycarbonate which makes it durable and long-lasting. Even if your kids are using your iPad still then it's safe as the bean pad is so designed that it doesn't fall off. It's stable in one place. Using your smart covers on your bean pads can be easily done. Apart from this, the bean pads are available in three different colors namely black, pink and white.
Tablet holder
The clasp which holds your iPad is carved out of silica gel. This keeps your iPad away from any sort of damages. The clasps are huge and soft at the same time. The aluminum pole is adjustable and flexible. It can be rotated to an angle of 360 degrees. So even if you are lying on your bed at a ninety-degree position it's not you who is going to adjust. It's your tablet holder which can quickly adapt itself to your position. The clamp is manufactured out of aluminum and magnesium thereby making it durable and steady.
Sensu Digital Artist Brush and Stylus
Aren't you happy with an Apple Pencil? Are you an artist? Do you want to make use of a brush and carve out some portrait on your iPad? Your wish is the company's demand. The Sensu Digital Artist Brush and the stylus is the perfect amalgamation of a brush and stylus. The brush also comes with a hidden eraser which can be opened when you have its need. Other than that, the brush provides you with the best experience of drawing on your iPad. Interesting isn't it? Have you ever given it a thought that without using a paintbrush and a paper you will be able to draw one day? No isn't it? The brush comes in two colors namely chrome and a matte black.
Steel Series Nimbus Wireless Controller
The Apple iPad is undoubtedly designed to solve all your work-related issues. But at the same time, it doesn't really teach you all work and no play. Fun and frolic are also designed by the company. The Apple store provides you with a bunch of games which is playable by all age groups. Some games are designed to be played using the touchscreen whereas for many others you will require a controller manually operated by using your hand.
Steel Series Nimbus Wireless Controller gives you an awesome experience of playing games. Moreover, using this wireless controller, you get to have a grasp over your games. Even if the charge of your wireless controller finishes up then also you need not worry. With the help of a connector, you can easily charge your wireless connector very fast. The wireless connector can last up to forty hours. Not a bad deal isn't it? The buttons are easily operated by applying pressure and LED notifications are always being shown on the screen. The best thing which you can get hold of when you are a complete game freak.
Apple Magic keyboard
The iPad has an extensive virtual keyboard which comes with every kind of keys and symbols. But if you are someone who writes extensively and in demand of a keyboard then Apple Magic keyboard will definitely suit your purpose. The keyboard comes with a trendy and a sleek design. The battery is placed inside the keyboard and it is rechargeable. It is wireless in nature therefore with the simple touch of a button it can be paired easily with your iPad.
Lightning to SD card camera reader
iPads are made use of by consumers to professionally edit the images so that it can be made better and better. But it's a long process when it comes to the transferring of pictures. From the camera, the pictures have to be transferred to a PC or Mac and after that, it can be entered in an iPad. With the help of the wonderful device namely Lightning to SD card camera reader, you can make the process much smaller. The very first step which you can perform is to make the SD card as your DSLR's card reader. After that when the same SD card is inserted into your iPad then the pictures appear before you on the screen. The Photo app installed on your iPad will place all your images in place. Apple's Lightning to SD card camera reader helps to back up all the images which are in normal photo format. SD and HD video formats are also supported.
Did you ever give it a thought that from where will you get hold of these premium accessories? Such premium iPad accessories can be got hold from many reliable and trustworthy online shopping sites. The sites are quite famous all around the globe and delivery is made right at the doorstep of your home or to any other address whichever you prefer. The sites are Amazon, eBay, etc. You can read the entire information regarding the product and only after that an order can be placed. If you find that the product is not at all made for you then it is replaced.