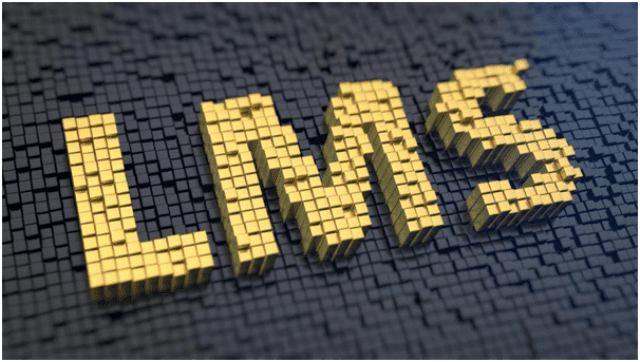 The eLearning industry is currently expanding. Learning management systems (LMSs) are used widely across numerous fields. They are being used by businesses of all sizes and academic institutions to deliver both training programs and courses. This is why the LMS branch is one of the fastest growing ones in the software industry.
While there are many LMS vendors in the market, it is important to note that these software solutions are not all the same.  Usually, the LMS packages vary from one solution provider to another. While some of them have free trials, few don't. Hence it is key to understand what is a LMS capable of so that you choose only the best.
Care to find out about the top-notch LMS tool the eLearning industry has to offer? In this post, we will review and throw light on the top 6 LMS platforms that everyone should be aware of.
Edmodo – A Paperless Classroom

Edmodo is a cloud-based LMS platform that comes with many intuitive features. The interface of this LMS platform looks a lot like Facebook. Apart from being a mere education LMS tool, it also an academic social media network that connects teachers, students and parents. The platform integrates Spotlight, which makes sharing learning resources easy and simple.
The target market is academic institutions, but it can also be used by small businesses. It is an excellent tool for in-house compliance and certificate training. Anyone can create an account and access most of its features for free. For professionals who want to step up their game, Edmodo introduced the Edmodo Premium pack. The entire premium services pack costs $2500 per school year.
Moodle – An Open Source Learning Platform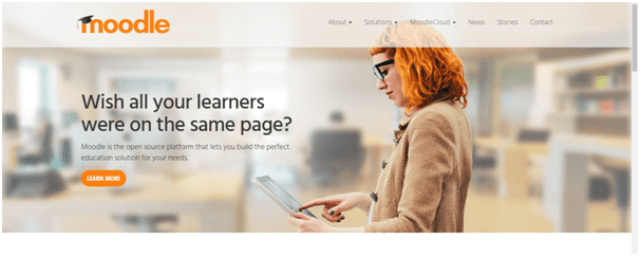 Moodle has a large community behind it. This is quite normal since it is an open source project, mainly driven by the community. It is a free platform and it is quite robust. Since it is free, you may encounter some obstacles. Course creation is a bit tough because the users are of the opinion that the UI is poorly designed.
On the other hand, the modular nature of this platform will allow you to customize courses by using numerous plugins. By using plugins, course creators can add new features for each course or training separately. The features that make this platform so popular is the support for peer assessment and workshops. Moodle also allows its users to use real-time messaging and it provides access to wiki forums. When it comes to language support, Moodle is an absolute winner in the LMS world.
Absorb LMS – An LMS Learners and Administrators will Love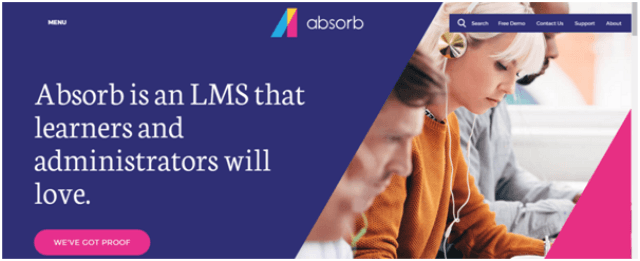 Absorb is best suited for mid and large businesses. It can be used for employee training and development. When it comes to the UI, Absorb has one of the most sophisticated and intuitive UI in the world of LMS. The platform also offers dedicated plans for both external and internal training. There is also the mobile Absorb app users can access once they start using this platform.
Absorb offers a free demo for anyone to access. It lets you check out the main interface and understand how the platform functions. Learners can engage in contests, take polls and surveys and view billboards. Absorb doesn't list prices because each deployment of their LMS is unique. There are many price factors, and one can find it out only when he answers specific questions while creating the account. The pricing plans start at $1,250 per month and, if users want to create billboards and use polls and surveys, they have to buy the Mercury Module, which costs additional $425 per month.
ProProfs LMS –  Efficient and Scalable cloud LMS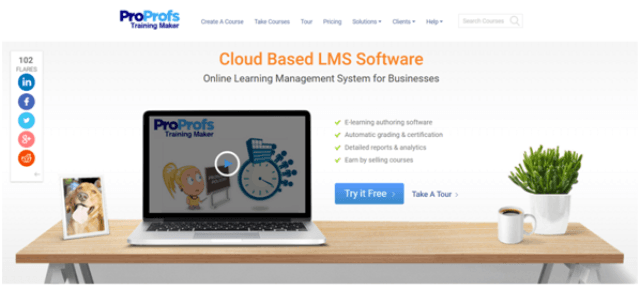 ProProfs LMS is a solution for business of all sizes. It has a very simple and intuitive interface that will allow anyone and everyone (with no technical knowledge) to use it without any problem. Users don't have to be technically proficient to leverage this platform. It incorporates useful features such as automatic grading and certification, templates, high customization, detailed reports and powerful analytics; everything a business needs to educate customers, partners, and organize in-house training. On top of that, you can integrate your LMS with other platforms such as Salesforce, Highrise, MailChimp, etc.
ProProf cloud LMS is available for free for the first ten learners. All of the paid plans include a 15-days free trial, allowing you to cancel the subscription at any given point during the free trial period.
Blackboard – LMS for Business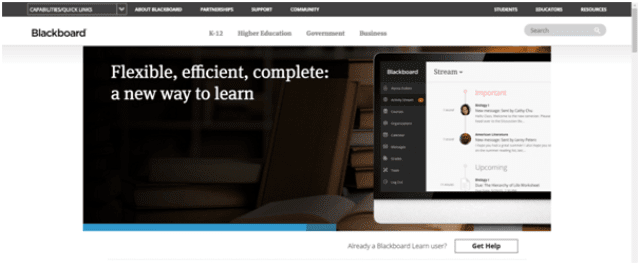 Blackboard's LMS software is offered as an enterprise solution. Their target market is businesses. By opting for the Blackboard suite, users get access to more tools and services. There are also various extensions that can add more functionality to the platform.
There is no list for prices available, as this company custom tailors the price depending on the business' needs. Users can register for a free preview in order to see what awaits them if they decide to use this platform.
SkillPort  – Modern Cloud-Based Content Delivery

SkillPort LMS software is designed for businesses of all sizes. This LMS has well-designed UI and it offers ready-to-use templates for courses. Users can register for a 30-day free trial. They won't have full access to all of the features.
This LMS doesn't come as a standalone solution. You can get it by purchasing it as part of a Skillsoft bundle of products. Users can increase the functionality by purchasing additional modules.
Conclusion
These were the top 6 LMS software solutions available in the market. Before you decide to take you pick, make sure to be clear about your goals and why you want to implement a LMS into your organization. Only by doing so will you be able to identify the LMS software features that will serve your needs. One last thing before we depart, it would be wise to go with a scalable LMS software so that you can make a switch to a package that will support your organization's growing needs.
About Author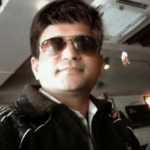 Kamy Anderson is an ed-tech enthusiast with a passion for writing on emerging technologies in the areas of corporate training and education. He is an expert in learning management system & elearning authoring tools – currently associated with ProProfs.