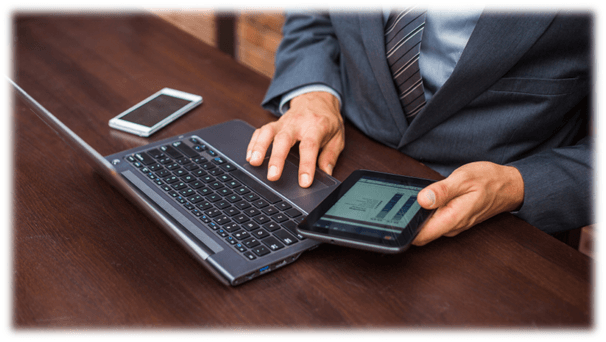 Technology has the potential to change the world and Mobile phones do the same.
It is estimated by Wireless Intelligence in 2010 that there are about more than 5 billion mobile phone connections in just these18 months.
In this context, Ben Wood (mobile analyst at CCS Insight) also found that "Smartphones are the most productive customer device in this world".
Mobile phones affected the lives of people belonging to different fields,whether its health, governance, education, banking or agriculture.
Below are some of the ways phone technology affected these fields:
Education Sector-Connected Learning
Phone technology has overcome the traditional education ways, blurred the socioeconomic and geographical boundaries and created a winning edge in the education sector.
As Nielsen reported that tablets are proven to be an interactive learning tool as 57% children use different educational apps while 77% play games.
Augmented reality, Google Glass, Rumie's low power Tablets and etc. are some of the mobile technology tools that are bringing improvements in the education sector.
Banking Sector-Hassle Free Processes
Mobile technology has brought droves in financial systems. As in developing countries most people do not have access to some financial services like direct depositing, credit cards or making transactions digitally).
Now the online banking services allow you to make transactions and manage your money through your mobile phones.  You can access your account and from anywhere and anytime, you can check your balance, transfer funds and pay your bills.
Governance Sector
Mobile technology is also helping the government to resolve its major issues. Like mobile voter registration set up in Libya in 2014, UNICEF gathers information & opinion about their programs through text messages, mail services and in this way brought about 1 million members together.
In the Philippines- Quezon City, the native government partnered with US government to implement mobile service to manage money for workplace payrolls, distribution of benefits of welfare and fee collection.
Agriculture Sector-Help To Farmers & Their Communities
The mobile services and their accessibility to agriculturalists and their communities are helping them in making a decision about crops, their plantation, harvesting period and selling prices of crops.
Like USAID Pakistan partnered with native government and a native mobile supplier to develop a mobile program that sends different farmers voice or text messages about prices of crops, access to market and ways to prevent crops from different diseases.
Likewise, in Turkey, A farmer club named "Vodafone Farmer Club" gathers free information about different issues related to farming and resolved queries and issues of many farmers. Now there are about 900,000 active users of that program.
Studies also demonstrated that mobile technology and its accessibility in rural areas can productively effect economic growth.
Health Sector-A Lifesaver In Rural Areas
The mobile phone is considered a lifesaver in developing countries. Initiatives like Global M Health program connect remote societies with different healthcare facilities and expertise and helping the communities in diagnosing and treating life-threatening health issues.
Moreover, Mobile Midwife program introduced by the Grameen Foundation is helping women during pregnancy by sending them voice notes and texts on the weekly or daily basis.
Organizing A Cybernetic Workforce
Mobile Technology has overcome traditional workspaces. A few years back, no one can think of working from home or home based jobs like freelancing, data entry, online teaching, online trading, working on your office assignments from home and many other online business & job opportunities available.
Equipped with mobile devices, workforces are using cloud, video conferencing and virtualization applications to connect and work with the office.
Conclusion
Mobile revolution changes our life from business realm to the social front. Mainly it depends on user also that whether it is being used constructively or destructively.
Author Bio
Kate Martin is a health advisor and passionate writer, blogger and public speaker at Assignment Help Deal. She also holds an illustrious profile in the IT field and writes great stuff on this niche as well. Her idea is to spread awareness and provide knowledge regarding every aspect of health and the role IT in this field.