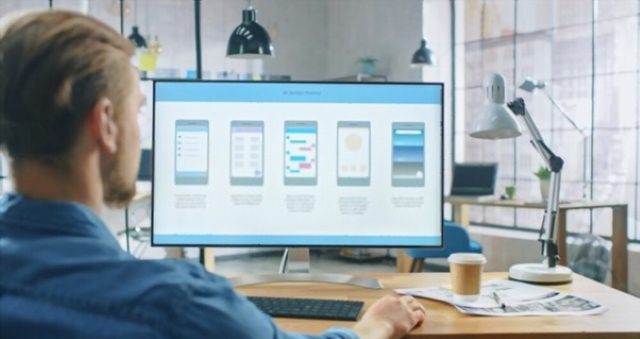 Success trends for on-demand businesses have become mainstream with increased revenue counts. The growth in revenue is due to a number of factors including user-friendliness, margins, cost efficiency, and streamlined business operations. Millennials are increasingly turning to the on-demand industry to acquire products and services.
Nowadays, technology allows individuals to perform tasks when it's convenient for them. The apps we mentioned earlier, which allow users to book services like the ones we mentioned, fall under the category of on-demand apps. They enable users to connect with people and make bookings anytime and anywhere. Therefore, on-demand app development has become increasingly important.
Research by eMarketer.com shows that 44.1 million smartphone app users will use at least one food delivery app on their smartphone in 2020 and it is expected to grow to 59.5 million using food delivery apps on their phone, representing 23.8% of US smartphone users. Since smartphones are capturing the world's market, the need for apps is increasing.
More often, It may be difficult to decide which on-demand app development company is the right choice for your business needs since there are millions of app development companies worldwide. Don't Worry, here we will provide you the list of the best on-demand app development companies that deliver high-quality products and demonstrate expertise in technical core development.
Best On-demand App Development Companies for Your Dream Startup
The apps developed by these app development companies are of a world-class standard. They will certainly facilitate the implementation of a unique solution that will produce unparalleled results for your company and your customers. We hope that you will find a reliable & perfect partner for your ideal app idea from this list.
To provide you with information that will help you make an informed decision, here are the top 7 app development companies.
Elluminati Inc
Elluminati Inc is a prominent on-demand app development company for the past decade which is headquartered in India. The company uses top-notch technologies and agile methodologies to build quality products and solutions. Elluminati is also listed in top-rated among the top on-demand app development companies in Goodfirms, IT Firms, and Clutch.
Their services include:
Taxi app development
Food delivery app development
Custom on-demand app solution
Homeservice app development
OpenXcell
The app development company, OpenXcell is among the top in India. The company was founded in 2008, and has offices in California and New York, and has its headquarters in Ahmedabad, India. The company employs more than 200 people between its Indian and American offices. Global app development companies are experiencing a boom due to the increasing use of mobile apps.
Their service includes:
eCommerce solutions
Software development
Custom mobile app development
On-demand app development
Appinventiv
A market leader in its field, Appinventiv has a client base ranging from startups to Fortune 500 companies. Tech experts at Appinventiv can handle iOS, Android, Flutter, React native, backend, and blockchain apps. Design and development follow a standard process that emphasizes flexibility, taking clients through the various stages.
Their service includes:
On-demand app development
UI/UX design
Software development
Digital marketing
Hidden Brains
One of the top mobile app development companies, Hidden Brains has a branch in the United States as well. From small businesses to large enterprises, Hidden Brains provides custom mobile app development and design for its clients. In order to reach a broad audience and ensure the transformation of the future-proof organization, mobile apps are developed according to concrete strategies.
Their service includes:
Web development
Mobile app development
Web design
eCommerce solutions
Contus
More than 300 app developers are employed by Contus, another preferred mobile app development partner across the globe. With over 80 software products delivered successfully to businesses in over 40 countries since its inception around 11 years ago, Contus has been a market leader for well over a decade. Contus app developers have specialized in niches such as food, automobiles, healthcare, food, eCommerce, and others
Their service includes:
Web development
App development
Custom software development
Hyperlink Infosystem
With a specialized team of developers, Hyperlink Infosystem builds high-functioning mobile apps that help clients meet their business objectives. Clutch has ranked them among the top on-demand app development firms in India and the US. Among the services provided by the company are applications for actuarial and scientific sectors, as well as the integration of various apps based on the client's needs.
Their service includes:
Mobile apps
AR VR apps
Web development
UI/UX designs
MerixStudio
Merix Studio is an internationally acclaimed software development and design company that provides its clients with highly affordable solutions for complex projects. Over 50 businesses that are run by creative technologists have already entrusted their app development project to Merix Studio for efficient and enthusiastic handling.
Their services include:
Web design and development
Enterprise CMS solutions
Product designing
Software development
Choose the One to Achieve Business Success
On-demand apps have changed the way consumers eat, travel, and order. From transportation to restaurants to groceries and whatnot, no sector is immuned from the on-demand sector. And the reason is pretty obvious as it allows customers to get things done with minimum effort and time.
Today, customers want instant gratification for everything and the on-demand apps allow them to do so. On the other hand, entrepreneurs across the globe are taking advantage of this lucrative market because it ensures maximum return on investment and enables them to swim in the highly saturated business world.
There is a lot of buzz in the market about on-demand app development. As the pioneer of the on-demand economy, Uber is a front runner. Thanks to this, the lives of the common man have become much easier and simpler as they can now avail more flexible services at their fingertips.
Up until now, we have discussed the best on-demand application development companies, and to assist you in making a choice, we have listed important details about their credentials. In short, choose the one that can meet your business expectations, understand your business needs and help you excel in the on-demand world with dedicated support.