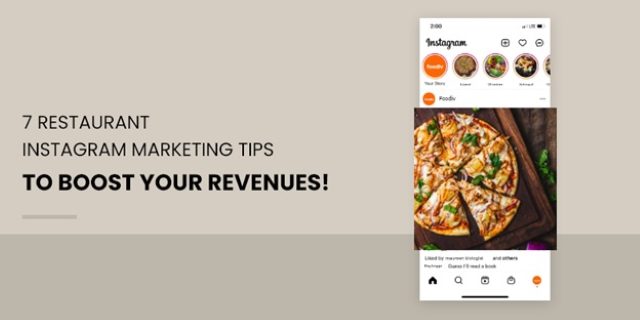 Restaurant owners have a huge responsibility of attracting new customers, retaining the older ones, and maintaining the restaurant's unique stature! So, let's look at some practical digital marketing, especially Instagram marketing tips for your online food delivery system.
Marketing is the backbone of a business, big or small. Especially if you are running a restaurant, the owner or the manager plays a crucial role in increasing the sales and profits and bringing in more footfalls. And so, in this blog, we'll be looking at some of the most handsome Instagram marketing strategies to promote your restaurant's online food ordering system!
BUT WHY INSTAGRAM AND NOT ANY OTHER MARKETING CHANNEL?
Instagram is one of the top-most social networking platforms that people use. Right now, there are 1.386 billion Instagram users worldwide, according to Backlinko. Being Instagram famous has become more than just a trend even for businesses; it has become a necessity! Social media channels, including Instagram, are one of the cost-effective ways to connect with customers and communicate with them.
The digitization and the Coronavirus pandemic have helped make Instagram a marketing essential. People have become typically 'phone addicts' during the huge pandemic hit. Thus, it makes more sense to use social media channels like Instagram to find the potential market because they are already scrolling to reels, following restaurants, or engaging with some!
Let's look at some marketing tactics that'll help improve your restaurant business and its online food ordering system!
INSTAGRAM MARKETING STRATEGIES THAT'LL CHANGE YOUR RESTAURANT'S FUTURE
When it comes to creating digital marketing plan for restaurant, Instagram is the backbone for this industry. Listed here are some of the marketing tactics that you'll find helpful. Integrate them into your business plan today if you want to catch the fastest train to success!
1)   Post attractive food photos and videos
Instagram is the most famous social media platform and a popular component of digital marketing where people share photos and videos. This is precisely what your restaurant will have to do – make the best use of attractive food photography. It is okay if you're tight on budget or don't want to hire professional food photographers. However, compensate for it by putting in a little extra effort to take Instagram-worthy images. Here's what you can do:
Don't clutter off the image and put food at the center or focal point.
Make the food look appetizing by using pretty platters.
Add warm lights.
2)   Don't forget to engage with your followers
This is the evergreen method to make the most use of Instagram and your online food delivery system – engage with followers. The more you engage, the more reputation you will gain in the market. It is the best way to retain loyal customers. To engage, reply to their comments and Direct Messages (DM) on time.
Another valuable tip for engaging with your followers is – to hold contests. Reward your customers for the most creative photos, colorful pictures, intriguing videos, etc.
Comment on photos and relevant posts you're tagged in.
Encourage your followers and customers to participate in the contest and earn rewards!
Reshare any post related to your restaurant shared by customers.
3)   Make your customers, your followers on Instagram
Ensure that everyone and anyone can find your Instagram and follow you. Make your Instagram handle (username) visible to the dine-in customers. Such clear visibility will intrigue them to visit your social media feed once and check it.
Add the restaurant's Instagram handle on the menu, on receipts, and even on chalkboards in the corner of the room. This will connect you with the people or followers who regularly use Instagram to post pictures, and it will only help you increase your followers!
Some of the restaurants, online food delivery systems, and food chains rocking Instagram with their feed and innovative marketing are:
California Donuts
Taco Bell
The Meatball Shop (@meatballers)
Dominos
Amazon Grocery
4)   Create unique visualization on the gram
The truth is that a restaurants' Instagram should be 'visually attractive.' Restaurant owners have to plan, structure carefully, and execute a themed Instagram feed to ensure that the follow button on the profile is consistently pressed! A point to note here is – that inconsistency in posting the content on the feed or going off the grid can make your page appear messy or unappealing!
So, if you plan to maintain an aesthetic look, be consistent with your post content. Don't focus on an individual image. Instead, work keeping in mind the entire feed and its aesthetic plus, stick to the color palette you have been following!
5)   Hashtags are still KING
Use hashtags in your Instagram posts. Hashtagging your posts will help your restaurant find more followers and visitors who are specifically 'foodies.' This means you'll be opening the scope for more followers to join the community! Use trending hashtags like #foodie, #foodphotography, #photooftheday, etc.
Research about the hashtags people use to tag online food delivery systems, restaurants, and even certain dishes! An essential tip for you – use niche hashtags. Using hashtags specific to a niche instead of the overly popular ones ensures that your restaurant's photo or video doesn't get lost in the ocean of other posts!
6)   Shake hands with food industry influencers
There are hundreds and thousands of food bloggers and influencers on Instagram. Joining hands with them is a fruitful way to convert their followers into yours. It will boost your restaurant's name and help you reach more customers.
Influencers usually have an engaging audience. So, if you're targeting partnering up with influencers nearby your restaurant's location, influencer marketing via Instagram can actually come in handy! Simultaneously, you'll be able to make more revenue.
7)   Use story highlights
Story highlights are yet another way to attract more customers. As and when the customers will land on your restaurant's Instagram page, they'll scroll down on the feed and check out the reels or videos you've posted. But what if they have something more to look at?
You can save the stories you have posted in the past and create a guidebook for new followers to peep into. Also, with the story highlights, you can keep your followers updated about any kind of menu changes, offers, upcoming deals, and much more!
Make them visually appealing for your customers!
Hope you may have learned a few good Instagram digital marketing strategies for a local restaurant!
In Conclusion:
There are a bunch of other strategies to explore. Indicating, Instagram isn't just any other social media channel! It is more of a sales booster for restaurants and a much more personalized space to interact and engage with customers.
So, are you ready to bring in more customers by using one or all of these Instagram as mentioned above marketing tips? If yes, go back to the guide, re-read what you need to do, and make a perfect plan.
However, if you're stuck somewhere, experts are always here! Make the best use of these top 7 digital marketing strategies for a local restaurant!