Your inbox must be flooded with promotional emails this Christmas season. But not all emails are genuine. Maybe the emails promising big off are designed by spammers to steal your account information. Or the email may trick into something malicious. They are actually phishing emails that appear to be from a genuine company and ask you to provide sensitive information. Festive seasons like Christmas are a favorable time for scammers as people are eagerly after the deals and it starts right from Black Friday to Christmas Eve. Your one mistake and you can easily become the victim of such online scams.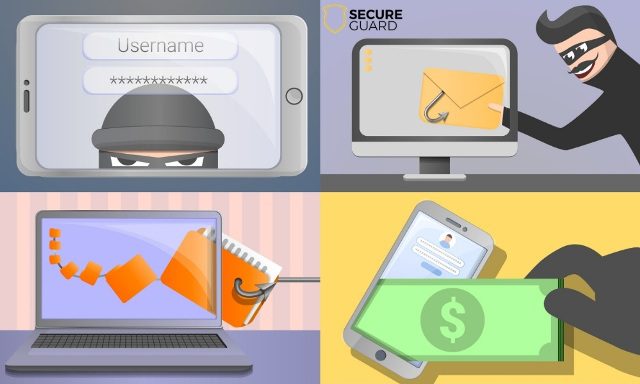 According to  Symantec's 2018 Internet Security Threat Report (ISTR), 54.6% of emails are spam. Over $107 billion was stolen from U.S. consumers via phishing in 2017, according to another survey.
How to tell if the email is malicious? Look out for these red flags to find out…
The Email Asks for Personal Information:
This is one of the tried and tested tactics of hackers to pull out your personal information. It is not easy to identify as the email looks authentic with a reputed brand name and logo. They ask for passwords, credit card information, tax numbers or credit scores. If you get such emails, it is clearly a scam. This is because legit companies don't ask for personal information via email. Neither, they send you any login link. Don't use any communication methods mentioned in the email and takes all measures to protect their customers personal information.
The Email Threatens You or Warns You:
Triggering a sense of urgency is another common phishing strategy. For example, they prompt you to take quick action with the subject line claiming that your account has been suspended or put on hold. Then, they ask you to make urgent payment to fix the things. Of course, there is a genuine message urging you to take an action on your account. However, you shouldn't open the link, no matter how legitimate it appears. To stay safe, access your account directly and then check the status.
The Email Has Spelling Errors or Grammar Mistakes:
Does the email contain spelling and grammatical mistakes? It's a huge red flag. Sometimes, it is easy to figure out the mistake, such as "Dear Amazon Costomer" instead or Dear "Amazon Customer".
Legitimate companies have professional editors who check the emails carefully before delivering it out. If you've received an email from a company, and it is plagued by spelling errors and grammar mistakes, it's not genuine. If you are not sure, make sure to check the email for spellings and grammar at your end.
The Email Congrats You for Winning a Lottery or Contest:
No wonder that you've received the email congratulating you for winning a contest you never enter. For example, they inform you that you have won a free iPhone or a fabulous diamond ring. And you are asked to enter personal information to get the prize. Like most of the readers out there, you surely want to win something, especially if it is for free. At that point, you need to hold on your excitement. How can you win something if you haven't participated in that? Legitimate contests don't ask you to pay a fee or buy something to get your prize. Besides, there is no point to provide your account number or credit card number.
The Emails Come with a Suspicious Attachment:
Fraudulent emails generally contain malicious attachments to inject malware or viruses into your system. They can damage the files on your PC, get access to your critical information or track your web activities without your knowledge.
Generally, malicious attachment files come with file extensions like .exe, .zip, and .scr. Authentic companies, on the other hand, don't send you emails with attachments as they direct you to their website for downloading the files. When in doubt, don't open the attachment.
The Email Has a Suspicious Email Domain or Spoofed Name:
Spammers can use popular domain names to trick you. This trick often works as users are more likely to open an email as they think it belongs to a legitimate company.
For example, you have an account with eBay and you have received an email with the format like @eBay.com regarding the resetting of your password. If it appears as [email protected], it clearly indicates that it is a spoof mail. The genuine email won't have such alternations and will appear as [email protected].
The Email Redirects to Third Party Site:
No matter how authentic an email looks, make sure to double check the mentioned links. This is because phishing emails generally include embedded URLs that take you to a different site where you are asked to submit personal details. Sometimes the links are embedded in buttons or images.
Apparently, these URLs look legitimate. Suspicious links can also be placed with the body of the text, often alongside authentic links. However, when you hover the mouse cursor over them, you can see the actual link. This way, you can view the links without having to open them.
LAST NOTE…
So you must have understood how to avoid getting into the trap of phishing emails. Apart from practicing these precautions, make sure to do these things to stay safe…
Enable the option in your mailbox to treat the emails from unknown senders as a spam so that the messages can be sent to the junk box.
Install quality security software to detect and stop the virus sent by a phishing mail.
Report the phishing scams to [email protected].
Wishing you a safe and happy Merry Christmas!!!
About Author:-
Ahmad Hamidi is an editor at leading Security Guard Company in California.