Do you ever wish that all the resources to run a popular blog are combined in a single place?
Imagine: No need to search through the immensity of sites that exist, need to look no further among the tons of articles that exist about blogging.
All that to say to blog as a leader is there for a single blog, ready to be used by you. It would be great, is not it?
I would like to have this resource too. Unfortunately, it does not exist. Blogging is such a vast subject. Should I, write a book of 800 pages to cover everything (and again).
That's why I cannot promise you such a resource.
But I can offer you is just as good (or better) thing: A huge section that brings together 70 original and useful tips for having a favorite blog.
As I have said, there are not any, but that's good. For if you were to look what is important across a huge tome of 800 pages, you would not see the end.
That's why I gathered 70 tips, no more, no less. Honestly, it's pure juice concentrate, the cream of the crop for blogging tips.
And it's all for you, now and for free.
Enjoy it, because it starts now:
To find story ideas
1) Take a break
Can't write? You feel stuck? Do not stay forehead glued to your computer screen – take a break. See friends, take a shower, doing sports. What matters is to take a step back from your article to let your creativity you irrigate again.
2) Read a book
If the theme of your blog is the kitchen, you can read the biography of a great chef or a book on neuroscience. No matter what you know: what is important is that this is a good book.
3) Make a list of 70 ideas
If you lack inspiration, nothing better than this exercise: you attack a problem of your theme and list 70 points above. If you think it's too much, do not worry about what you read is the result of this exercise.
4) An article a day for a week with this tool
HubSpot has developed an excellent tool: enter three terms related to your topic, and it will give you ideas for articles. Here are the results I got on the way the word "blogging," "copywriting" and "traffic":
5) Use your articles
You don't know what to write? Analyze your articles: look at those who have received the most visits, the more shares, and more comments. Once you have found one or two winners, write on the same subject: your next article will make a carton.
6) Drag forums
A forum is a mine of information for bloggers. So go on your thematic forums, look at the most talked about and analyze topics. You will find quickly a story idea that your readers will love.
7) Discuss with your readers
Have ideas for an article is good. That these ideas appeal to your reader, that's better. To do this, nothing better than to talk directly with your readers respond to comments, share by email, call them. The more you understand regarding them, the more you tweet out relevant articles.
8) Set up a poll
Straightforward and efficient: Send a survey (poll) to your registered list and ask them what are the topics that interest them most.
9) Use BuzzSumo
BuzzSumo let you see the most shared articles, for any blog.
Look for the shared items of the biggest blogs on your topic, and you will have hundreds of ideas.
To write better
10) Write 1000 words per day
You want advice to improve your writing drastically? Write 1,000 words a day. Do this for a month, and you will see incredible results.
Warning: you must not publish an article of 1,000 words each day. Just write daily to sharpen your style to write beautiful items.
11) Write about your own experience
Your readers do not want an expert who says general truths and who agrees on anything. If they come to read your blog is to learn more about a subject. But also on. So go ahead: talk about your experiences, your successes and your failures in your next article.
And read the next board.
12) Be authentic
Show yourself as a person in your blog. The more you are genuine and the community will form around your blog will be solid.
13) Write for your readers
If you want to be popular, where you tell everything that goes through your head. This kind of blogging is read by three people: you, your friend and everyone on the Internet who landed on your site unintentionally. If you want to be read by thousands of individuals, do yourself a favor and write for your readers. Listen to their complaints, understand their problems and give solutions. You will never be ignored in this way.
 14) Write articles on topic
One of the most important principles in blogging (and yet far too underestimated). When you write an article, do not make the encyclopedia of your theme, but rather are addressing one topic that you deal in its entirety. It's good for your credibility, your authority, and even for your SEO (you will be able to position yourself on specific keywords, less competitive).
15) Get started writing challenges
Write a longer article than what you're used to
Write a punch and ultra-short article
Use storytelling(write a story)
All this will improve your writing.
16) Destroy the passive voice
This is a basic writing rule.
17) Be easy
Nothing more annoying (and more boring) than reading a blogger who uses jargon and complicated words. Keep it simple, because it is, in any case, the ultimate sophistication.
"Simplicity is the ultimate sophistication." – Leonardo da Vinci –
18) Use a dictionary of synonymous
You find it annoying to see the same word to be repeated 30 times in a nutshell, isn't it? Well, your readers too. Vary the pleasures using a synonym dictionary as Thesaurus. Example (I always have this open tab when I write an article – and yes, this one is no exception to the rule)
19) Write to your grandmother
Again: Lingo is complicated expressions & they are not your friends. When explaining a concept, keep it simple, as if you were talking to your grandmother.
20) Use short sentences
Your job is to describe as only an idea for your readers to understand, not to repeat the Odyssey of Homer. So make short sentences.
21) Make short paragraphs
It's better for everyone: for you and your readers' eyes. And it's much more fun that way.
For best blog
22) Space out your paragraphs
Nothing worse than a website that has articles that look like this: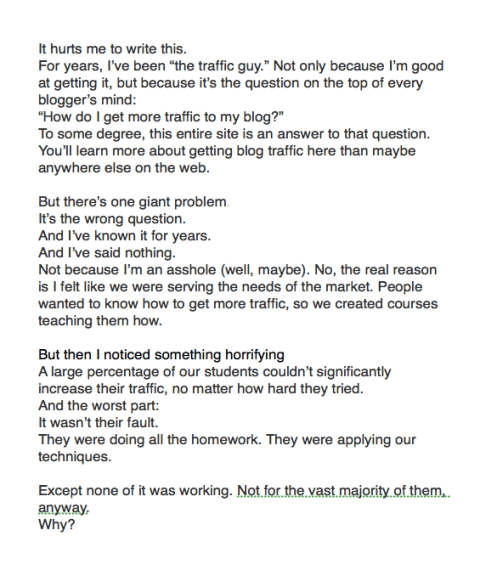 Space your paragraphs, let your text breathe: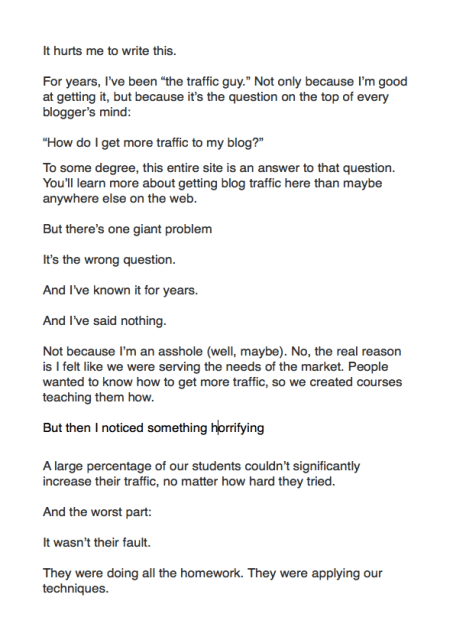 It's better enough right?
23) Look beyond your blog
Your blog is not a simple blog; it's a tool that can change your life. With a popular blog, you can sell your own products, becoming speaker and even publish a book. So take your blog seriously, and do real business. Your new life begins now.
24) Create timeless content
If you surf the wave of buzz, your content will have a life span of three months max. Instead of producing timeless content. This is also one of the forces.
25) Add a "Popular Articles" category right on your blog
A bit like Mansoor has done on are website Startwithclick.
26) Alternate content
The blog articles is great, I do not disagree. But you can enrich your content strategy with so many other formats: Video, Podcast, Infographics, Slideshare etc.
Test, have fun, and you will be aware that your readers will love this new format you use.
27) Choose good images
Tell yourself this: When you publish your article on social networks, image counts for 50% of the job. So do not do things by half and find the perfect cover image, which will boost your speech.
28) Add minimum one image in your article
This is a minimum for an excellent article to read.
29) Embrace humor
It's not because you write on a professional topic and you are a serious blogger you need to bore your readers when you write. Let yourself go and make them laugh and they will love coming back to your blog to devour your content again.
30) Say clearly what you think
No one wants to read an article where the author does not dare commit. Yes you will offend some people; yes there are some who do not like. But those who read will be those who share your views. And these are THESE people you need to keep your blog because they will follow you to the end of the world.
For better SEO
31) Of all the existing plugins, use this one
Do not take the lead and use Yoast SEO: this is the most competent.
32) Take the time to write a Meta description
The Meta description is the short text that appears on a result in Google, just below the title, the Meta description is as follows:

Make an effort to write an excellent text to grab the attention. You will have more clicks (and therefore more visitors).
33) Do not stuff your articles with keywords.
Those who tell you to do that? They did not understand the SEO. What Google wants is quality articles. Write a great article to help your readers above all. You'll see that your results will be much better than peppering your keywords articles.
34) A procedure to bring you the favor of Google
Want to know one of the most important factors in term according to Google SEO? I'll tell you: it is the backlinks. Unless you have quality links pointing to your content, your article will remain forever in the depths of Google rankings. If you want to be positioned on the front page, here's what you do:
Produce quality content, with great advice and bring real value
Make your article to be pleasant.
Promote this article with bloggers in your theme: show them that you stand there a superb piece of content, and ask them to link
If your content is well written and quality, there is no reason they do not do so. And no reason that you do not rank in the Google SERP.
35) Optimize Your Articles
Tag H1, H2, image attributes, and external links. So many little things that you used to be better referenced if your content is of quality.
36) Write long articles
It's proven, Google favors great content. He just has to see this picture: all items on the front page are minimum 2000 words.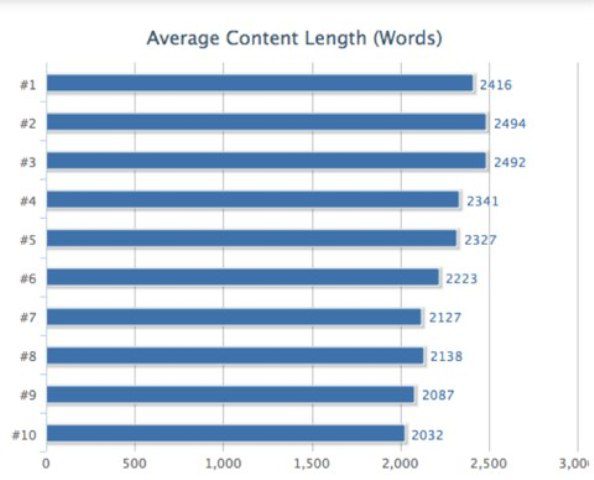 37) Create Infographics
An excellent way to get tens of sharing and backlinks. What is good for your SEO. To make graphics breathtaking, it's here.
38) Take good sharing plugin
You know that the Internet era has now turned to social networks. And the thing is, they weigh more in the SEO of your site. That's why you need a good share plugin. There are hundreds, but if I had to recommend one, it would be this: Social Warfare.
To get more traffic
39) Send an email to your list each new article published
It's the traffic on demand for your blog.
40) Build relationships with influencers. ASAP.
From the beginning of your blog (and even before having launched if you can), you have to bring you big bloggers to your theme. Why? Because in blogging, you cannot succeed alone. Except you have large marketing funds and any investment in Facebook advertising, you must know the big fish.
If you are friends with prominent bloggers, enjoy their large audience share when one of your articles and they leave you to publish a guest article on their blog. So how do you approach them? It's simple: share their content, reviewing their products, exchange mail with them. They will soon know who you are, and your blog will take off.
41) Comment on other blogs
Make a list of 10 great blogs in your topic and make it a habit to review their articles regularly. Three advantages to this:
You will get links. Not those who weigh more weight in the eyes of Google, but it is still cool.
You attract traffic: if your comments are interesting (and you relate a personal experience to the subject of the article, for example), some readers will visit your blog. What a bonus.
You will begin to build relationships with other bloggers, some of which have large audiences. It's the No. 1 reason why you need to comment on other blogs (as we have seen with the point just before, right relations are crucial to your blog)
Warning: Do not leave comments like "Hi X, great article, see you soon!" That is useless. When you comment, make an effort to say something constructive, and add some value to the article.
42) Publish guests' contribution
The best way to attract traffic to your blog (especially at first, when you are not known). This is also why you are reading my article on Techcolite today.
43) Participate in Carnival items
If you see a carnival articles turn on your theme, feel free to attend. You get links, traffic, and you bind relationships with other bloggers.
44) Be active on the board
A good way to increase your traffic is to answer questions that go on your thematic forums regularly. This way, you will demonstrate your credibility; you can notify members of the forum when you publish a new article. And as you have been kind in helping others, they will read your piece of content. Pic of guaranteed traffic.
45) Produce great content
Do you want to draw visitors in mass on your blog? So your content must be excellent.
46) Do not be fooled by SEO
Publish articles every day peppering of the keywords you will not advance anything. If you want to attract hundreds of visitors being well positioned in Google rankings today, you have to produce content of excellent content.
This is how your readers to share your articles, this is how you will reap links, and this is how you go up the front page.
47) Work your titles
The title is the most important part of your article. It's simple: if your title is not good, your content will never click. If you want to learn more about "How to write compelling titles,"
48) Share on social networks
Being present on all social networks is useless. All I will gain is wasted. But if you want to be present on social media, select one and invest yourself fully above.
For a better relationship with your readers
49) Remember your debut
If you are blogging for a long time, you can quickly forget about the problems of your readers and talk about things that do not concern them. If this is the case, you will feel that your articles have less impact, as your readers away from you. Ask for a moment and remember your debut and then write about the real problems of your readers: all will work out.
50) Be yourself
Undoubtedly the most important advice I can give you. A good blogger is not just someone who gives good advice or has a beautiful site. This is someone who vibrates its readers. And the best way to successfully do this is to be yourself. Talk a little about yourself in your articles, tell stories, and share your experiences. This is how you create a loyal community around your blog.
51) Interact with your readers
Whether by email or in the comments on social networks, you should always speak with your readers. You learn tons of things, and you can change your blog in the right direction.
52) Create something bigger than a blog
Your blog is not a collection of articles: it is a landmark. A marker for your readers lost in the darkness of your theme, which takes them by the hand and reassures them. Your articles built this landmark, comments, share on social networks and everything that you could make it. Never forget.
53) Answer your comments
A player who takes the trouble to comment on your articles takes his time to express his feelings: take on your own to answer. He'll be happy and comment on your future articles if you link a respectful relationship with him.
54) Do you deliver to your about page
Do not do like all other bloggers that arise talking about their passions and giving the names of their children in their Page about Mark on for them to remember you telling an intense story. Make them feel something. Put the emotion devil.
To find (or keep) motivation
55) Talk about your blog with your surroundings
When asking the famous question "And you, what do you do for a living?" Do not be ashamed to talk about your blog. Instead, be proud of it and put it forward. If you write quality content helps your readers, why hide A little anecdote: since I started blogging, it does not go a week without a friend or loved one wonder if my blog is going well if it beforehand. It's nice, and I advise you to try.
56) Review your very first article
Reread it and see the progress. Examine how your writing technique has improved, as your relationship with your readers intensified.
57) Never give up
Yes it will be hard; yes there will be times when you'll want to stop, so you'll want to leave everything. But never give up. Remember in these difficult times why you started blogging.
Whether to transfer knowledge on a topic that interests you or to live this life of independence and freedom remembers. And going forward.
58) Listen to music
Listen to happy music, something that moves and makes you want to dance. Be swept away by the sound, and you will find your fingers pounding the keys on your keyboard in no time.
59) Do not take the lead with critics
Anyone who is exposed on the Internet receives criticism: it is an immutable law. And like any immutable law, you will not escape. What I ask you is not to take too much to heart the criticism. Some will be constructive; others are just there to break you. No matter: these people do not like to see others succeed, so inevitably they do not like you. Continue to individuals who follow you and love you.
60) Read positive reviews
It is always nice to see that people appreciate our products and believe our work.
Essential tips
61) Create a mailing list from the start
You have no excuse to build your mailing list is the most important thing you can do for your blog. It will provide you traffic and sales. (and if you are looking for a free solution to seize email your readers free, use this plugin )
62) Produce useful content. Always.
Whatever you write, always asks yourself this question: "Is this my article will help my readers?" If the answer is" no "or" yeah blah," stop what you are doing and try again. All your articles should be useful to your readers.
63) Buy a professional theme
Under the pretext that it takes a pittance to engage in blogging, some could not care less for their blog. Big mistake. Your site must be professional and give confidence to the people who visit it. If you are serious about your blog and you plan to take her away, buy a paid theme. You will find very good at ThemeForest.
64) Write to your ideal reader
How consistently write articles that will engage your readers? Write for your ideal reader.
65) Do not post every day
I don't understand, why there is a bias among bloggers (in particular for those who know nothing, let's be honest) to say that publish every day is a good strategy. I do not agree, that's wrong, and here are three reasons:
Your readers will get bored and will fail to follow
You will exhaust yourself, and you will treat on subjects less interesting for your readers
The decline in quality will be felt: it is impossible to write a good article every day
Instead (which I recommend doing) is to take your time when writing an article. Create a complete article, illustrated and well written, you will see that the results are much better.
66) Do not copy the big bloggers
Stop trying to look like someone you admire. All you will come to realize is to be a pale copy. Instead find your style, one that is unique to you and no one else can imitate.
67) Stop looking at your statistics every 5 minutes
Stop taking your head by taking a look at your Google Analytics curve to your Twitter, your comments posted on your latest article to your last registered on your mailing list. We would not say, but these accumulated minutes you are tired, and you lose a lot of time. If you want to see your numbers, do it three times a day. Plus, it serves no purpose.
68) Allow comments on your blog
Some sites are closing comments to hide the numbers because they have not enough. Do not do especially not: comments are a valuable way to interact with your readers to learn more about them.
69) Tell the truth and nothing but the truth
Never lie. Trust is an essential thing in blogging, and you have to win one of your readers. For that, no magic pill: only honesty reliable and quality products work.
70) Be awesome
I'll be honest with you; the blogosphere is poor. So if you want to stand out, you must do things differently.
Do not write to publish hollow articles of 800 words by repeating what everyone says. Be different, write great articles and made vibrate your readers. In short, be great.
The truth about all these tips
That's it; you just stuff yourself 70 tips on blogging (and incidentally a huge section of 3810 words).
I see that you are serious about your blog. Very serious even, where you never read this entire pad. Instead of reading the articles, you would have watched the last series Netflix, watched TV, read a book. But you did not.
Because you have a plan, an idea in mind, and want to carry all this out. You know what? This is a worthy project.
And as you're serious about your blog and want to go further than the others, I'll help you.
About Author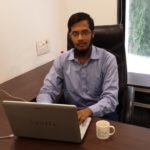 I'm Mansoor Bhanpurawala. Basically, I'm an Internet freak, who always keep finding new ideas & trends on internet world. Visit my website – Startwithclick.com