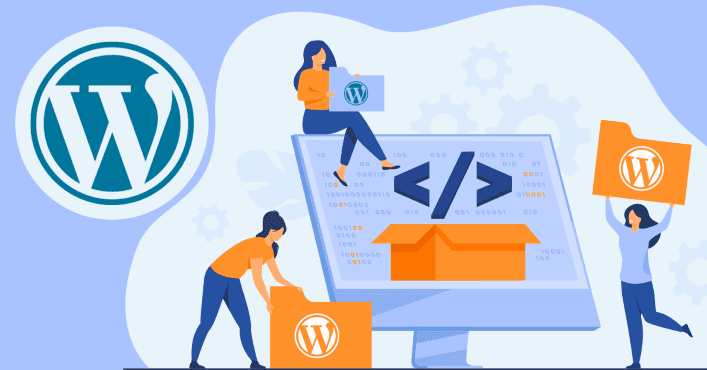 WordPress has become extremely popular & a preferred choice for businesses all over. In fact, there are 24.8 Million live WordPress sites at present. But have you been wondering what makes this CMS so popular? Well, this write-up gets you covered! If you have been thinking of going with WordPress development, this article covers the various benefits associated with outsourcing and things to keep in mind before leveraging WordPress development services.
Need To Outsource WordPress Development Services
Though developing a website with an in-house team is doable, however, outsourcing helps to get the work done at a reasonable price and get access to a professional team with higher experience & expertise. Moreover, partnering with a reliable WordPress development company in India enables you to develop custom themes, incorporate advanced features, ensure an SEO-friendly site, and deliver higher performance.
Some of the WordPress tasks that can be outsourced include:
WordPress Installation & Setup
Custom WordPress Development
WordPress Theme Development
WordPress Conversion
WordPress Performance Optimization
WordPress Maintenance & Support
How outsourcing to a WordPress web development company can benefit you?
Skilled WordPress developers: When outsourcing WordPress development to a reliable company, you can be assured to get the best resources working on your project. These developers are well-versed with the latest WordPress trends and technologies and keep themselves updated on everything happening in and around WordPress.
Quick turnaround time: Outsourcing companies are known for their quick delivery time. No matter how overwhelming your requirements are, a professional WordPress development company can cater to all your specific needs and deliver your project in a quick turnaround time. Outsourcing firms have dedicated teams who work round the clock to provide you with unparalleled support and ensure the timely completion of the project.
High-quality development: WordPress is an intuitive, robust, and user-oriented platform that can be used to build great websites. However, the real challenge lies in crafting a customized and high-performing website from scratch. This is where outsourcing helps. Having proficient developers on your side ensures a high-quality end product. By outsourcing WordPress development services, you can also get affordable pricing and quick project delivery without compromising the quality.
Ongoing support: When you hire web developers from an outsourcing company, you can be assured to get exceptional support. Furthermore, you can also leverage support & maintenance services to keep your WordPress website functional, up-to-date, and running at all times. With outsourcing companies, you not only get unparalleled support during your project development but also after your project is delivered.
Affordable price: Hiring skilled and experienced WordPress developers and developing an in-house team can be highly expensive. On the contrary, outsourcing website development services is a proven way to cut-down overhead expenses and save costs. This way, you can have access to skilled developers and have quality development at the most affordable price.
Higher customization: WordPress allows you to customize your websites with themes, plugins, and functionalities by making use of various tools. This way, you can customize your website and give it a personal look and feel. Though WordPress is highly customizable, there are myriad settings available to perform customization that may be difficult for new developers to try. This makes outsourcing the best option! You can get skilled developers who can seamlessly deliver a personalized website tailored to your needs.
Things to keep in mind before outsourcing WordPress development services
You can leverage all the above-mentioned outsourcing benefits but with a condition- you need to choose the right WordPress development partner.
But how do you ensure that you have the correct association with an outsourcing partner?
Well, here's a comprehensive checklist to follow before you go ahead with finalizing your WordPress development services outsourcing partner.
1. Relevant expertise
The first thing to do is to outline your business requirements and see which company holds relevant experience in catering to your unique requirements. Since there are hundreds of WordPress development companies, it is vital that you shortlist companies that fulfill your particular needs.
For example, if you want to build a simple website, you may even go with a company that holds general experience with WordPress development. But if you want to build a custom website and need specific functionalities, it is important that you gauge the company's expertise in working on similar projects.
2. Company's portfolio & past work
A portfolio is a clear representation of a company's achievement and work done successfully. Having a look at the company's portfolio and case studies is a great way to check the company's past work. You can check the previous websites developed by the company to make out whether a company can accomplish your desired development goals or not. Once you are confident about the company's work, only then hire WordPress developers.
Note: When checking the portfolio, go beyond design and also consider other factors including
Is the website responsive?
Is the site perfectly optimized for SEO?
How is the user experience & navigation?
3. Hiring models
Every outsourcing firm has its own hiring models. When looking for a suitable company, make sure that the company offers flexible hiring models, based on your requirements. This way you get an option to choose from a model that best meets your demand i.e. hire a WordPress developer on an hourly basis, weekly basis, dedicated team engagement, or fixed cost model for the project.
4. Development time
Is your project time-sensitive? Do you want a quick entry into the market? Do you have a tight deadline? Do you want your project to be completed on time?
If the answer to any of the above questions is yes, you would want to consider the development time of the outsourcing company you choose. There are companies that take months on projects while some other companies can get started on your project right away. Hence, if you want your project to be delivered in a quick turnaround time, make sure to discuss and convey the same to your WordPress development company.
5. Cost & value offered
Outsourcing companies usually offer cost-effective services. To get the best price, make sure to compare prices and get quotes from different companies. However, keep in mind not to simply go with the company that offers the cheapest price if you don't want to compromise on the quality. The best way to select the outsourcing partner is to find a company that charges decent money and offers great value.
6. Communication
Aim for seamless communication and transparency in work. Before you hire web developers from an outsourcing firm, make sure to discuss communication efficiency & process. Ask as many questions as you want until you are confident in handing over the project to the company. Consider asking:
Who will be the main contact person or who will be answerable to you in regards to your project?
How can you reach the team for any issues or clarification?
How will you stay updated on the project?
Will you be getting updates & reports on the project?
Will your feedback be valued?
The more transparent and effective the communication system a company has, the more you can rely on the company.
7. After-launch support
The website support agreement is discussed at the time of the initial agreement. There are companies that offer free website maintenance for a few months after development. While there are others that charge you extra for after-launch website maintenance services. Leveraging support & maintenance services will keep up your website security, optimize your speed, and fix website issues instantly. If you need extended support for your website, make sure to discuss the terms, support tenure, and maintenance cost.
8. NDA and other agreements
Before signing the contract, make sure that your company follows and lists out everything in your written contract. This may include
Non-disclosure agreement: Ensure that the company is ready to sign an NDA to protect the confidential business information that you share with the developers and the company.
Employee Contract: Discuss in advance all the details of your web development team- the number of resources working on your project, the cost of hiring a developer, and other details. Also, make sure to get this mentioned in your final agreement.
Deliverables: Make sure that your contract has detailed information on what you will get from the company. For eg., if the company agrees to offer support & maintenance services after launch, make certain to get this quoted in your agreement as well.
Wrapping Up
Remember, your website will be the face of your brand, and you definitely can't compromise on it! And so, selecting the right WordPress development services is essential. Before you finalize your outsourcing partner, make sure to consider the above factors and make your decision accordingly.
Good luck with your perfect WordPress development services hunt!