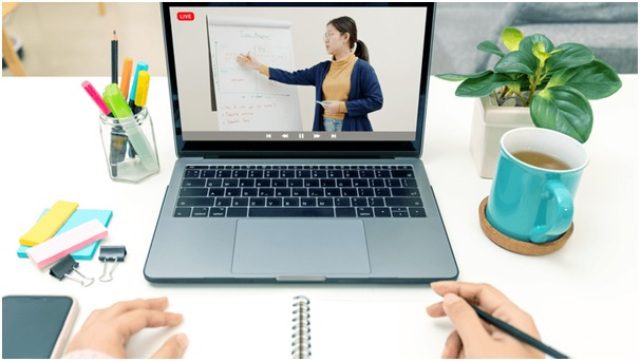 The current Coronavirus outbreak has led to closure of schools and universities for an unknown duration. Educators are scrambling to find innovative methods to support learners through online learning. But, as education moved from bricks to clicks, not all teachers find it easy to migrate to a fully online learning environment. If you are feeling overwhelmed to cope up with online teaching, you are not alone. If you are looking for support on how to teach online, here are some practical tips on creating a sustainable and engaging virtual learning experience.
Simplicity is the key
When teaching online, most teachers face the main problem that students are not in the same room to tackle doubts and misconceptions. Moreover, most of the learning time will be driven by tasks that need a lot of self-direction. The whole process can be frustrating for both teachers and students at first. To tackle this, simplicity is the key.
It is essential to create online learning experiences with clear instructions that are easy for students to follow. Ensure you create tasks with clear instructions that will help your students quickly figure out what to do with defined parameters. When teaching online, educators must push themselves to deliver their classes in the simplest and effective manner.
Focus on active learning
In a traditional classroom, teachers often deliver long lectures to fill the time. But, in an online classroom, that practice won't give good results. Instead, online teachers must focus on using a combination of audio and video lectures, discussions, hands-on exercises, etc., to engage students. Your online classroom must be an active learning environment that uses a blend of interactive teaching methods.
Clear communication wins
Establishing clear communication with your students is the first step towards successful online learning management. During live online classes, you must maintain a setup such as a good microphone, enable camera use, and reduce background noise. There is a chance that your students might also be overwhelmed by this new learning method. Hence, when dealing with your students, make them understand the correct usage of your platform and the flow of your classes. It is best to make the communication process simple, clear, and accurate.
Set up the adequate online learning environment
Teaching students online is more challenging than teaching in a traditional classroom. Without having the right learning environment, you cannot succeed in being a successful online teacher. To begin teaching, set up a fully-fledged online tutoring website to conduct classes and earn an income. While taking online classes on free video conferencing platforms or eLearning platforms is also an option, having your own online classroom is one of the best ways to build a reputation and gain full control over the activities. One of the best ways to take your teaching business online is to use professional online tutoring software to build your tutoring website. Pinlearn is one such self-hosted tutoring software that allows you to run live classes and courses simultaneously. Online tutoring site can help you expand your reach, find new students, and generate additional revenue streams.
Keep the class size small
In a traditional classroom, teachers accommodate more students, and some students never get the opportunity to participate in the discussions. Whereas in the online classroom, engagement is the key to success, and you must make sure every student actively engages in discussions.  You can have 20-30 students in online classes, and it is good to break them into a group of 10 or less for the purpose of conducting group activities and discussions. Coordination becomes much easier when there are fewer students.
Actively participate in the class
Regardless of where the class takes place, it is important for the educator to be present mentally. Simply responding to the questions of your students won't help much. Instead, you must actively engage with the students in the online classroom. Establishing a personal connection with your students will help you provide a positive learning experience. Rather than just delivering your classes in a monotonous way, be a storyteller. Storytelling, a marketing buzzword, is the cliché word you might have heard repetitively. But like all the cliché words, it has immense power as it is fact-based. All students love hearing stories if they can relate to them. Incorporate storytelling into your teaching method to make your classes interesting to your students.
Encourage accountability
Set up an email notification feature to schedule automated emails to your learners who don't turn to the class or complete assignments on time. Encourage accountability among your students to complete the course, attend classes, finish assignments, etc., on time. Follow up with your students to remind them that they are not alone and are not being ignored. Arranging study groups can also work as a reminder to maintain accountability. Students perform the best when they feel accountable to teachers. The efforts you take to encourage accountability show that you care about students' growth and improve the learning experience. When learners feel more engaged in online learning, they will get more out of your classes and often come back to you for more classes.
Seek and leverage feedback
Evaluating your classes based on the feedback from your students can indicate what is working well and what is not. If you are running online courses, you can request learners to leave reviews about the course after completion. This will also help to spread the good word about your classes to new prospects.
Conclusion
Despite the limitations brought forth by the current COVID-19 pandemic, the learning shouldn't be stopped. Using a virtual classroom to continue delivering your classes is the best thing you can do to help your students continue their education hassle-free. However, cultivating an engaging online learning experience is not easy as it sounds. It might take time and a serious amount of patience to be a successful and passionate online tutor. But do not worry, you will get better as you keep going. Tackle the problems step by step and make your students a part of your journey. Strive to make the learning experience fun for both you and your students by implementing the above-discussed tips in your teaching.
About Author:-
Kathy Alameda is an eLearning business expert, Influencer, and business advisor. She has also written several posts related to the eLearning niche which has attracted readers.