Everyone is indulging in the hottest debate. Some are voting for Galaxy Note 5 and some are favoring Galaxy S6. Which one do you think is better? Difficult question, yes, indeed. Both are fantastic Smartphone, in one way or the other. So let's explore more about this comparison Galaxy Note 5 vs. Galaxy S6.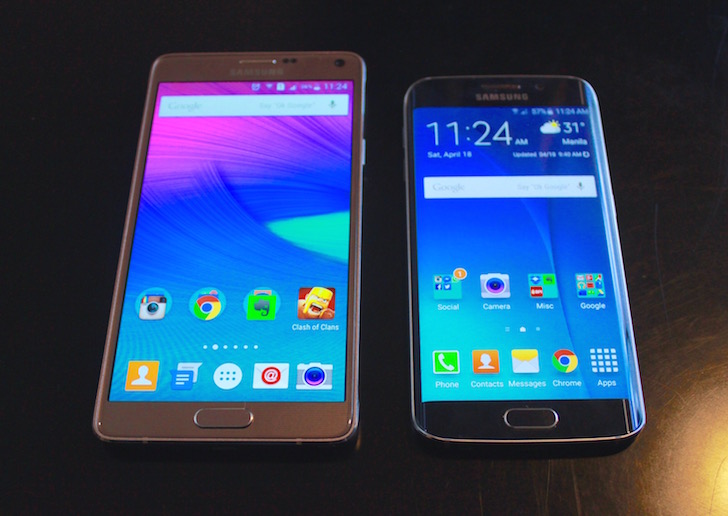 Size: The size of Note 5 is very big. It is found to be 7% taller and about 7% wider than Galaxy S6. The Galaxy S6 is has a thinner build 11% thinner than Galaxy Note 5.
Weight: Among the two light handsets, Galaxy S6 is about 19% lighter than Galaxy Note 5.
Build (frame): The two have similar design in the aluminum frame.
Build (back): Gorilla Glass 4 back could be seen in the two handsets. In a comparison of Galaxy Note 5 vs. Galaxy S6, holding Galaxy Note 5 is comfortable because of its slope off on both sides.
Colours: Right now, only black and white colour option is available in the Note 5.
Display size: Galaxy Note 5 has a big display screen about 25% more than Samsung S6.
Display resolution: Quad HD resolution is present in both the handsets, which enhance the looks of Galaxy Note. This features however, mars the beauty of Galaxy S6 making it look pixel dense.
Display type: AMOLED panels in both make them the most popular Smartphone in the market due to their excellent display.
S Pen: In Galaxy Note 5 vs. Galaxy S6, S Pen which is a stylus note-taking feature could be seen in the Galaxy Note 5.
Wireless charging: Both wired and wireless charging options are available in the two Smartphone. The wireless charging is faster in case of Note 5, but it is bit expensive as a separate charger has to be bought.
Camera megapixels: The two handsets have fabulous camera, with both back and front option. Optical Image Stablisation is also present in the two. The installation of the camera is a simple task by clicking two times on the home button.
Also Read:- Comparison of Samsung Galaxy S6 Vs Iphone 6
Processor: The fantastic octa-core processors of measure 64-bit, is found in the both.
RAM: The two have like internal storage options, but some extra GB RAM could be seen in Note 5.
Software: The two handsets are preloaded with TouchWiz along with Android Lollipop.
Date of release and price: The two astonishing Smartphone are already winning the heart of the people. Note 5 was launched in August 2015, however, Galaxy S7 was introduced in March 2015. The Galaxy Note 5 is bit more expensive than Galaxy S6 costing about $100 more.
Are you able to decide which one is better of Galaxy Note 5 vs. Galaxy S6, with the help of our article? If you have found our article meaningful to draw right picture about your Smartphone, keep visiting us. Our endeavor is to explore and present the accurate information for you