Founded in 1979, Seagate is currently the world's largest manufacturer of hard disks and read/write heads. To be honest, Seagate is the global leader in data storage solutions; it provides series of hard drives to help people keep and manage data in efficient ways.
Seagate hard drives are widely used around the world; accordingly, a variety of problems appear one after another. This is why Seagate drive data recovery attracts the attention of so many people.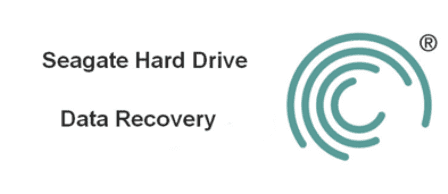 Upon realizing this, I decide to offer good solutions to those who need to recover data from Seagate hard drive.
Seagate Drive Data Recovery Is Not A Difficult Task
In many people's opinion, things will be quite terrible and troublesome when important files on their Seagate hard drive are lost or when the drive itself fails to work. But in fact, the truth is nearly the opposite as long as you're equipped with a great data recovery tool.
Get High-quality Seagate Recovery Services
How to recover data from Seagate hard drive? This must be the thing you care the most about once encountering Seagate data loss. Since most of you are not professional at all in dealing with data loss issues on Seagate hard drive, you'd prefer to seek help from professionals or professional recovery companies, right?
Yet, I don't advise you to do so.Why? Two main reasons are:
It will cost much money.
Personal privacy may be leaked out.
Instead, we advise you to get high-quality Seagate recovery services by using MiniTool Power Data Recovery.
How to recover data exactly:
Firstly: download the free edition of software and launch it immediately after the installation. Then, choose the most suitable one from the listed 5 functional modules. For instance, to recover data from an inaccessible Seagate drive, please select "Damaged Partition Recovery".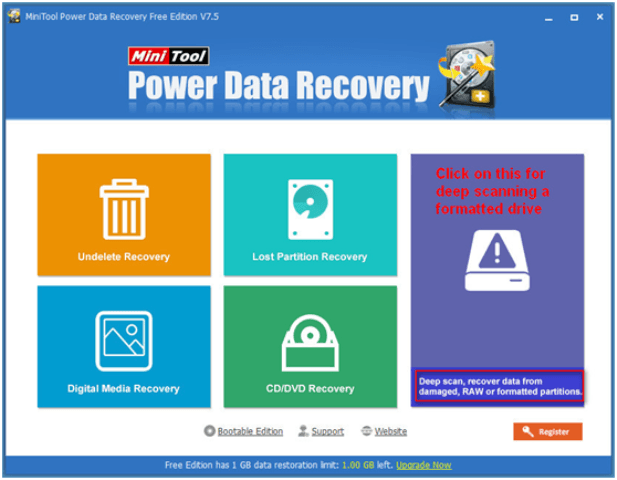 Secondly: you'll see a drive list in the following software interface. The first thing you should do at this time is picking out your Seagate drive from the list. Then, you may click on the "Full Scan" button to scan this drive directly sector by sector or click on the "Settings" button to make software only scan certain file systems/file types before starting the scan.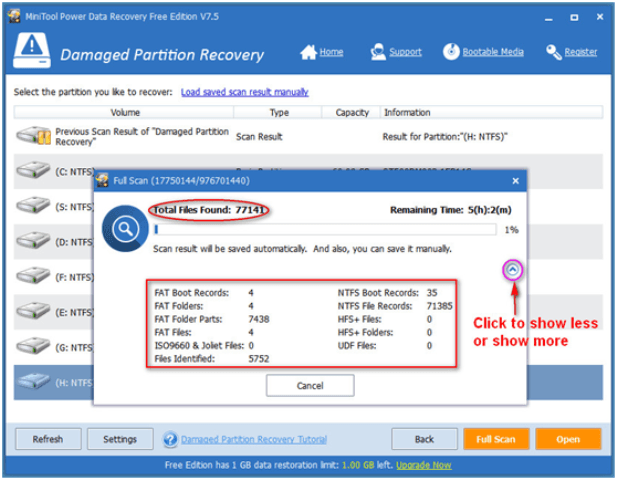 Thirdly: Please wait patiently for the full scan of Seagate drive. At the end of the scan, you'll possibly see the following information window if the software has found many partitions in the specified device for you.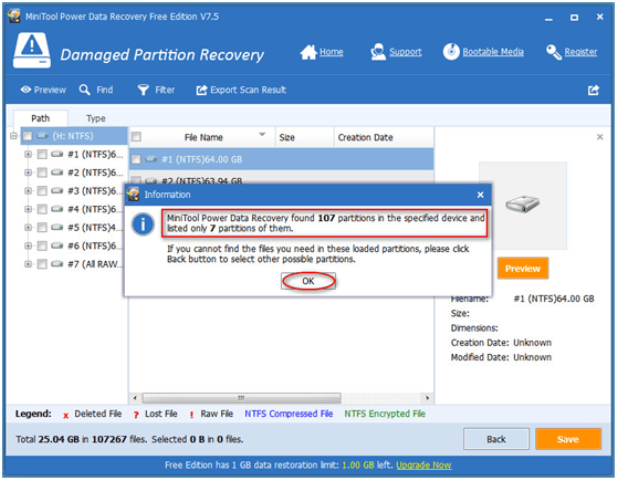 Under such circumstances, you should click on "OK" button to close the information window. Then, browse the listed partitions to see whether they include all the files you need.
a). If they does include, you may check the files and click on "Save" to recover,
b).If you can't find needed files in the listed partitions, please click on the "Back" button to show other partitions and then check files from them to recover by pressing "Save" button.
This shows how you can complete Seagate drive data recovery with the help of a wonderful data recovery tool. By the way, you may see the File Saving Limit window if you have checked more than 1GB data to recover in the Free Edition of software. At this time, please acquire a license for the software and then use it to finish Seagate hard drive recovery completely.
Attention:
Above software is designed for Windows platform only; if you need to recover Seagate hard drive data on Mac, please resort to MiniTool Mac Data Recovery.
Seagate Data Storage Services for You
Seagate, as a leader of the industry, has offered us various data storage hard drives and services. Here, we'll list them out in brief.
Desktop storage:
Seagate Barracuda hard drive
Seagate Barracuda XT hard drive
Seagate Barracuda 7200.12hard drive
Seagate Barracuda LPhard drive
Seagate Barracuda 7200.11 hard drive
Laptop storage:
Seagate Momentus 7200.4 hard drive
Seagate Momentus 5400.6 hard drive
FreeAgent– Go hard drive–the world's thinnest mobile hard drive
FreeAgent–Scalable data base and leather
FreeAgent– Desk hard drive
FreeAgent–XTreme hard drive
Consumer electronics storage:
Seagate Pipeline HD hard drive
Seagate EE25 series hard drive
Server and enterprise storage:
Seagate Constellation series hard drive: Seagate Constellation product portfolio includes the world's first 2.5-inch hard drive which is suitable for level 2 near-line environment and the 3.5-inchelarge-capacity hard drive which is suitable for applications needing large amounts of data (since its storage capacity can be up to 2TB).
Other storage: Savvio drive series, Cheetah series, Barracuda ES.2, SV35 series hard drive, and so on.
Seagate established factories in many countries, including the United States, Mexico, Malaysia, China, Thailand and Singapore.
Among them, the United States factory is mainly responsible for developing new product and manufacturing head wafers & platters; Mexico factory is responsible for refurbishing products around the world; Malaysia factory is responsible for cutting the head wafers; Thailand factory and China factory are responsible for assembling hard drive and manufacturing PCB circuit board& magnetic head; Singapore factory is mainly responsible for producing enterprise-class hard drives. In addition, the Suzhou factory in China is also responsible for producing consumer electronics products.