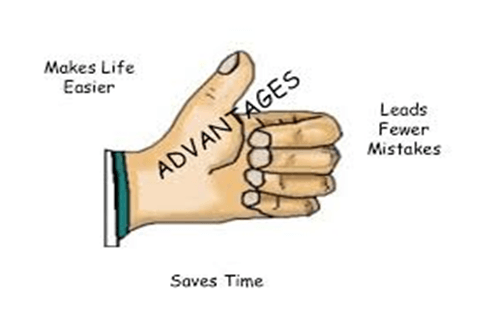 Technology_ can be called the practical use of scientific knowledge in our daily life. If we look at our daily life routine, then we will be well-aware that there are innumerable things almost everything which we will find digital starting from our communication devices, production equipment/machines to our cooking utensils.
Technology in many ways have led to increased efficiency by the usage of well-equipped technological equipment which help us to increase our production to 10Xtimes more than in previous times. Also this has led to a better quality for now the work of employees are done by machines or with their help which has helped cut down working hours especially those working manually or those having physical tasks to manage.
If we think and consider things around us, one will realize that the technology created in the past has been much certainly been updated or has become more technologically improved i.e. it has become more technically advanced. People call this new technology "Modern Technology" to describe the change.
A few examples is of a smartphone which is just a progression of an ordinary cell phone which we had years back. In the same way if we see trains which were previously steam powered trains have now been upgraded to electronic trains which results in the increase of speed saving time.
Hence one could say that with time technology has evolved with time. Today we use technology so that we can fulfil specific tasks or special interests in as much minimum time and effort and for this we look and adopt faster and efficient technological products to make our life easy, comfortable and better than before.
I have described below some of the advantages of this "Modern Technology":
EFFICIENCY AND PRODUCTIVITY:
The most useful impact of technology as mentioned previously was increased production in goods and services due to technology which has helped economies grow progressively with the passage of time.
ENCOURAGES INNOVATION AND CREATIVITY:
The modern technology has also helped new entrepreneurs to set their own personal business online which is the best cost effective technique for then to capitalize on their investment.
For e.g. Kickstarter company helps creative people to have investments for their business through crow funding.
One of the best impact of technology has been its effect on speeding communication with the help of wireless communication using internet, Wi-Fi.
Another most influential benefit of technology was having guarantee access to information without limits regardless of where you are present. It allows one to have information _at anytime and anywhere.
If we look at our surrounding we will be aware of the fact that almost everything is digital at our home and workplace i.e. automated machines take over if we look back at the Era of 70's, 80's and 90's.
Today you have the benefit of relishing being entertained with the help of your iPad, cell phones by which you can listen and watch video games, enjoying listening to music and not to forget enjoy using the virtual systems such as smart TV's.
Apps such as Facebook, WhatsApp, and Instagram, linked in can now easily be downloaded and utilized in your smartphone which gives an advantages to business in hiring candidates and also lets a person social with his friends and family on a 24 hour basis without any cost.
CONVENIENCE IN EDUCATION:
Virtual education has helped spread education to people of all classes. It has also helped students seek help for their daily assignments, reports and enabled them to seek knowledge without any inconvenience of availability i.e. through their smartphones, laptops etc. which overall effects their whole way of life.
CONVENIENCE IN TRAVELING:
Today one can especially business men can book their flights as well make our payment with the help of technology i.e. using the online services of business which has helped increase profits of business as well as helped gain them more satisfied customers.
CHANGED THE HEALTH INDUSTRY:
We can find more advanced medical equipment, machines being utilized at hospitals which has helped speed up their services which in result have increased life expectancy and offered cures and treatments for sickness or diseases that were incurable in the past.
In conclusion, one could state that each medium of technology in its Era have had its impact be it negative or positive. In the end it solely depends on how citizens of each country plan to make the best usage of their respective technology to gain maximum output in the best possible way.

About the Author:
Ashley Steve is interested in logo design services and enjoy reading and writing among different topic related to technology, education. In short one could state that she loves to do blogging.