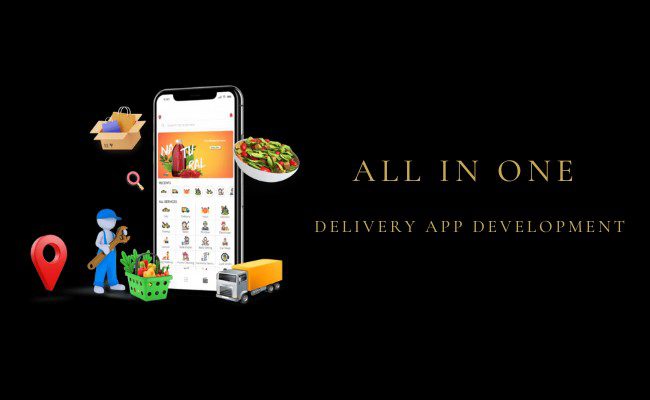 In today's fast-paced world, we often find ourselves downloading multiple apps on our smartphones to meet our daily needs, such as ordering groceries, food, and medicines. But what if there was a way to order everything through a single app? With the advent of the All-in-one delivery app, it is now possible to order all your essentials through a single platform. These next-gen solutions make online ordering easy and offer numerous benefits. With an All-in-one delivery app, you can have everything you need to be delivered right to your doorstep!
Importance of all-in-one delivery app
An all-in-one delivery app is a mobile application that enables users to order a variety of products and services from different merchants and service providers on a single platform, including groceries, food, medicines, and other necessities. It provides a convenient and efficient way for users to order and receive their products without having to use multiple apps or websites.
Significantly, this all-in-one delivery service app saves time and simplifies the ordering process for customers. Users can browse through different products from various retailers, compare prices, and place their orders quickly through a single app. It also provides a hassle-free way to track orders, make payments, and receive deliveries.
For retailers and service providers, an all-in-one delivery app increases their reach to a wider customer base, enhances their visibility, and enables them to streamline their delivery operations. Overall, an All-in-One Delivery App is a game-changer in the delivery industry, providing convenience, efficiency, and a better experience for both customers and retailers.
Now, let me list the benefits of this new-gen deliver anything app! 😃
Convenience:
All-in-one delivery app that can save customers time and effort by allowing them to order and track deliveries from a single platform. Customers no longer need to download different apps for food delivery, grocery delivery, and other types of deliveries.
Variety of services:
It can offer a wide range of delivery services, such as food delivery, grocery delivery, pharmacy delivery, courier services, and more. This variety can attract more customers and increase business revenue.
Cost-effective:
Using a single app for all types of deliveries can be cost-effective for both businesses and customers. Businesses can save money on all in one delivery app development and marketing, while customers can save money on delivery fees and other charges.
Increased efficiency:
This multi-delivery app can streamline the delivery process by integrating various features like real-time tracking, order management, and payment processing. This can help businesses to increase efficiency and improve customer satisfaction.
Increased business opportunities:
This delivery service app can create new business opportunities by allowing businesses to expand their services to new areas or types of deliveries. For example, a restaurant can use a delivery app to offer catering services or sell groceries.
Top features to consider in the All-in-one delivery app:
To ensure the success of your application, it is crucial to include the necessary features in your app.
Multiple languages:
When your multiple delivery apps support multiple languages, you can give your users quick access to the language they prefer, which in turn reaches users around the globe.
Manage delivery type:
This is a prominent feature that allows the admin to add a list of delivery categories, such as grocery, pharmacy, food, etc. It empowers the store owners to easily select the delivery categories that best fit their business needs upon sign-up.
Service fee:
This is the point where the admin can generate revenue by imposing service fees on drivers, users, and store owners in the platform, which can be either in the form of a percentage or a fixed amount.
Auto-payout:
This feature allows the platform to automatically transfer earnings to the drivers, and store owners to their added payout accounts in the platform.
Manage categories:
In the manage categories section, the admin can modify current categories based on their delivery type or add new categories.
Order management:
Through the order management tab on the admin panel, the administrator can monitor orders and access their comprehensive details.
Steps to develop your multi-delivery app:
Let's look at the procedure used to create your multi-delivery app.
Step 1: Requirement Gathering – Let's identify your needs and gather the requirements to create a unique and tailor-made app that suits your business.
Step 2: Designing UI/UX – Your app needs to stand out in the crowd with an intuitive and engaging user interface. Our design team will create a user experience that will keep your customers coming back for more.
Step 3: Backend and API Development – A robust and scalable backend is crucial to ensure smooth app performance. Our development team will build a reliable and secure backend and API for your app.
Step 4: Testing – We understand that your app's success depends on its performance. We will rigorously test your app to ensure it's bug-free and meets the highest quality standards.
Step 5: Deployment – Our team will take care of the app deployment process, making sure it's available for download on multiple platforms.
The future of the All-in-one delivery app
The future of all-in-one delivery apps looks promising, with technological advancements shaping the landscape. Artificial intelligence and machine learning, for instance, are transforming the delivery experience by enabling personalized recommendations, optimizing routes, and providing real-time updates.
Another trend is the use of drones and robots for delivery, which promises faster and more efficient delivery services while minimizing human interaction. This technology is still in its early stages, but with ongoing advancements, it has the potential to revolutionize the delivery industry.
Integration with smart homes and IoT devices is another development that will drive the future of all-in-one delivery apps. With smart homes and IoT devices becoming increasingly common, there is an opportunity to incorporate delivery services into these platforms, enabling customers to manage their deliveries seamlessly from their devices.
Conclusion
Ultimately, the success of an All-in-One Delivery App depends on its ability to deliver a seamless and efficient delivery experience while meeting customer needs and expectations. With careful planning, execution, and continuous improvement, businesses can leverage All-in-One Delivery Apps to enhance their operations and achieve sustainable growth.