Have you ever suffered from low disk problem due to the Oculus Rift games? That would be irritating and annoying. Have you ever been bothered to move Oculus to another drive to do it with mklink? Because you have to open "Command Promote" and type in mklink commands. This may not be difficult for the IT staff, but for the average user, this is clearly too complicated. Today we will introduce a good tool AOMEI Oculus Mover. It can help you to move the games to the directory of your choice to free up the limited storage space in the Oculus Games directory.
Oculus Rift can help you save a lot of disk space for future Oculus Rift VR games or the Oculus Rift's upcoming game. Besides if you want to migrate games for Oculus Rift, Oculus Game Mover can help you to move other items out of original storage space, such as Oculus Rift videos, apps, pictures, music, etc.
Compared to the traditional way to move Oculus to another drive is to do it with mklink, AOMEI Oculus Mover is a new way to simply select the source and target location from a windows type interface to migrate Oculus from one drive to another.
How Does Oculus Mover Works?
You should firstly get and install Oculus Mover on your PC before moving virtual reality PC games or applications. If the target is an external device, insert it into your computer. We suggest you to migrate VR supported games to local instead of external/removable drive. If you can make sure that the external/removable hard disk is connected to your PC when you use Oculus, it is feasible.
Step1. Download AOMEI Oculus Mover  free 2.0, then install and open Oculus Mover. In its main interface, the source location is automatically detected and is listed in game directory column.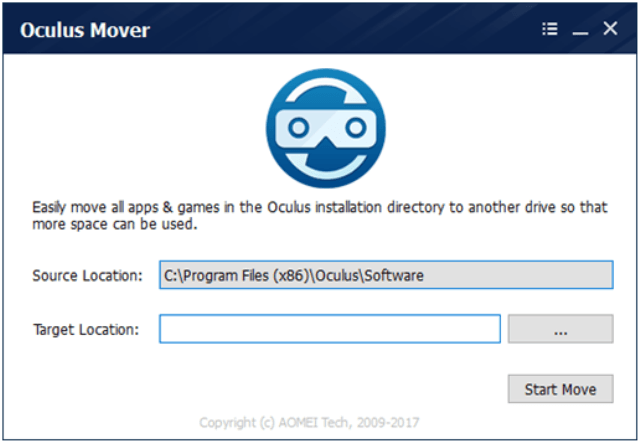 Step2. Specify the target location. Select a location that you want to save the moved Oculus Rift games or applications.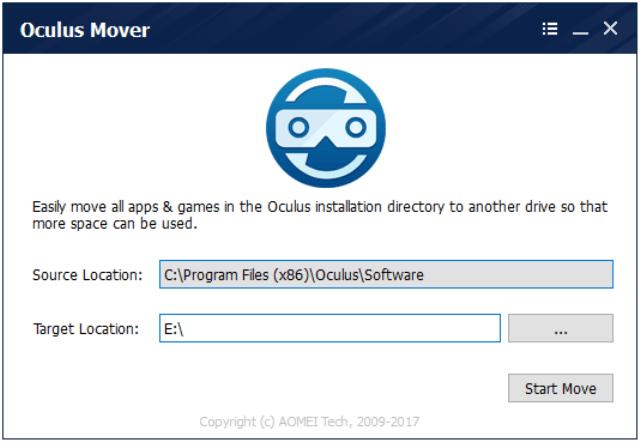 Step3. Confirm the movement. If everything you set is alright, please press "Start Move" to start migration.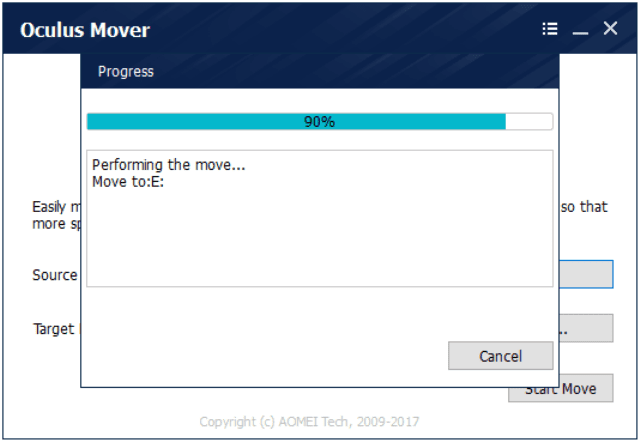 Tip: Please move the Oculus Rift game to your destination, because the target location will not be covered.
AOMEI vrBackupper  & AOMEI Oculus Mover Free
AOMEI vrBackupper is another free Oculus Rift backup, restore and migration tool to back up your Oculus content than the official method from Oculus. This free tool allows you to back up, restore, and reposition your Oculus catalog, which allows you to completely control your Oculus device. It is a simple and practical tool that can move the Oculus game to another drive. And AOMEI Oculus will help you transfer all the games from the Oculus installation directory to another drive. AOMEI vrBackupper supports backup, restore and migrate Oculus Rift as well as to move VR game to another drive to ensure enough installation space.
The main features of  AOMEI vrBackupper:
Backup and restore all data in Oculus Rift installation directory.
Backup and restore only games and apps in Oculus Rift.
Move Oculus Rift installation directory to a different drive.
The key feature of Oculus Mover is easy to transfer all the games in the Oculus installation directory to another hard drive for use by other users, maybe for saving future Oculus Rift VR games or Oculus Rift upcoming games, solving low disk space problem. In addition to the Oculus Rift development game, Oculus Rift can remove other items from the original storage space, such as Oculus Rift video, apps, images, music, etc., as long as these things are stored in the "Software" or "Download" folder. Oculus Mover 2.0 is an upgrade for vrBackupper, with remain the most important feature of moving Oculus installation as its name refers.
So we suggest you to download Oculus Mover, because now vrBackupper only supports Windows 10 64bit only. AOMEI Oculus Mover 2.0 supports Windows 10/8.1/8/7 both 32 and 64 bit. Both current and new users can know about Oculus Mover and download it free by visiting product page. However, if Oculus Mover doesn't meet your requirement, you can download vrBackupper instead.
Conclusion
AOMEI Oculus Mover ensures Oculus' normal work once you move Oculus installation directory to another drive. If you're a gamer, or if you like to play the Oculus Rift, you need more storage space to download and install more games. You can choose AOMEI Oculus Mover! If need to  backup programs , you can use AOMEI Backupper as we've introduce this before.
About AOMEI Technology
AOME Technology is a technology company dedicated in data backup, disk partition and multi-cloud file management, it is founded in 2010. Go one step further, AOMEI is also a freeware-based company that strive to make 81% of the users free to use AOMEI's products. Their goal is "let tens of millions of users benefit from AOMEI products, and make AOMEI products industry benchmark".