If your system fails to boot when you created a recovery disk for your computer. If you have a lot of computers within LAN, but they may have no CD-ROM drive and USB ports. If you need to perform system recovery or system installation for multiple computers and it's impossible to insert CD or flash drive into these computers one by one. How about to consider AOMEI PXE Boot Tool?
AOMEI PXE Boot is a best tool to start up multiple client computers within LAN through the network by using Windows PE and Linux micro-system or your own personalized bootable image file on a server-side computer for system maintenance. AOMEI PXE Boot supports Windows 10, Windows XP, Windows Vista, Windows 7, Windows 8 and 8.1, both on 32 and 64 bits. After booting, you can backup, restore or maintain system with tools offered with Windows PE micro system.
What's New in version 1.5:
A DHCP server is integrated in the program.
Support to add a bootable WIM image file.
Support UEFI boot mode when using a WIM image file.
How to use AOMEI PXE Boot 1.5?
Step1, first of all, you need download and Install AOMEI PXE Boot from here: http://www.aomeitech.com/pxe/pxe-boot-software.html, then launch AOMEI PXE Boot 1.5. You will see the following interface: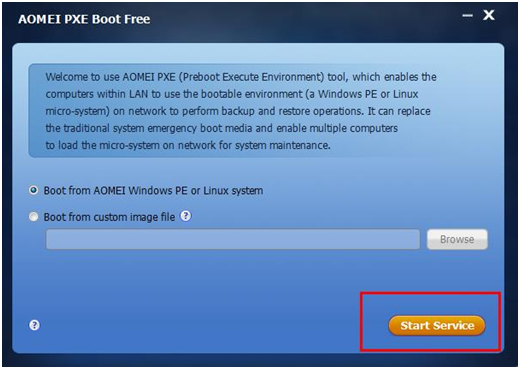 Step2, you can start the service by click the 'Start Service' button, now you will be able to see the devices that can configure related data automatically and start the service to wait for target computers.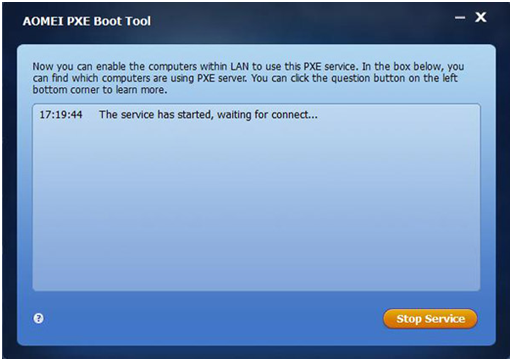 The Advantages of AOMEI PXE Boot Tool:
Strong Compatibility: AOMEI PXE Boot Tool supports bootable micro-system created by you. If you have a powerful Linux bootable ISO or Windows PE bootable ISO, you can easily maintain the computers within LAN through network with your micro-system.
Freeware: AOMEI PXE Boot is a free software for personal and system manager, aims to provide users with a faster and easier method to build your PXE server and cheer users. So, please be assured use.
Easy Interaction: Special designed for network boot, easy interaction and uses it in two steps.
Small Installation Package: It is specialized for computer network boot, and compared with the integrated software, it has smaller installation package, just 12.52MB, so you can download to have a try spending less time.
Summary
PXE Boot Tool can be one of the ways to maintain computer. When many computers in LAN need to be backed up or restored system, AOEMI PXE Boot Tool will do a great help. It is simple and convenient to Boot your computer on the internet. Free to download and try it today: http://www.backup-utility.com/pxetool.html
Now AOMEI another product, AOMEI Partition Assistant Standard will allow you to create a Windows 10 To Go Bootable USB drive, Resize Partition, Merge Partitions, Split Partition, clone hard drive Windows 10 and shrink volume Windows 10.
Also Read: IbidInfo Windows Data Recovery Software – Product Review.