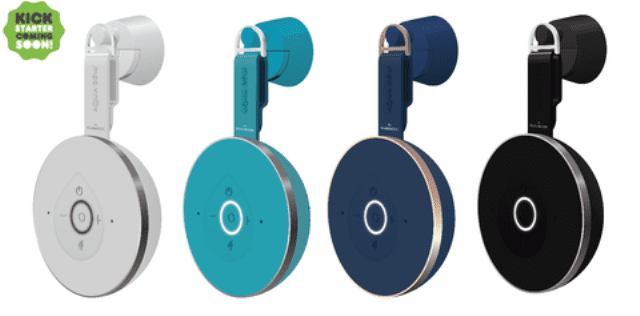 We all love to listen music. Music is also  help you to release your pressure and tension. It is also help you to heal your body and refresh your Mood. But listening music at all places won't be possible. But what If I say you can listen music whenever you want even in your bathroom where you are taking shower by listening your favorite music. You think, I might be kidding you? Isn't it! But it is true, you can listen music whenever and at any places you want.
Today in this post, We are going to review about an interesting Speaker that enables you to listen music when you are taking shower in your bathroom. Forget about the risk of water that will destroy your electronics. This is World's first splash proof speaker. So, let's check it out:
Introduction
The speaker we are talking about is Aqua Dew. It is the world's first water proof and water resistent bluetooth speakers that provides you superior quality sound quality at any places. Aqua dew is created by Christopher Maiwald which is manufactured and marketed by Wassertein Home, Who is world renowned brand that innovative and market world class electronic products.  Aqua Dew is a very ambitious and of its own kind project. This speaker is powered some quality features and is fully compatible with Alexa.
Features
Aqua Dew is packed with some awesome features and functionality that you will not get in any other Bluetooth speakers. Here are some of the rock solid features that you will get with this speaker:
100% Water Proof
This is the World first 100% water proof Bluetooth speaker. You can easily use it in your bathroom and listen your favorite music while taking shower. You can easily hang it on your shower using a powerful suction cup or with a mounting plate.
Fully compatible with Alexa
Aqua Dew is fully compatible with Amazon Alexa. You can easily send your commands to Alexa using Aqua Dew. You simply have to connect the speaker with Alexa using Wi-Fi or Bluetooth. For sending commands just say "Alexa" at first and follow by your command.
Superior sound quality
Aqua Dew performs very well when it comes to the sound quality. It is crystal clear and won't hurt your music experience. It will give you stereo quality sound and you can easily control the volume using up and down keys.
Excellent battery Life
Aqua Dew comes with power 2*2400mah lithium Ion Battery that gives you up to 8 hrs backup. Which means you can use it or listen to your music for up to maximum time.
Very Portable
Aqua Dew is very portable and easy to use. You can install and use it at anywhere you want. The product is not so small and not to large, which makes it very portable and easy to use.
Here are the product details and technical specifications:
Speaker Dimensions:
Diameter 4.35in x Thickness 1.97in
Suction Cup Dimensions:
Diameter 1.97in
Battery Size:
2 x 2400 mAh Lithium Ion Battery
(2 x 16850 Lithium-ion set in parallel)
Operation Time:
6-8 Hours
Speaker:
50 ml acoustic volume
1 x 1.57in full range neodymium driver, up to 89 dB
Microphone:
Flat surface or <5 degree angle at 80 mm distance between mic holes (x2) located at the front panel
Waterproof:
IPX5
Buttons:
5 Buttons (Power on/off, WPS, Volume Up/Down, Mute)
I/O:
Micro-USB with splashproof cover
LED Light Indicator:
6-color LED
Connectivity:
Alexa and Bluetooth Compatible
Components/Materials:
Silicone, PC, ABS, Steel, Chrome
Aqua Dew is currently available in marble, black, dark blue and turquoise color variants.
Conclusion
We have tested the speaker and found it truly impressive. The build quality is also perfect as well as packaging and delivery. We recommend you to try it and support them.