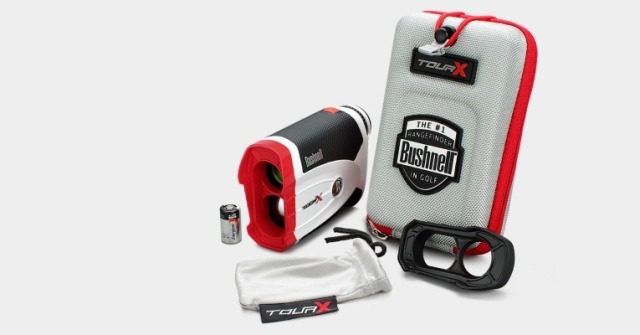 Forty years ago people had no idea what was coming in terms of golf technology. So many things have changed for the better and added an element of precision to the game of golf. One of these technologically advanced products is the rangefinder.
Do you even know what a rangefinder is? We're here to help so let's get stuck into the detail.
A rangefinder is an optical device that measures distance from your exact position to a target in the distance. There are two types of rangefinders being laser or GPS. The laser is the most common and a signal is just emitted between device and target and calculates distance. The GPS device uses satellites to determine latitude and longitude and therefore calculates distance to target.
There are a number of individual elements that make up the final rangefinder product.
Range
Simply a measurement of how far of a target in terms of distance a rangefinder can capture. Most good rangefinders have a range of up to 1000 yards, but obviously on a golf course you will never need to measure that far a target. A golf hole is a maximum of 650 yards and even then a player only hits a ball 330 yards tops so there will never be a problem with not having a long enough range.
Slope
A very important factor because it calculates how far above or below the target you are and subsequently adjusts the total distance you will need to hit the golf shot. For example, if you are 20 yards above the hole and you have 150 yards to the target your ball will travel for a longer period through the air compared to if you were the same altitude as the target. Therefore you would need to take a shorter club (a 9 iron rather than 8 iron for example) to hit the perfect distance.
The only negative about slope is that this function is not allowed to be used in official amateur or professional golf tournaments. Only rangefinders with no slope function can be utilized. But that doesn't mean you should not purchase one as if you play socially most of the time then it is going to help you tremendously.
Jolt
While this has no play on the accuracy of a device, the jolt function is fantastic in that once you've captured your target you will feel a brief vibration or jolt that confirms you've locked the target. This provides confidence in the fact you know how far you have and can commit to the golf shot.
Best Rangefinders on the Market?
Bushnell has been the leading manufacturers for a number of years now and most tour professionals will use Bushnell. But these are exceptionally pricey and while they are packed with value, not all golfers can afford these.
A number of other manufacturers round up the numbers such as Callaway, Leupold, TecTecTec, Nikon, Golf Buddy, Precision Pro etc. Let's check four of the best.
Bushnell Tour X
The Bushnell Tour X is packed full of features that are just outstanding. Capturing a yardage from this day forward will simply be a breeze. Never mind the cool little jolt the Tour X provides when capturing and locking your target. The Exchangeable Faceplate though is our number one positive though. It gives you the option to use it in tournaments and be conforming or to use it socially when non-conforming. When it's non-conforming the slop function is activated and other players are able to spot immediately via the faceplate color what setting it is on.
The last thing is it can zoom into the target up to 6 x magnification. Just incredible and this also gives you the confidence to know you've captured the correct target and not one which is a further 15 yards away for example. It is pricey, but my oh my is this worth it.
Leupold GX-2i2
In terms of optical class, the Leupold just cannot be beaten.
Leupold seems to have meshed all of the best and most important features of its counterparts and produced a perfect middle of the range more affordable product for the masses.
Value is undoubtedly this device's main selling point, but there are plenty of other things to take into consideration that are positives too. The GX-2i2 encompasses practically all the pros of the GX-4i2, however it costs almost $150 less. So, this rangefinder gets a firm stamp of approval from us, many of you are going to feel the same way – we're confident!
It's a stylish offering that is small and practical to use. If it's your first rangefinder ever then you are not going to struggle to adapt and get to grips with it.
Callaway 300
To begin with, it requires zero setup. Zero.
Stick a battery into it, and you're off and running! Once you are on the course, just hold down the power button and the yardage will be displayed. Then hold the button down a little longer and the laser will enter scan mode. Now you'll see distances popping up as you aim at the various objects through the lens. Just fantastic.
To make you aware, we don't determine cheap as being value for money. Not for a second. But this rangefinder is priced slightly lower than average level, and delivers an experience that impresses in a relative sense. And that is value for money for you! It is compact, it looks good, it is accurate and all for a really good price.
If you are prepared to take something middle ground in terms of price then the Callaway 300 has your name on it. There is just so much to like about this product in terms of value.
Nikon Coolshot 40i
When you think Nikon, you immediately think cameras. But they're also involved in rangefinders – luckily! The jump across into this niche doesn't come as too much of a surprise though.
In terms of flexibility and performance when switching modes, the Nikon 40i Coolshot held its own and is better than the 20i. It's lightweight and worth every penny, particularly for the golfing newbie.