Few days back, Taiwanese tech giant, Asus launched its latest range of smartphones at Zen Festival held in New Delhi.Dubbed as ZenFone Selfie, ZenFone 2 Laser, and ZenFone 2 Deluxe, the new budget beauties boast an upgraded set of specs with a classy and alluring design language. While the photography-focused ZenFone Selfie and ZenFone 2 Laser target the budget segment, the new ZenFone 2 Deluxe aims at high-end markets with an improved design and 'Deluxe' added to its name. Apart from its diamond textured rear panel, all elements packed with this phone gocompletely in-line with original ZenFone 2.But, since it has been priced at a hefty Rs. 22,999, it will going straight against OnePlus 2, the self-proclaimed '2016 flagship killer'.
In terms of specs, both devices go head to head, and pack loads of power for fast and glitch-free performance.There is not a big difference in pricing, and would be buyers can definitely face some serious trouble while shopping for the best mid-range smartphone. So, to keep things simple, check our detailed comparison featured right below!
Design and Build
In terms of design, ZenFone 2 Deluxe and OnePlus 2 both look fairly well built and alluring. The 'Deluxe'beauty from Asus looksidentical to the original ZenFone 2, and features the same old-school design with volume buttons on the back and power button still on the top. It does come with an appealing Diamond-textured polycarbonate back panel, but misses out completely in taking on OnePlus 2 with a less-creaky metal body.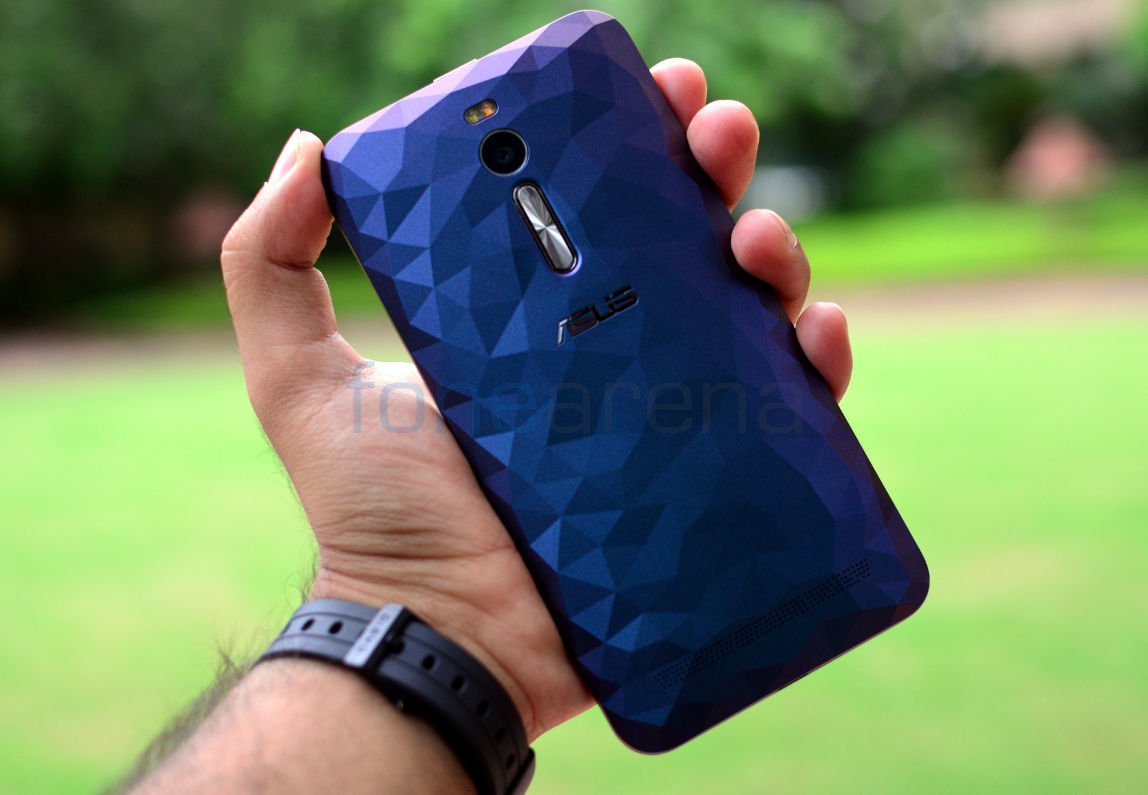 The new OnePlus 2 flaunts an incredible look with magnesium alloy on the sides anda bunch of back-panel finishes.It feels great in hand, and is a whole lot slimmer than ZenFone 2 Deluxe shipping with 10mm of thickness. Moreover, the fingerprint featured on the home button of this device is also a major positive over ZenFone 2 Deluxe.You trigger several functionalities by using fingerprint sensor and gesture capabilities featured on this device.
Also Read: Comparison of Samsung Galaxy S6 Vs Iphone 6
Display
In terms of display capabilities, ZenFone 2 Deluxe and OnePlus 2 go head to head, and boast an incredible viewing experience with their sharp 5.5-inch full-HD IPS displays. Designed specifically big-screen lovers, both devices stay right on the mark, and giveprolific visual experience with rich color rendering and better contrasts.Both phones deliver extremely crisp and fine details, but the in-cell display of OnePlus 2 protected by Gorilla Glass 4 looks slightly better than the display of ZenFone 2 Deluxe protected by Gorilla Glass 3.
Processor
Under the hood, there is a big difference between hardware capabilities of OnePlus 2 and ZenFone 2 Deluxe. On One hand, the classy avatar of ZenFone 2 powers up by a quad-core Intel Z3580 chipset clocked at 2.3GHz clubbed with 4GB of DDR3 RAM and PowerVR G6430graphics, while on the other, the 2016 flagship killer powers up by an octa-core Snapdragon 810 (v2.1) chipset clocked at 1.8GHz coupled with 4GB LPDDR4 RAM and Adreno 406 GPU.The second generation of 810 processor does not heats up, and gives fast and glitch-free performance to handle multi-tasking and demanding apps effectively.In a nutshell, the faster and upgraded chipset of OnePlus 2 packs a real punch, and performs much better than ZenFone 2 Deluxe.
Software
On the software front, ZenFone 2 Deluxe and OnePlus 2 both run the latest version of Android with their own custom UIs. The new ZenFone 2 Deluxe runs Android 5.0 Lollipop with company's own ZenUI atop, while the powerful OnePlus 2 runs Android 5.1.1 Lollipop-based OxygenOS with a bunch of features and heavy customization options. Both devices feature a clean and generic interface, but the stock-like interface of OnePlus 2 looks slightly better than handy and customizable ZenUI.
Camera
Just like Display, the camera capabilities packed with OnePlus 2 and ZenFone 2 Deluxe also go head to head. Both devices boast a 13-megapixel f2.0 rear and 5-megapixel front-facing camera with a bunch of features like, HDR, touch focus, geo-tagging, dual-LED flash, and panorama. They produce ideal images under daylight and low light conditions, and serve as a perfect companion for always on-the go photographers.On whole, ZenFone 2 Deluxe will give you decent images, but the improved camera setup of OnePlus 2 with Laser auto focus and OIS might just serve better for indoor and lowlight snaps.
Storage
In terms of storage, ZenFone 2 Deluxe and OnePlus 2 go head to head, and offer sufficient room to keep a massive selection of app and media files. On one hand, the Deluxe avatar of ZenFone 2 comes in two storage variants with 64GB and 128GB of internal memory, expandableup to 128GB, while on the other, the powerful OnePlus 2 comes in 16GB and 64GB variants without any microSD card slot.Currently, the 64 gig variant is rolling in the market, while the other one will come later this year.
Connectivity
On the connectivity front, OnePlus 2 and ZenFone 2 Deluxe featuredual-sim slots with a bunch of options like, GPRS/EDGE, Wi-Fi, Bluetooth, A-GPS, 3G HSPA+, and 4G LTE. Both phones pack a decent browsing experience on 3G, 4G, and Wi-Fi networks,but when it comes to external connections, OnePlus 2 with the latest USB-Type C connector serves much better than ZenFone 2 Deluxe featuring standard micro-USB 2.0
Battery
The battery packed with OnePlus 2 and ZenFone 2 Deluxe promises sufficient amount of juice throughout the day. The new ZenFone 2 Deluxe ships with a long-lasting battery of 3000mAh, while the powerful OnePlus 2 features a bigger 3300mAh battery, and adds further powerful for non-stop online browsing and gaming.Whether you at home or at work, the powerful battery of the new OnePlus 2 will certainly give more backup than ZenFone 2 Deluxe on standard and power usage.
Price
Currently in the Indian market, the 64GB version of ZenFone 2 Deluxe has been priced at Rs. 22,999, while the 64-gig variant OnePlus 2 has been priced at Rs. 24,999. OnePlus 2 features more power than ZenFone 2, and with a very small difference of pricing, it certainly looks way better for core-gamers and always-on-the go people.
Final Verdict
The face-off between Asus ZenFone 2 Deluxe and OnePlus was very close, with an amazing combination of top-notch specs and reasonable pricing, OnePlus certainly takes an upper hand over Asus's latest Deluxesmartphone. The new OnePlus 2 packs huge amount of power, and is one of the finest mid-range smartphones rolling in the market.