Do you know VR and Oculus? VR means virtual reality, which is a technology. Oculus is a company, a brand, it developed many VR games and apps. In 2014, Oculus was acquired by Facebook. Most users play VR games produced by Oculus Rift. Sorry to say that Rift has some disadvantages. For example: storage space problem. By default, the Oculus software is installed on the system drive if you don't change the location, usually is partition C. What's worse, the Oculus Rift apps and games can't be downloaded and stored to different drive but directly in the drive where Oculus installation directory is.
In fact, you can transfer Oculus Rift to another place without re-installing. But how? Oculus  does not provide an official method. If you are not a geek, you don't know how to do. Thanks to AOMEI, they developed a tool to solve this. AOMEI family's new product – vrBackupper can help you move oculus to another drive, even external hard disk is OK. Another key function of vrBackupper is backup&restore Oculus Rift.
Let's have a look at its interface: it's very clear and simple. I have tried it several times, real easy to use. We suggest you to download it from AOMEI website, install and open, main interface as following sceenshot shows. Default is Migrate Oculus Installation window. vrBackupper will detect Oculus Installation directory automatically. Then you need to select a new location and click Start Move to go.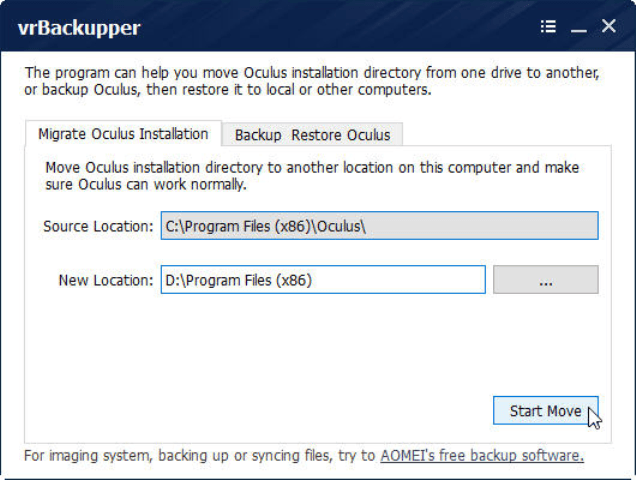 Backup has two ways: Backup Oculus installation directory, this selection will backup the whole Oculus Rift. The second way as its name suggests, only backup Oculus games and apps in Oculus installation directory.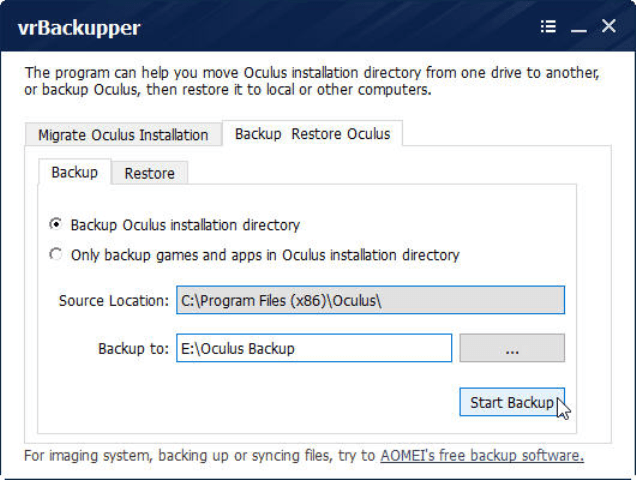 Why I say vrBackupper is practical? Because its two functions solve us big problems. Move VR data to another drive can ensure enough installation space. If you choose external drives, you have to insert the external drive into computer first and keep its drive letter unchanged when you use Oculus.
Restore Oculus to another computer can avoid re-installing and re-downloading. If you only restore games and apps, you should install Oculus on another machine first. As we know, the download speed of Oculus games and apps sometimes is low, obviously, vrBackupper restore feature saves our time.
Summary
vrBackupper backup feature saves our data. vrBackupper is simple but its functions are powerful. What's more important, vrBackupper is free to use. vrBackupper is the first Oculus backup software in the world. We think every Oculus users should consider try this amazing software.