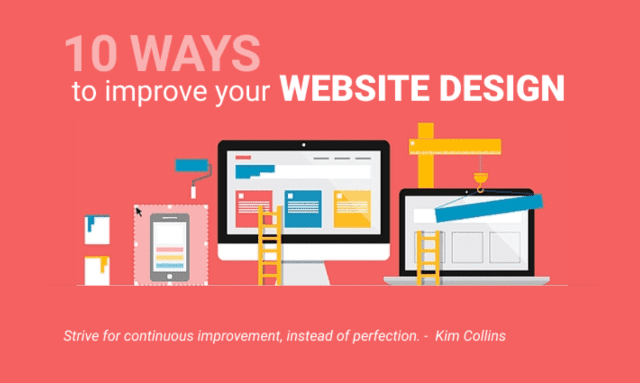 Great and effective website design is the key to success in this online world. But if you don't have a website for your business or company then the first thing is to look for a web designer before you go on to hire a graphic designer and get yourself an attractive and dynamic website.
Well when you are looking to get yourself a new website it would be better if you include those features and components that would help you kick start your online business with a tap in front. No, you don't have to search here and there as we are going to discuss the best 8 Tips for Effective Web Design based on Research.
Simplicity
For an effective web design keeping things simple and less is best. Keep in mind that less is more, for clean and effective web design. You would never want to clutter your page up by adding a lot of different web design components such as images, texts, etc. Well if you are thinking that what good a simple web design can do for you. Then just take a look at these points stating the importance of simplicity for effective web design.
People are impatient as so they would never spend time on a complex website.
Visual complexity might scare the visitors, but a simple design would attract new visitors.
The simple design allows the content creator to coordinate and places the content at the perfect place.
Add Call To Action
Very simply put, what do you hope to achieve when a perfect visitor visits your website?
Well, it's obvious you would want that visit to buy your product or services. So to make sure that you can achieve this you need to make sure that your website has an attractive call to action or CTA on your website. So make sure to choose at least one or more appropriate call to action for your website. You can also add a different call to action on different web pages to make your website look more dynamic and appealing to the visitors.
Use Hicks Law
For those who are not familiar with hick's law, it is a law that states that the more the number of options a person has, the longer that person tends to take make a certain decision. Well, this amazing phenomenon can be really useful, when implemented within a website design. So if you add a large number of options for a person to choose from, then they might stay on your website a little longer. If you can organize your content in a way that it is available to your users in the form of multiple choices and options, then you might end up with a great website design for your site.
Don't use Stock Images
Consider visiting a website that right off the bat starts showing stock images. Well, of course, you would be frustrated and the next button you would click the close button. A website that inappropriate utilize the stock photographs is not likely to be taken seriously by the visitors as a website. First of all, prefer not to use too many stock images and if you are going to use stock images then make sure that those do not look like stock images at all. Presenting things in an effective way that allows your visitor to feel comfortable on your website is really important.
Prioritize Scrolling
User experience is the most important thing when it comes to effective website design. If your users can not effectively access the information they visit your website for then there is no use of having an interactive and attractive website design. So you need to present your information either on a single page or divided into different pages, all connected together. However, this might confuse a lot of your visitors. So it advised preferring adding scrolling bars with long website pages rather than interconnected multiple pages to provide a single piece of information.
Guide Your Users
Manipulating users to help them reach a certain piece of information or pages you want them is one of the best marketing strategies utilizing effective website design. This is done by giving different weights to different elements and components of website design that guides the visitors to certain content to website pages.
Use Lists
Using a list is a great way of providing information to your users. It makes it a lot easier for the users to understand and remember the information. Lists are really useful to sum up the content, provide numerical data and other crucial information to the users.
Open Reviewing System
Reviews are not just great for improving your website, but they are really important to create a strong relationship with your users. Reviews make visitors to feel safer and compelled while opting for your services or products. Remember something liked by one is loved by all, but something hated by some might also be hated by everyone. So make sure that you collect positive reviews.
About Author:-
Sunny Chawla is a Hiring Director at Alliance Recruitment Agency – best hire graphic designer . He specializes in helping with international recruiting, staffing, HR services and Careers advice service for overseas and international businesses.