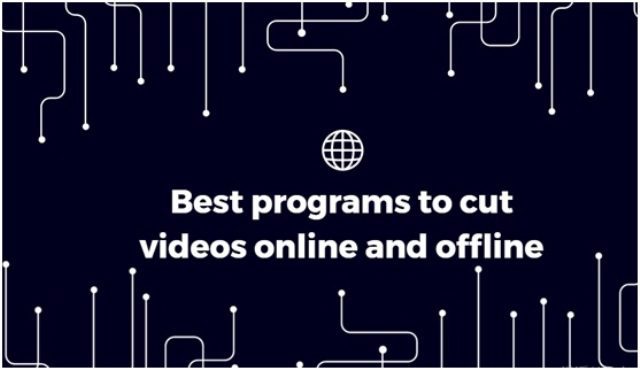 We may always need to cut part of our own video or a downloaded video from YouTube. In this article, we will deal with that topic in a way that is as simple as possible. Maybe some programs to do this is more complex than others, but that will remain your decision to use the one you think is most convenient or with which you are most familiar. In any case, you will have to learn how to do it (they are all very simple). Read this post with the best programs to cut videos online for free.
Best programs to cut videos offline
Let's start with the offline programs, the ones you can download on your PC. Here we will explain how to cut videos with each of them, easily and quickly.
1. Camtasia Studio
What Camtasia allows are many things, but focusing on what it is like to cut a video, you will need to "master," or, at least know, two tools of this software: On the one hand, the timeline tuner, which allows greater cutting accuracy. On the other, the area selector defines what we want to delete. Once these two tools of the program are located, you just have to follow these steps:
With the tuner and the selector, you define the area to be cut from the video.
Slide the green and red buttons for better precision.
Once this is done, press the delete key or the scissors icon (cut) and so you can cut what you want. You can do it as many times as you want.
If you want to keep the original video, this new version must be saved "as" (or "save as …"). If you don't, the file will be overwritten.
Pros:
You can record what happens on your monitor or webcam.
It is a professional editing tool.
Many effects and transitions.
You are allowed to upload your videos to YouTube directly.
Many video formats (the most popular).
Timeline per video track with time stretch.
 Cons:
Poor quality audio as it is through the microphone.
Panel somewhat complex for the newest.
Only 30 days of trial.
What is produced with the trial version includes a watermark.
The price is $250.
2. VirtualDub
VirtualDub is a somewhat simpler program than the previous one, although no less exact and precise. In fact, the steps to follow to trim pieces of a video are very similar to those done with Camtasia:
Stand on the timeline and use the left arrow button to mark the start.
With the right arrow, you define the end of your cut. Once the excess area has been delimited, you can press the Del key (delete). This process can be done as many times as you want until you get the video you want.
Virtualdub is a great utility to create, process and capture videos. Any user who wants to work with videos at a medium level can give it a try.
Pros:
It allows you to capture videos and process them, which makes it very versatile.
It is powerful and can be used professionally.
It is totally free.
Allows resolution changes.
It is very useful as a video and audio format converter.
Cons:
Does not accept OGG audios
It is quite slow.
It has limitations, especially when compared to other paid software.
3. Final cut pro
Final Cut Pro is one of the favorites of Apple's fanboys and fan girls since it is precisely designed for the devices of this brand. Although it is a very complete program, cutting a video in Final Cut Pro is quite simple. You have to follow these steps:
You position yourself on the timeline.
Mark the start and end of the area to cut by pressing the button with a diagonal arrow and another down arrow.
Once the cuts have been marked, a menu will appear select "Cut".
Clicking the timeline again will create separate segments within the video track that you can save as individual clips.
Final Cut Pro is an advanced video and audio creator and editor with many options.
Aimed at: amateurs and professionals of graphic design with an Apple computer.
Pros:
High capacity in HD videos.
Multi-channel audio and video.
Light and color correction.
High quality.
User support.
 Cons:
Only for Apple computers.
Its price of around $ 300 is not suitable for all budgets.
4. Avidemux
Avidemux is one of the most used multi-part video cutting tools of the moment. Although it can be a bit slow at times, trimming a video clip is a super easy task:
Situate yourself in the timeline (obviously the video file has to be already placed).
Mark the start of the cut with the button that has the letter "A " on an orange background.
Mark the end of the cut with the button that contains the letter "B" without a background.
Once done, we have to export the selected area by going to File / Save / Save as video.
Repeat the process as many times as you need.
Avidemux is a great video editor and converter with a wide variety of video and audio formats. Aimed at: all types of users who want to work with video and cut easily.
Pros:
Allows you to place subtitles.
Many functionalities.
Nice and user-friendly interface.
Easy to use
It is free.
Cons:
A bit unstable.
It needs codecs installed for it to work properly.
It does not accept MOV format videos.
Sometimes it is a bit slow.
How to cut videos online for free without downloading programs
Today the Internet offers us many online programs (paid or with a free demo) that make specific commercial programs (download videos, cut them, etc.). Among them to cut videos, we find those that we will mention below, giving some additional features, such as whether they are free, paid or have a free demo.
1. Online Video Cutter
One of the best pages to cut videos quickly, without complications and without installing programs. To cut an online video on this website, you must do the following:
Drag or upload the video you want to trim. A new screen will appear with your video.
To choose the output format, you must choose the button with the shape of two opposing angles.
Below that video, you can see a timeline (very compact) and at its ends, you will see two buttons with three vertical dots that you can slide left or right to mark the area you want to extract.
Once the area is selected, click Save. After everything is processed, you can download that new clip for free. This download is not direct. If not you have to do it through Google Drive or Dropbox (both free) and download it from these providers.
This page so far is completely free and has the possibility of different languages. It allows you to trim audio from a video (and image, of course), among other options.
2. EZGif
Another online program that allows you to cut videos of up to 120 MB is EZGIF, one that has been gaining more and more popularity. The website is in English and it is a bit slow to load a video from our computer. You can also indicate the URL of the video you want to cut. In this case, the steps to follow are:
By already having the video on the page uploaded from a file or URL, you can indicate the start time and the end time of the desired area.
You can also mark manually by starting the player of the same and press the button " Current position " ( Current position ) while the video is playing (start and end) and then press the button "Cut the video" ( Cut the video ).
The page, as indicated, will try to keep the video quality and audio the same as the original, without guarantee. The page also free and with other additional options.
3. FlexClip
This online program requires you to create an account, and once created, you will be able to use all its options. For each video, you must select a new project and some other characteristics that you want (such as quality, size, etc.). Do you want to cut a video online with FlexClip? The steps are the following:
Once your video is uploaded to the page, you just have to click on the storyboard.
With the selector in the shape of a pin on the storyline, you position yourself where you want to start the cut, click on the button in the shape of scissors ( cut ), and end it (cut again).
Once this is done, you can add dynamic text, images, customized logo and watermark to enhance your video.
That's quite easy. You are allowed to cut your videos whenever and wherever you want only with a network connection. Try it out!