An OST files provide a medium to work offline when Cached Exchange Mode is turned on. No doubts, these files are important due to their functional properties; on the contrary, they sometimes create critical circumstances too. Data incorporated into these files get updated on the Exchange account only when these files are synced with EDB mailbox. Synchronization, being the popular OST corruption issue often results in loss of data.
For preventing data loss due to inappropriate synchronization, the alternate method is to export offline OST file to PST. This will prevent data from getting obstruct in case if a similar situation occurs. One possible way to do this task is via best rated OST to PST Converter software. All the relevant prospects of the tool are defined herein.
Technical Perspective
The latest version of the tool is 4.5 and it comes with the size of 21.8 MB.
Supported by all the versions of Windows Operating System.
Requires 1 GB RAM along with 2.4 GHz system processor.
5 MB of free space is required on the hard drive for smooth functionality.
MS Outlook 2003 or newer version is required to be installed on the machine.
MS Outlook must be configured to POP3 account.
MS Outlook connectivity to Exchange Server is not required.
Fundamental Attributes of the Tool
Batch conversion of OST files in one instance of time.
Distinct file formats to export data into including PST, EML, and MSG.
Supports conversion of large and bulky OST files.
Supports transfer of orphan offline OST data files.
Creates single PST of Unicode type for each OST file.
Meta data and the hierarchy of folders remain unaltered.
Benefits Offered to the Users
All Time Data Accessibility: When data is stored in PST file format, it can easily be accessed in MS Outlook application. The entire mailbox folders including emails, calendars, journals, contacts, etc. are restored to their original format and structures. Data accessibility is not subject to the internet availability.
Organized Storage of Emails: The EML, as well as MSG file formats, offers arranged and organized data storage. These file formats can be used for storing email messages only and saves one message per file. The attachments remain embedded within the associated message and the integrity of data and images is kept maintained.
Suitable for OST Backup: If it requires to backup OST files data, the software will serve as a backup tool too. This way, the Exchange connectivity will not be required to access the OST incorporated data. The data can be retained in PST files and these can be considered as backup files also.
Available Facilities
Trial Version: Demo version of the tool is available that can be utilized to test its performance and accuracy. Though it comes with limited usage but provides an exact idea of its functionality. It will allow uploading OST files to the panel in batch but does not allows exporting data to either of the given file formats.
Online Tutorials: The online tutorial both in the form of video and snapshots provides a clear cut description of the working criteria of the OST to PST Converter software. So, while executing conversion if there is something that seems to be complicated, these tutorials can be referred to for understanding the same.
Click here: http://www.osttopst.msoutlooktools.com/how-it-works.html
Positive Aspects
The tool is an absolute solution and perhaps provides an efficient way to convert offline OST to PST format. It is an ideal method for those who need quick conversion and would not mind investing in third party tools.
The availability of the tool over all the versions of Windows Operating System makes it more scalable among a varied range of users. Its compact size does not make it bulky and does not affect any corresponding software or applications on the machine.
Improvements Required
In spite of many potential features, there is a room for improvement. While converting data to PST, EML or MSG file formats, the OST to PST Converter software does not offer any storage benefits.
There is no provision to store large volume Outlook data files in controlled units. Moreover, it does not offer to save the resultant files with suitable naming options. The tool does not offer to export limited period data components from OST file to PST.
Alternate Conversion Method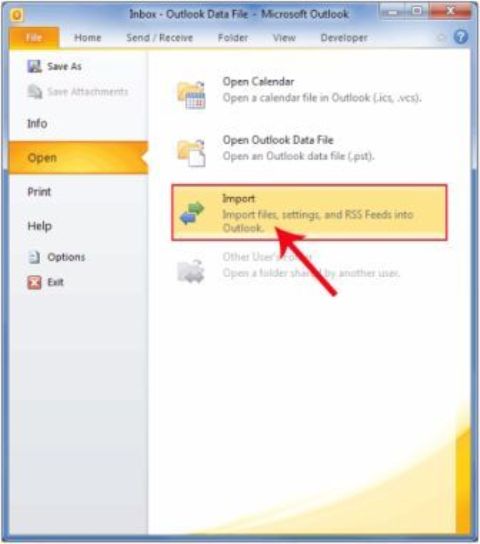 Import Export Wizard: This is an inbuilt option available in MS Outlook application that converts OST to PST. Though, it can be considered as an economic conversion method as it does not involve any investment; the integrity of data is not ensured. Moreover, the OST mailbox components can be duplicated or replicated if data is converted using this approach.
Why Opt for Commercial Tool when In-built Conversion Method is Available?
The 'Import Export Wizard' will transfer mailbox components to PST format only. On the contrary, the OST to PST Converter tool provides the option to export offline OST to PST, EML, and MSG as well.
The additional benefit offered by the tool is that when emails are saved into MSG, they are saved in more organized format. In addition, emails saved as EML can be accessed on smart phones and tablets as well over different Operating Systems.
Final Analysis
Availability of different user licenses provides the flexibility to choose a product on the basis of usability and requirements. Simple GUI makes it easy to operate and no technical expertise or know-how is required to work with the tool.
In addition, the source files remain untouched and new files are created by the tool for saving new data. Though there is a space for improvement, those factors can be compromised for availing other benefits offered by the tool.
Therefore, it can be concluded that the tool offers accurate, quick and secure conversion and no data is reported to be compromised as per my experience and analysis as a Database Administrator.
This review is based on the Business license of the product and this analysis is done after using it for a number of OST accounts. As a whole, the user rating for the product is 910.