Telegram is one of the most used multimedia messaging app. There are more than 100M+ downloads on Play Store alone. This shows the growing popularity and users of this platform. According to its founder, it's one of the most secure messaging platforms ever created. Channels, Groups, Themes, Secret Chat are some of its highlighted features. We've covered the best Telegram tips and tricks that nobody is talking about. We've also shown a trick allowing you to chat secretly with someone.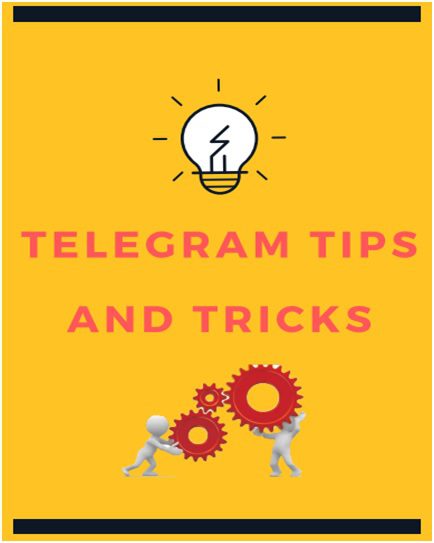 Nowadays, users are more concerned about their privacy. Big tech giants are facing issues such as data leaks. The data included a phone number, E-Mail address, banking card details and so on. These details are further used to blackmail or steal money from people.
Messaging apps are used by almost every smartphone user. Hence everyone wants a platform that is way more secure and offers useful features to the users. Telegram is currently #1 runner up in this list according to some security researchers.
In recent months, WhatsApp was questioned by people from all around the world regarding its platform's privacy and security. That's because Jeff Bezos's phone was hacked with the help of WhatsApp. It helped Telegram to give a boost to its marketing strategy which helped to gain thousands of more users from all around the world. If you're new to Telegram, you should probably learn some useful Telegram tips and tricks.
Best Telegram Tips and Tricks
Here are the tips and tricks which you might find useful:
1. Secret chat
it is one of the best features that telegram has. According to this feature, all the data is the end -to- end encrypted and can only be seen on the user-ends which is the sending or the receiving site over that telegram claims that all the data is between the end-users, there is no trace of data exchange on the telegram cloud too.
This feature allows the telegram users to remain conscious-free about the data and the chats which they are having. As most of the users are data conscious or want some privacy in their life for those users the secret chat feature could be a lifesaver. this feature also does not allow the forwarding of messages or any other media file from both end devices. if this is not enough then the next feature will blow up your mind.
2. Self-destruct Messages
Telegram is very conscious of its users' data and privacy. We above discussed the secret chat feature, how it's secure and special due to its privacy feature. But somehow it is possible to extract your personal data from your phone as it is the origin point so to avoid that telegram has added a special feature to the secret chat which is the self destruct timer.
According to this feature, the user needs to set a particular interval of time within the self-destruct settings for the destruction or deletion of sent messages. that will clear from all traces of data exchange from your phone.
3. Auto-Night Mode
If you feel hassle while using telegram at night times, then in the case to protect your eyes telegram has a very decent feature "the night mode" or "the dark mode" which will help you to increase your visibility time at night times.
Once you turn it on from the setting and set the scheduled time for its activation, this will switch the day interface into the dark one at the scheduled time automatically. To activate this feature go the "setting" > then open the "chat settings" > then in the theme select the "auto night mode" plus from here only you can set the scheduled time or automatic time for its activation.
4. Telegram App Password
If you have plenty of personal data or chat within your telegram app which you don't want to share with others or don't want others to access your personal data from your phone. In that case, you can protect your telegram app with a password and stay secure. To activate this feature simply click on the hamburger sign and go to the settings > select the "privacy and security " option > under the security click on the "Passcode lock" > type your numeric password and confirm it and you are good to go.
5. Independent Support on Different Platform:
Let's understand this by an example. If you want to access your Whatsapp account on your computer, then you can use your web version of Whatsapp, but there is a problem in this scenario. That is, if your mobile device has lost the connection, then you were no longer be able to use your Whatsapp account on your PC. But in Telegram, there is no such kind of condition. You can use your Telegram Account on various devices or platform without any dependency on your mobile phone. Telegram has more platform support as a comparison with Whatsapp. It is also available for Windows users.
In short words, in Telegram, you can use your Telegram Account without using your mobile device. you just need your mobile device for the login process.
6. Groups and Channels:
As we know that Telegram is a social media platform the same as Whatsapp. But Whatsapp is somehow lacking in uniting people in one place, which we called as a group. In Whatsapp, we can only create a group of 256 people, but Telegram has a capacity of millions of members in a single place which we called as a group or channel. Groups and channels are just two versions of the group. The group is an initial level and as your group starts gaining members your group will be converted into the channel. Different groups and channels are created for different purposes. It includes movie channels, Telegram web series channels, newspaper channels and many more.
These groups and channels are very useful. On Telegram, you can find different groups and channels related to education, information sharing, and entertainment purposes. For e.g Telegram Channels for Web Series, Movies, UPSC Preparation, Deals, etc. There are many permissions and limitations available which you can apply to your groups' members. Admin or moderators can also apply these limitations specifically to a particular user.
7. Editing of Images:
In the Telegram app, there are many editing based options available for image editing. These options vary from cropping of the image, applying filters on the image, altering it's brightness and saturation level and paint-related options are also there. You can apply your creative thoughts by using these options. You can also set a destruct timer on the image which you want to send someone, in case you think the image is more confidential.
8. Schedule your messages:
Telegram allows its users to schedule recipients' messages. First, type your message after that do a long press on the send icon and choose the option Schedule Message. Also, you can send anything without notifying the recipient. Just select the option "Send without sound" after long press on the send icon.
Conclusion
Telegram is probably a useful platform where one can talk with their loved ones at great anonymity. This platform offers users great user experience and features to the users that no other platforms are providing to their users. We've tried to cover some of the best Telegram tips and tricks that are going to be useful for you in many ways. Share the article with your friends and family members so that they can also take advantage of these tips and tricks.