Find Out the Best Way to Backup Office 365 Mailboxes
Exporting Office 365 mailbox data to a various file format like PST is good practice to save all important data. As Microsoft Office 365 provide features to access Email Messages from anywhere and anytime without any email infrastructure. It provides an unlimited amount of archive email other than primary storage. Moreover, if a user downloads Office 365 Data in PST format, then it can easily be accessed in MS Outlook 2016 or 2013. In addition to all this, downloaded data are easily readable and search able from any location. Therefore, to avail so many facilities of archiving, we have discussed best way to backup Office 365 mailbox data.
Manual Approaches to Backup Office 365 Mailbox
Approach #1: Export Office 365 to PST using eDiscovery Export Tool
In this method to export Office 365 Exchange Mailbox manually, a user can use eDiscovery Export tool to migrate the Outlook 365 mailboxes of an In-Place eDiscovery search to a PST file format using their configured account. Now, to do the same, follow the steps mentioned below:
Before you begin using eDiscovery Export Tool, you must have permissions to use it. Thus, in order to grant permissions, follow the steps given below:
To begin the process to export Office 365 Mailbox to PST File, you first need to login to the Office 365 account using Administrative Credentials
After that, click on Exchange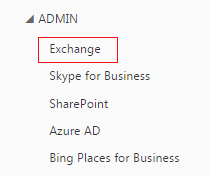 Then, navigate to Permissions >> Admin roles >> Discovery Management.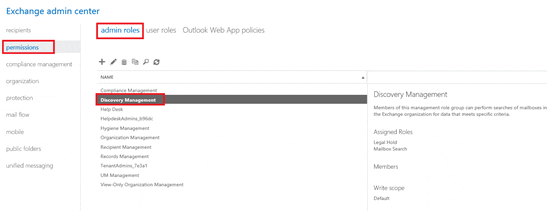 Now, click on "+" icon and choose Mailbox Import Export role. After that, you can add yourself as a member and click on Save option to save the settings.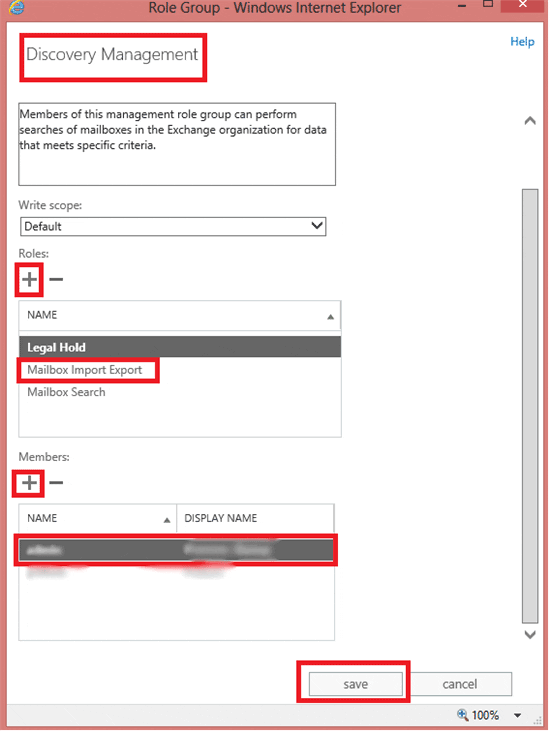 5 After having all the rights and permissions to use In-Place eDiscovery search tool, a user needs to follow the steps of instruction listed below:
First of all, go to Exchange Admin Center or (EAC).
After that, click on Compliance management from the left pane.
Now, Click on the In-Place eDiscovery & Hold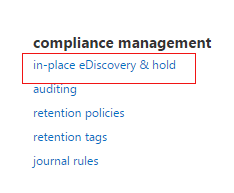 Then, choose the eDiscovery search from the list view and the items or mailboxes that you want to move.
In last, click on Export to a PST file option to Export Office 365 to PST format

Now, the steps you need to follow in the eDiscovery PST Export Tool window are    mentioned below:
First, click on Browse button in order to download the PST file to a particular location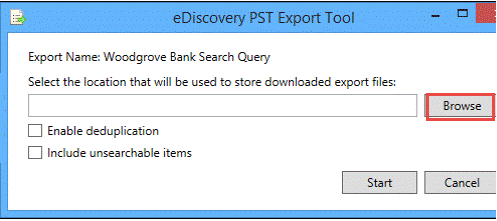 After this, check the Enable deduplication check box to exclude duplicates message in resultant PST file.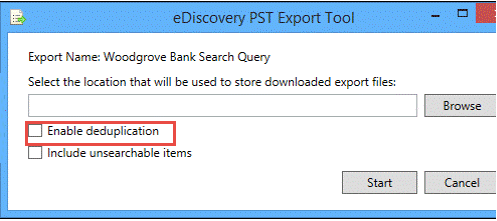 To locate the items or emails that are are not indexed by Exchange Search like messages along with attachments, you can check the Include unsearchable items check box also. However, the unsearchable items are exported to different PST file.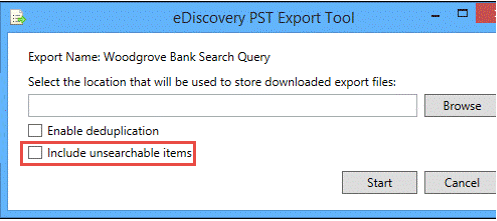 Now, click Start to export the required search results to PST file format.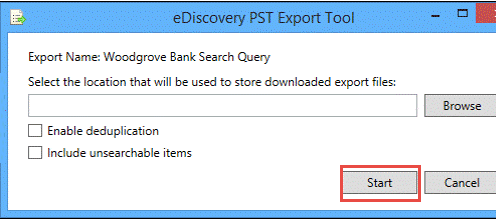 As the process begin, the complete progress report of export/archive process is displayed on the screen.
Using eDiscovery tool can be a best way to backup office 365 but sometimes this approach user not able to get all information data related to Emails, contacts, Notes and Outlook File data.
Approach #2:
Configure Office 365 Account in Outlook 2016/ 2013
Another good way to best way to Export Office 365 is to configured Office 365 account in MS Outlook 2016, a New PST file is created automatically. Now, to export Office 365 to PST mailboxes, setup Office 365 account in Microsoft Outlook, follow the instructions given below:
To begin, open MS Outlook 2016 on local machine
After that, go to File >> Add Account option
Then, Enter your email address and click on Connect If your screen is different, then enter your email address, name and password and then click on Next to continue.
Here, enter the password and click on OK.
In last, click on Finish button to archive Exchange Online mailbox and your Office 365 account is configured successfully in MS Outlook 2016.
Now, to confirm PST file, go to the default location i.e.
C:usersusernameDocumentsOutlook File
From here, you can easily access PST file containing all data of Office 365 Mailbox.
Using both method to export Office365 to PST user can move messages of Office mailboxes but sometimes these old methods fails to export O65 mailboxes data for backup. Some of the reasons are discussed below.
Why Manual Fails?
There are various situations in which manual to archive Exchange Online mailbox fails sometimes and all of them are discussed below:
A user is not allowed to Export Office 365 to PST data file items such as emails, contacts, calendars using manual tricks.
Both the manual procedures are quite lengthy, time-consuming and do not ensure the integrity of data.
A Trouble-free Solution to Backup Office 365 Mailbox
In order to tackle all the limitations that a user might encounter while using a manual to move Outlook Web App user account, it is advised to go for a professional solution i.e. Office 365 Backup tool can be the best way to backup Office 365 Data. It is an ultimate utility designed to download Office 365 mailbox data in both EML and PST file format.
Steps to Export O365 mailbox to PST file using Office 365 Backup Tool
To save Exchange 365 data to PST or EML format via Office 365 backup tool and follow the steps mentioned below:
Download & Install Office 365 Backup Tool to local machine and open it.
Now, you need to enter Exchange 365 Username & Password and click on Sign in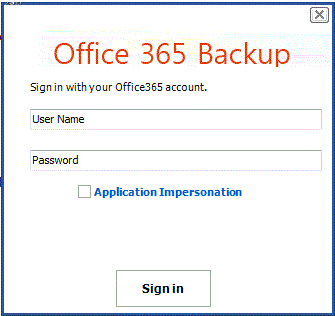 After that, choose Office 365 Backup option to download Outlook Web Access mailbox items on the system.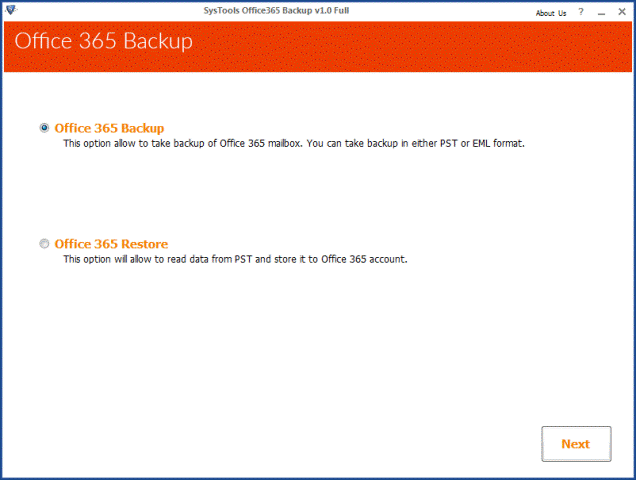 Then, you need to choose the Mailbox items that you want to export Office 365 to PST account.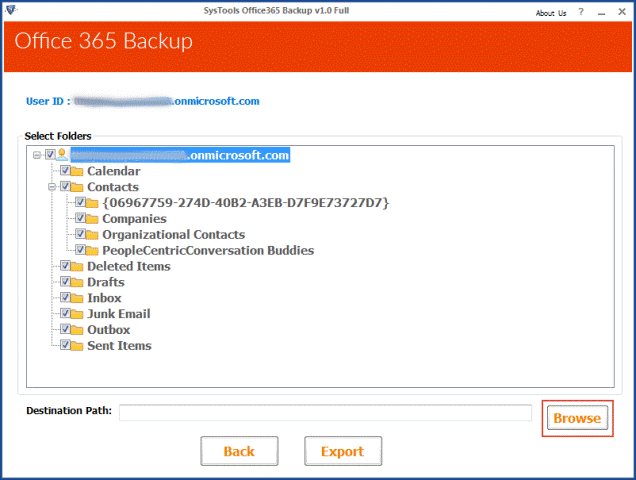 Now, click on Browse button to choose the destination location of exported mailbox data items on your local machine and click OK to continue.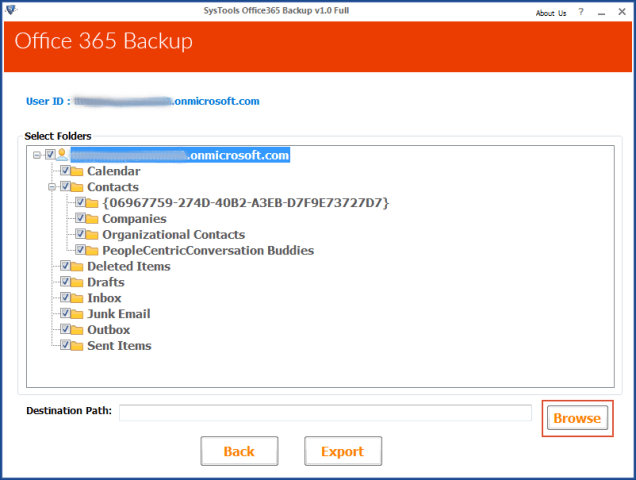 After choosing the destination location, click on Export Button. Now, choose the file format in which you to save Outlook 365 mailbox data. Here, I have selected PST file format to backup and use Date-based filter also. Now, click on Start to begin backup process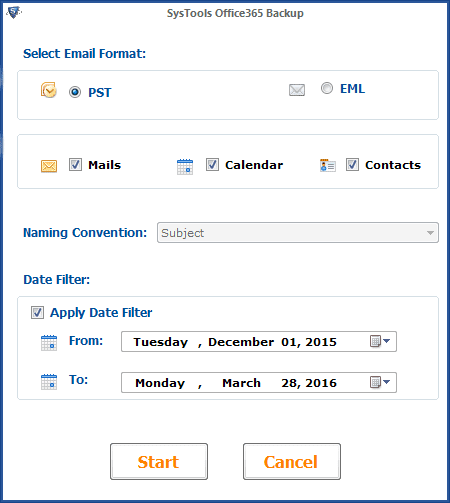 5. Now, a current progress status is displayed with Office 365 User ID, Folder Path & Status of backup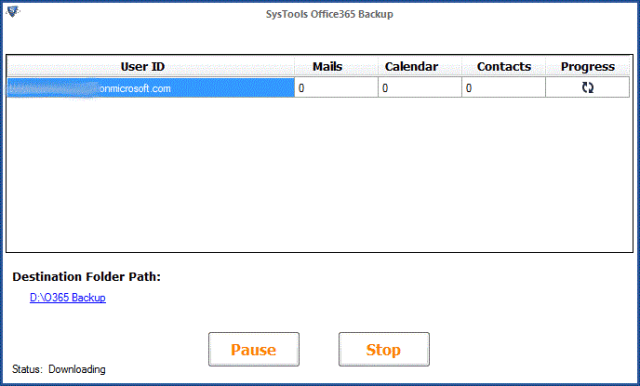 As the process completes successfully, a message will pop-up. You just need to click on OK button

To verify, go to the selected location of backup process to view backup (.pst) file.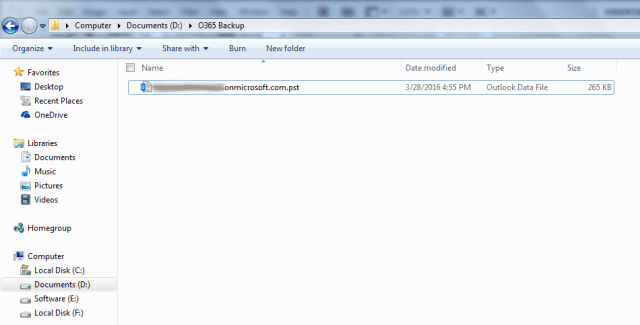 With the help of Office 365 Backup Tool, user can get solution of problem of  "how to backup office 365 emails" so that they can use information in data lost scenarios, even user can easily, Moreover, the tool does not impose any file size limitation and ensure data integrity also. In addition, it also allows users to move multiple user accounts at once also. If a user wants can export selective data items also to EML or PST file format.
To know more about this utility, visit the following link:
https://www.systoolsgroup.com/office365-backup/
Conclusion
As we can observe to backup Office 365 mailbox data is very crucial for every user, nobody wants to lose it. Therefore, in order to Export Office 365 to PST Mailboxes file backup on regular basis can become difficult task. It is important to backup it on regular basis. Considering the requirement of a user, we have discussed above best way to backup Office 365 mailbox data. However, in order to have an effortless solution there are various commercial tool such as Office back tool. These tool can export Office 365 mailbox to PST format to create archive that can be used for later use.