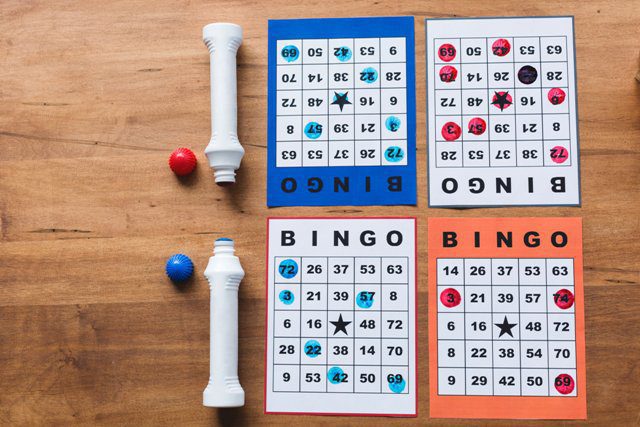 One could argue that bingo is as popular now as it ever has been! Think about it, bingo is no longer a pastime that is limited by location, online bingo has completely revitalized the industry, causing more people to play it on a regular basis! In bingo there are so many ways one can come out on top — it's one of the only games that is only a click to play away by hundreds of people at any given time, isn't that cool!
If you've been living under a rock all your life and are wondering how you play bingo, then allow us to give you a quick guide. A bingo caller will draw numbers from a tumbler — or using an automated system — once these numbers are read out all you have to do is mark down the numbers you have on your 'bingo card'. Most bingo games play towards a 'line' — dabbing all numbers in the same row — or a 'full house' — the act of filling an entire board.
Did you know that there is two variations of bingo out there right now? You have the American version and the classic European version — we are going to be discussing the latter in this occasion, but Americans sometimes use the same lingo to call out certain numbers. We've noticed that new names are being assigned to numbers all the time, so be sure to get yourself down to some bingo games soon to make sure you're keeping up to date!
Bingo Lingo?
To liven up each game/round, the caller will occasionally say something funny/witty before they call out the number in question. What they tend to say will reflect the number in some way — what they say is influenced by various things, jokes, political humor, the look of the number and more! For example, "two little ducks" is tied to the number 22 because this number is said to look like two ducks side by side (go figure).
We'll admit that bingo terminology can be a bit distracting at first — especially to new players who might not be as quick to mark off their numbers/recognize the lingo before another one is called. Some games can by incredibly fast, this does make it somewhat difficult to keep up, which can cause winning cards to miss out as a result of that! Not to worry, we're going to be covering every number here in the hope that you stay well ahead of the curve!
Examples of the lingo!
2: One Little Duck – Like we've already stated in the above example, ducks are said to look like the number 2, hence why one little duck is called.
3: Cup of Tea – Some names are typically given as they rhyme with the number they are tied to, what rhymes with 3? Why a cup of tea of course!
4: Knock at the Door – Yet another rhyming call, one that shouldn't prove to be as difficult to read when compared to other numbers in our lingo list here!
9: Doctor's Orders – For those that don't know, the number nine was another name for an incredibly potent laxative given to soldiers in WWII… Yeah, there are a few names that are on the nose like this one.
10: Theresa's Den – Number ten tends to change it's phrase depending on who is the Prime Minister at that particular time. Cameron's Den was the previous name given to this number.
27: Duck and a Crutch – Quite a random call compared to the others we know — again, this phrase is reflected by what the shape of each number looks like.
28: In A State – Any Cockney's out there? You'll be happy to learn that rhyming slang is incredibly prominent in the world of bingo. We'd recommend do a Google for Cockney rhyming slang — it would honestly take an article, or two, to explain…
50: Snow White – A reference to a song found in the Snow White movie, the caller will normally sing the song as he/she reads out the number, which goes a little something like this: "5 – 0, 5 – 0, it's off to work we go…"
53: Here Comes Herbie – 53 is the number printed on the VW Beetle Herbie, the movie race car!  When announced players might reply with the words "beep beep" which just so happens to be his signature catchphrase.
57: Heinz Varieties – An advertising slogan used by Heinz back in the day, a phrase coined by Mr Henry J. Heinz himself, the owner of arguably the biggest condiment company in the world.
64: Red Raw – Yet another number that rhymes with the phrase. Perhaps you could think of a better phrase? This one seems to be quite simple/boring compared to the others we've mentioned — "coleslaw, number 64" works better, no?
80: Gandhi's Breakfast – Congrats to you if you were able to understand this one. To understand this one all you have to do is read the numbers out loud. Essentially the words "ate-nothing" reference the numbers 8 and 0 which make up this number. Gandhi famously went on hunger strike in 1932 in protest.
82: Fat Lady With A Duck: Anything with the number 8 in it might have some sort of fat lady/ladies attached to it as cruel as that sounds. 82 takes two of the most popular bingo names phrases and slaps them together for a cheap laugh.
85: Staying Alive – A reference to the hit 1977 song "Stayin' Alive" by the Bee Gees and a name that rhymes with the number itself. Crowds will normally sing the chorus of the song in return.
88: Two Fat Ladies – We end on one of the most popular of all phrases, two fat ladies number 88 should require no explanation. Remember, the 8 is said to look like a rather large lady, so having two of them together only makes them even more noticeable as two fat ladies.
Disclaimer! The owner of this blog makes no representations as to the accuracy or completeness of any information on this article or found by following any link on this article. The owner will not be liable for any errors or omissions in this information nor for the availability of this information. The owner will not be liable for any losses, injuries, or damages from the display or use of this information.