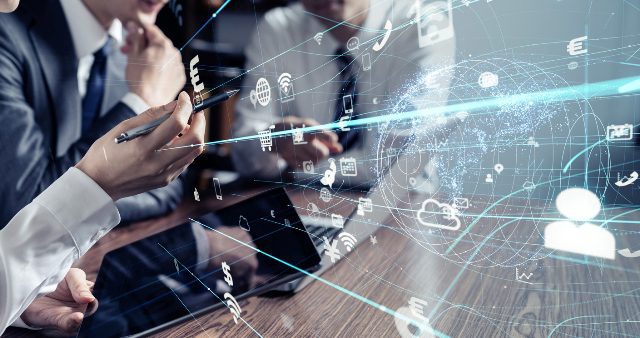 There is no doubt left that technology has taken over our world entirely. The plethora of high-tech gadgets and tools available to us today provide enough evidence for it. Another aspect of technology that has been successful in making remarkable progress in every sector is Artificial Intelligence or AI. It has a variety of functionalities to offer to each niche and especially business. Besides, it has become so common among us that we have included in our daily lives without even knowing it. In the market, it has intervened in every process. One such significant aspect of it is the interrelation of AI with the HR niche. For answering whether or not AI has had a role in shaping this sub-field, we have prepared this piece to clear all doubts. To be fair with it, AI has transformed the entire facet and uplifted its status. We know about the challenges of this field so let's explore how AI is making it better. Also, the pace at which things get done here can get enhanced for sure. You would want a more productive HR department, right? You are certainly getting one with more defined roles with AI working in this aspect. So, read on and dig into it.
What Are the Risk Factors Included in It?
At this stage, we are quite aware of the fact that transforming a thing does not only come with the positives but also has some risks and negative views to add to it. But when you know and understand this, you can better cope with things and changes. Here are the risk factors that must come into your notice before proceeding with it.
The AI features and characteristics can help you in the recruitment process. Still, you cannot solely depend on them because the judgement carried out manually by an individual cannot get done through technology-based mechanisms.
If your work team is not tech-savvy enough, it might even get you more issues than solving the previous ones. They must get proper training for it.
As it has become quite essential to integrate AI, depending on it wholly might get you to feel disconnected. Manual communication is significant.
Well, these were the few risks involving AI integration with HR, and they make it evident that getting familiar with technology makes you a better employee at work. Therefore, it is better to train yourself accordingly and stay updated with the latest technological revolutions.
Is AI Going to Replace You As An HR Professional?
It is a popular misconception among people that AI in our life will replace us with a robotic version of us and will take over our jobs. We do understand the subjective view of this thought, but there is little truth in this. Companies do replace workers with an automated mechanism at many levels. But you are in the HR department. Implementing AI and automated systems in different departments will be among your job responsibilities. Therefore, your company will always need you. Mostly, it is all about training people and not replacing them. Conclusively, AI will only make your life better.
The Perks of Integrating AI into the HR Department
Integrating AI into your department is not at all, like installing a new machine. Instead, it can consume a lot of time as it is apparent that you will have to deal with the machine learning aspects yourself. To enable automation, you must be able to provide relevant data sufficiently for it to comprehend the nature of decisions and results. You will also need to monitor and customize it according to your preferences and priorities. Hence, to stay motivated at all levels of this long process, you must look forward to the benefits and perks that it is going to bring.
Worker Benefits:
Technology has always aimed for better efficiency and effectiveness. Employees in different sectors often complain about getting too much work. AI can eradicate such complaints by adding automation to their tasks and save time. There are countless examples of it. Let us state some of them down for you to comprehend it better.
AI Mechanisms for Leave Applications:
A simple leave application has tons of follow-ups, including if the company can afford the employee's absence, whether big projects are going on at the moment, and other similar concerns. While communicating with an HR professional for this aspect, the conversation tends to be longer than necessary. Plus analyzing such views can be a time-consuming process for most professionals.
As stated before, AI can help in the recruitment process as well. Especially for the candidates, it brings along many perks. Among them is the point that the first impression will not at all be biased and will solely depend upon the abilities possessed by an individual. Also, while hiring the processing will become less time-consuming for both parties. Additionally, the training of a new employee through AI will make him more comfortable in the workplace.
These are only a few, and once you implement it effectively, you will notice the benefits growing at a steady pace in every department. These are quite enough for a well-reputed company to invest in such technology.
Advantages for HR Professional and the Team:
The perks that AI is bringing to the HR department are innumerable. For instance, the usual repetitive questions asked by employees often take up too much time of an HR professional. A chatbot is a perfect way to dodge them. Similarly, it can automate many such repetitive tasks for them.
But most prominently, the help that it enables in the recruitment process is phenomenal. Moreover, it lets you skip the paperwork and get software for all the details that you need to add in each attribute column. It can even filter out the list of candidates and let you have a look at the most eligible and well-fitting individuals for the required job. The results are mostly pretty accurate and let you have those without any human errors.
Benefits to the Owner:
Well, there are not a lot of categories under this section as an owner can expect more effort and input from the HR department as most of their tasks get done through AI implementation. Hence, a more productive HR department gets foreseen as the outcome of this integration.
Final Thoughts:
Well, it was all for shaping a better future for the HR department through AI. Especially given the benefits, it will prove to be a worthy development in the niche. Hope you have a clear view of the advancement that it is going to bring in this sector.
About Author:-

Torrie Wilson is a Business analyst, and a Technology geek merged into one. Her love for the new and trending technology pieces is unfathomable. She wants to spread her incredible insights and uses the writing platform for this purpose. Best Essay Writing Service AU included her on the team right after her leading business technology blog. After pursuing a Business degree, she continued her passion for writing through her blog posts. She wants to achieve a reputable position in the writing industry.