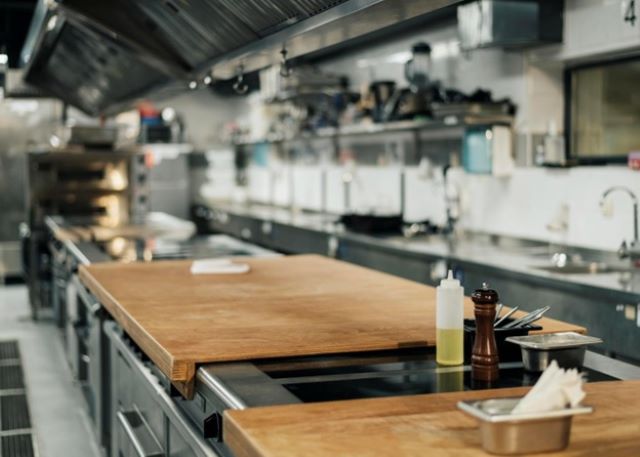 Need help solving the puzzle- What is the right technology stack for my cloud kitchen business? The blog provides expert guidance on choosing the right technology stack for your cloud kitchen.
With 300X more popularity, delivery services are replacing dine-ins. Restaurants that offer delivery and takeout services are gaining higher growth in sales and food orders post-pandemic.
The cloud kitchen concept focuses on delivering quick, enhanced food delivery services. However, you must equip your cloud kitchen with the most advanced technology to achieve this aim. Technology helps streamline workflows, automate orders & inventory management.
So, the question again arises: how to choose the right technology stack for your cloud kitchen?
What is a Cloud Kitchen?
As the name suggests, cloud kitchens do not have any physical space for their users. They can find a cloud kitchen online via a mobile app or website. A cloud kitchen has different business models and is also known as a virtual kitchen, a ghost kitchen, or a dark kitchen.
Cloud Kitchen generally operates via a commercial kitchen space to quickly deliver bulk food orders. They don't offer dine-ins but offer home deliveries and takeaways. Cloud Kitchens are affordable to start and operate and allow opportunities for experiments. 
How does a Cloud Kitchen Operate?
Receive & Accept Orders
Cloud Kitchen receives orders online via a website or a mobile app. Users can find the cloud kitchen online and explore the online menu. The menu displays prices and high-quality food images to help users to place orders confidently. They can pay online via the mobile app to place orders.
Food Order Preparation
Once the user pays and places an order, the cloud kitchen receives the order and starts preparing for the order. If your cloud kitchen has a POS and a Kitchen display system, it is easier to manage food orders accurately and efficiently.
When the chefs receive the orders directly to the kitchen, they can immediately start preparing the food order without errors or delay. In order to speed up the process even further, it is recommended to only use high quality cooking facilities, like those you can buy at nella norfinch, so you know the quality of food being produced is at a very high level.
Packaging Food
The next step is food packaging which is the most crucial aspect of a cloud kitchen business. Make sure the packaging is spill-proof and leak-proof. Proper packaging in containers will help maintain your cloud kitchen business reputation. Biodegradable packaging is also an option for an environment-friendly approach.
Food Delivery
The final step is to deliver the food order on time. Cloud kitchen business owners can either start their own delivery service or integrate with a third-party food delivery aggregator.
Technology Stack Required For Your Cloud Kitchen
1. Online Ordering System
An online food ordering system is a must-have for your cloud kitchen business. Food business owners who still need to integrate an online food ordering system into their businesses are lagging.
60% of U.S. customers order food online from a restaurant weekly.
59% of millennials spend more on off-site dining.
Cloud Kitchen operates on an online food ordering system as they do not offer a dine-in facility. So, having an online food ordering system is a prerequisite for cloud kitchens. Users can place orders or interact with a cloud kitchen via an online ordering system. Owners can integrate the ordering system into their websites or mobile apps.
You can develop a website for your cloud kitchen business to enable users to find your cloud kitchen and read all the details. You can add all the information on the website your customers need. In addition, they can upload high-definition pictures of the food dishes they offer to lure customers into placing orders.
A user-friendly mobile application will allow users to locate their cloud kitchen online and place orders. They can check the digital menu, check and compare prices, place orders, and pay online.
2. Cloud Kitchen Point Of Sale (POS) System
You receive orders from different channels and customers as a food business owner. While managing orders manually, there are high chances of errors or missing an order. Thus, a solution to this can be the automation of order collection and management.
A Point-Of-Sale (POS) system collects orders from different customers and channels and sends them directly to the kitchen. Users can place orders via the POS system and avoid long queues. At the same time, cloud kitchen owners can streamline operations and make quick deliveries.
Let us look at the benefits of the POS system for your cloud kitchen business:
Food business owners can efficiently manage the inventory on the POS system. A good POS system allows cloud kitchen owners to track their food orders, sales, and stock.
Improves Efficiency & Accuracy
Cloud kitchen business owners can automate many tasks via POS systems. For instance, receiving and managing orders, updating the prices of the dishes, managing stock and keeping track of customer data. Thus, they can run their cloud kitchen business efficiently with no errors.
It is easier to manage the data of your cloud kitchen business employees on POS. You can manage their data, track the sales and deliveries made by each employee, and reward them. In addition, it becomes easier to edit or update employee details via the POS system.
3.Kitchen Display System (KDS)
In the current competitive era, it is a must for food business owners to make quick deliveries. A Kitchen display system can help cloud kitchen business owners quickly prepare and deliver food orders.
With Kitchen display systems, chefs receive the orders directly to the kitchen on the screens. Thus, they don't need to wait for a staff member to come to the kitchen and share the order details. In addition, all the details of the food order are in front of their eyes on the big screen, so it is easier for them to refer again. Any special instructions from customers are also present on order, for example, less spicy, extra mayonnaise, etc.
Thus, it is easier for chefs to streamline food order preparations and completion, maximize efficiency, and optimize preparation time and delivery.
4.Food Delivery Support
For delivering food orders, you need the support of a third-party delivery app. You can integrate with food delivery apps like Zomato, Uber Eats, and Swiggy to make quick and timely deliveries. The third-party food delivery apps will charge you a commission for each delivery.
However, these apps provide an online presence for your cloud kitchen business enabling customers to explore the variety of services you offer. You can also sign up for sponsored ads on a pay-per-click basis.
Conclusion
Digitalization is the key to keeping pace with the evolving market trends and customer demands. Thus, you must choose the right technology for your cloud kitchen business.
The food industry is showing more interest in Cloud kitchens because of the flexibility and affordability of their operations. Food business owners can open and run multiple cloud kitchens and restaurants under their brand.
In addition, cloud kitchen allows them to experiment with menus and cuisines at lower risks as managing cloud kitchen is quite affordable. Especially startups on a limited budget can start their online food delivery business via cloud kitchens.