PDF is one of the most favored and extensively used file formats by students, professionals and companies. PDFs can contain links and buttons, form fields, audio, video, and business logic. They can also be signed electronically and are easily viewed using free Acrobat Reader DC software.
With so many uses and security it's the best choice for businesses to exchanges documents and reports to their clients. One of the best things for all of us is that we can read a pdf directly in our browser.
But the fun thing in the pdf world ends here as by default you can't edit a pdf file. Editing a PDF file can be daunting task isn't it. Often times, it can be hard to properly select a tool. When talking about programs for PDF management the reality is far from perfect. Tools such as PDF editors and converters are usually either too expensive or not doing a good job in the first place.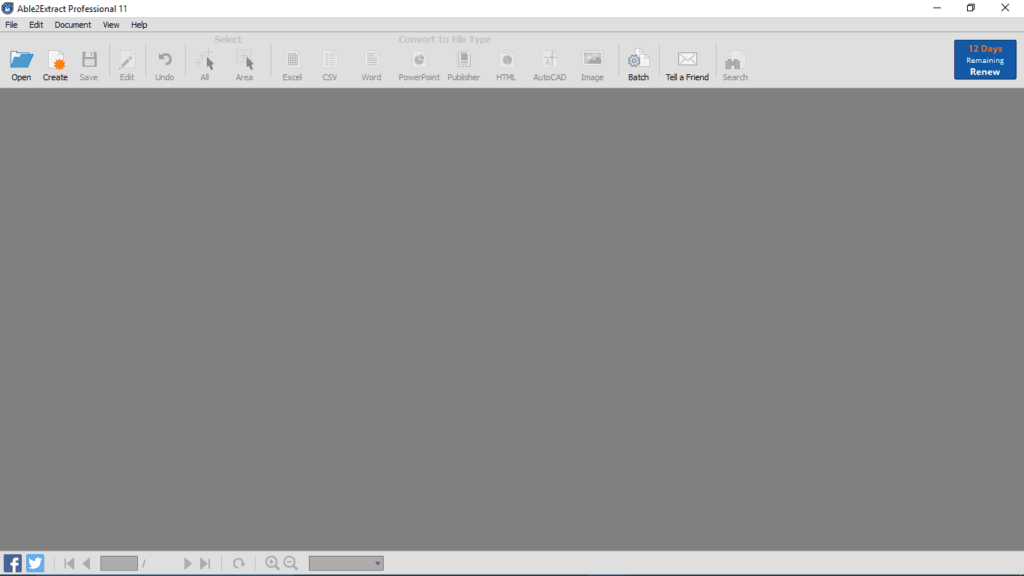 Well I have an exclusive tool for you, which help you to edit and extract your PDF files with ease.  I will elaborate everything about this awesome tool.
Able2Extract is one of the best PDF editing and extractor tools. It will help you edit, extract, merge and convert your files to PDF or any other file format. This is a power packed tool to editing your documents.
With This tool you are able to do:
Create and Edit your PDF.
Convert your PDF to Word.
Convert your PDF to Excel.
Convert OCR to PDF.
Convert PDF to AutoCAD.
Extract and Merge your PDF.
Apart from any other PDF editing tool, Able2Extract comes with a lot of pro features under a single platform.  Its comprehensive and intuitive control panel helps you to edit and manage your documents hassle free.
What you Will able to do With Able2Extract?
Here are some of the key features that you might not get with other PDF editing tools. Able2Extract simplified your PDF editing work with these world-class features.
PDF Editing
The PDF editing features are tight-knit and are accessible from the editing panel on the right. Open your PDF in Able2Extract, Click on the "Edit" icon in the top menu bar. With easy to use WYSIWYG editor you can: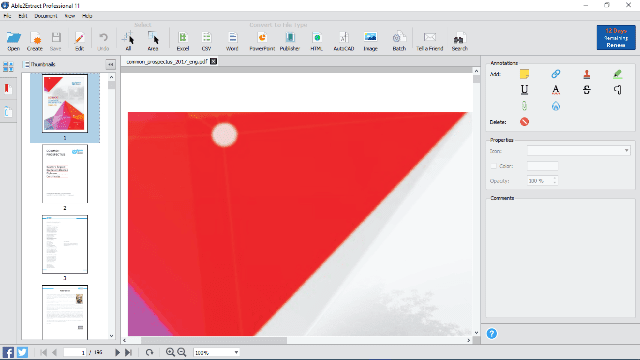 Add or Delete Text: – Add text lines or remove text blocks. The software detects your font so you will not spend any time searching for the right one.
Rotate and resize pages: – You can move and resize any page directly within your PDF content.
Extract and Merge: – Extract any individual page or merge different PDF pages into one document.
PDF merging and splitting: – This feature is especially useful for accountants who need to compile several PDF invoices into one larger document, or extract individual PDFs from one bigger report.
PDF Creation
Now let's talk about its extremely intuitive PDF creation feature. To do that, you need to open any supported file from either right-clicking on the supported file and selecting "Open in Able2Extract 11" or directly click "create" menu from Able2Extract 11 interface. With it PDF creation tool you can: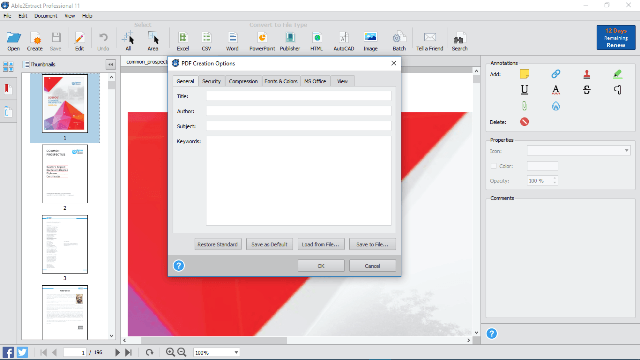 Add Images to PDF: – You can add images directly to you PDF with supported image formats like bmp, jpg, jpeg, png, gif, tif and tiff.
Other than that you can add shapes and charts to your PDF file, resize texts and shapes, fill them with colour, outline or rotate according your requirements. Besides these features, Able2Extract allows for advanced file compression by setting up resolution and quality for each of the PDF components.
You can now gets better control over how the PDFs can be viewed, and lock them using passwords. The Built-in encryption & decryption technology improvise the security and allows users to set permission for access at multiple levels.
PDF Conversion
Besides creating and editing PDF file, you can convert and create a PDF document. Here is where Able2Extract will really amaze you.
The tool can literally convert any PDF (no matter what the size or number of pages) to up to 12 different file formats including Word, Excel, PowerPoint, AutoCAD, Image and OpenOffice formats with just one click of a button. Conversions are quick and accurate, leaving you satisfied with your final product.
Price
You can download Able2Extract 11 Pro for 7 days free trial or buy a full lifetime license for $149.95. Bulk license pack is also available to buy.
Conclusion
If you are looking for powerful multi-utility app to deal with PDF files on day-to-day basis, than Able2Extract11 is one of the most affordable PDF solutions currently available. This complete suite of PDF editing tools, annotation, redaction, OCR & security features makes it one of the most feature rich PDF editors ever created! The software supports Windows, Mac, and Linux operating systems