The use of internet and online services are increasing day by day around the world. We need them everywhere, whether we are in the workplace or at home. In order to use them, we need to create an account and with so many websites and services, it's hard to memorize all passwords. One solution can be one password for every website, Right? Wrong, With the increasing number of hacking and incidents of identity theft it is recommended by experts to use a complex and unique password for each of your accounts. So to overcome this problem we need a robust password management software like Cyclonis Password Manager.
About the Software
Cyclonis Password Manager is developed by Cyclonis Ltd. which is an Irish company headquartered in Dublin. It is a free, easy-to-use solution to one of the biggest problems modern computer users face – handling tens (or even hundreds) of website accounts and using unique, complex passwords for each and every one of them. It stores, encrypts and organizes usernames, passwords, and other sensitive data, and the cloud storage option lets users sync their information across multiple devices.
Software Features
Sophisticated Password Analyzer: – The Software comes with a sophisticated Password Analyzer which uses a complex algorithm to determine the strength of each individual password and then takes several more factors into account before estimating the user's Total Strength Score. Weak, old, reused, and potentially compromised passwords are immediately brought to the user's attention, and with the help of Cyclonis Password Manager's lightweight yet powerful password generator, the Total Strength Score can be improved with as little as a few clicks.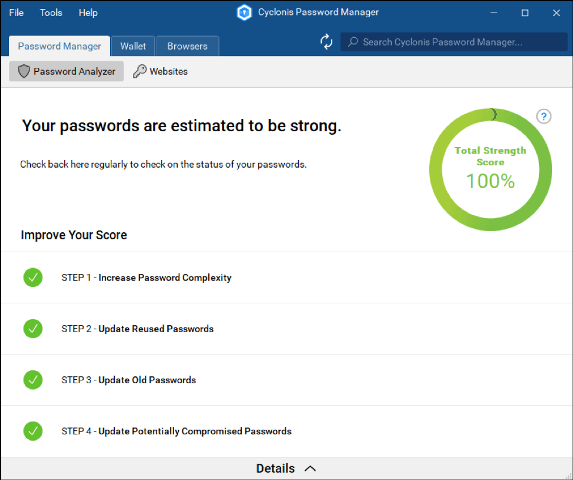 Password Manager Wallet: – The Cyclonis Password Manager Wallet is designed to let user store their personal and payment information in their vault as well. The data that can be saved in the Cyclonis Password Manager Wallet is similar to the data found in a real wallet – banking card details, phone numbers, emails, ID documents. The difference is, the information saved in the Cyclonis Password Manager Wallet is encrypted with the same AES-256 encryption algorithm.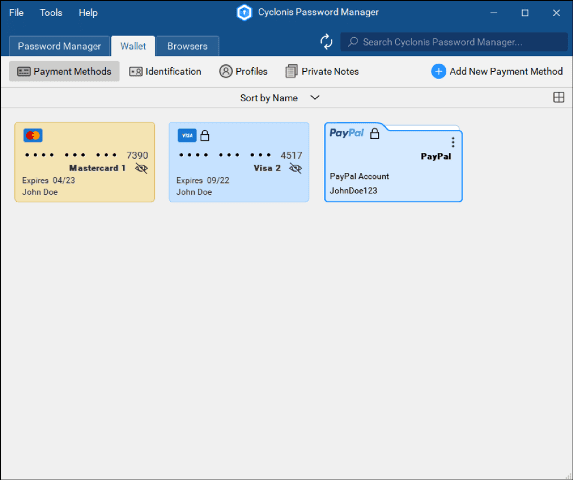 Seamless Browser Integration: – Software comes with powerful browser extensions for Google Chrome, Mozilla Firefox, Safari, Microsoft Edge, and Opera that works alongside the desktop application, and it's designed to simplify the process of logging in and creating new website accounts. With the auto-login feature, logging in can be completely automated, and the auto-fill functionality speeds up the process of filling in registration forms and checkout pages.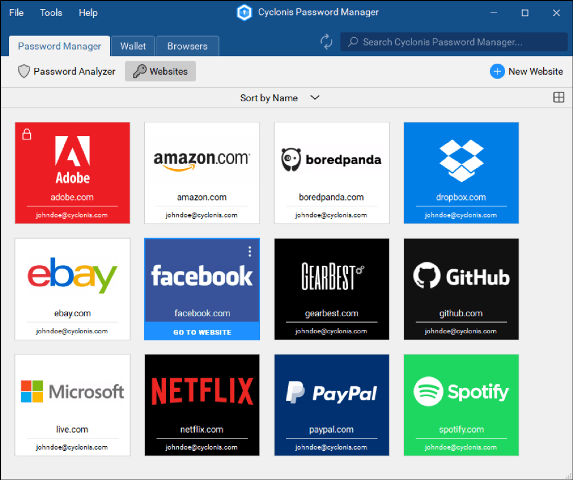 Powerful Vault: – You can create your personal vault where you can store all your data. The software then encrypts all the data which you can store in your local storage or in order to sync your data between several devices, you can choose the cloud option. You can choose different cloud storage providers like Google Drive, Dropbox, iCloud, or OneDrive. The Master password is the only thing which can decrypt your vault.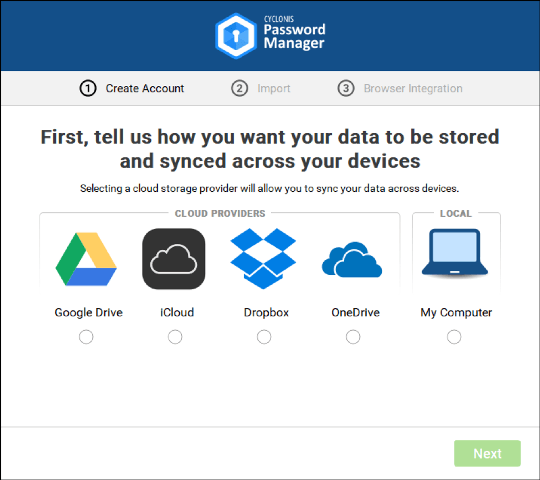 Two-factor authentication: – This system requires an additional offline code along with the master password, so even if your password gets compromised, other passwords remain safe.
Import and Export Your Passwords: – The software has built-in import and export features to easily transfer your online credentials. After account activation is complete, Cyclonis Password Manager can check your browsers for stored website accounts. You can then import them automatically. You can also import data from another password manager if you like.
System Requirements
Operating System Requirements:
Windows 7 SP1 or newer, Mac OS 10.11 or newer
Brower Requirements:
Chrome 46 or newer, Firefox 48 or newer, Safari 7.1 or newer, Opera 22 or newer, IE 14 or newer
Conclusion
Among a lot other password managers, the Cyclonis Password Manager stands out with its  extra premium level security features. Unlike other similar software company which limits the usage of their free software in order to sell their premium version, you will not have to worry with Cyclonis Password Manager as it has free 30 days Trial version (No Credit Card required). Other than remembering all passwords you have to memorize just one password which will unlock your all passwords. So In our opinion, it is the best password manager which has low subscription price of $3/Month.
Download the Software using the below links:-
Windows Version: – https://www.cyclonis.com/downloader/password-manager/windows
Mac Version: – https://www.cyclonis.com/downloader/password-manager/mac