Do you need a cleaner app?
Well, Cleaner for Android should be your pick!
This powerful app comes loaded with tons of useful cleaning, optimization and security features to keep your device in good health. Let's review Cleaner for Android here.
Highlights of the App
Use Cleaner for Android to clean, secure and optimize your phone.
You can use this powerful app to organize all files and applications on your phone.
Working on smart algorithms, it helps you protect your data and device from cyber threats.
Its innovative Game Speedup feature optimizes your phone's resources for seamless performance.
How does it work?
Install Cleaner for Android and launch it on your device.
From the very first page of the app, you can upgrade to its premium version for some additional features. If you want, you can still continue to free version of the app to explore lot of cleaning and optimization functionalities.
Allow requested permissions.
Now on the home page of the app, you will find overall resource usage including RAM and storage usage.
To instantly speed up your device performance and clean RAM storage, click on Tap to Boost button.
Features of Cleaner for Android
On page of the app, it will display all important features offered to you. These features include: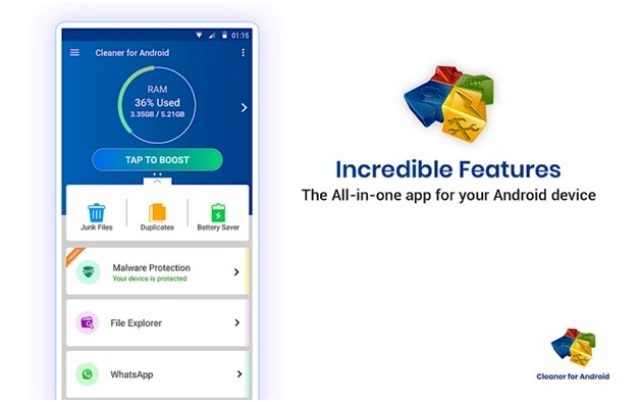 Junk Files
This feature of the app helps you clean all junk from your device including app cache, temp files, APK files, unused folders, and obsolete large files. To get rid of all this junk, simply click on Clean Now button.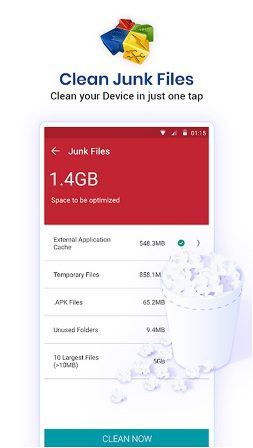 Duplicates
Cleaner for Android also works as an effective duplicate finder tool. Under this feature, app will deep scan your device storage to find and clean all duplicate files. Once it will complete scanning your device storage, you can click on Delete Now button to get rid of all identical files on your device. Alternatively, it also allows you to back up all these files on cloud servers. To do this, click on Backup Now button.
Battery Saver
This feature of the app helps you optimize your device battery. To use this functionality of the app, it will ask you to modify your system settings. Now that you have allows it, the app will display you different services on your device that are consuming battery juice. To instantly optimize your battery, click on "Turn Battery Saver On".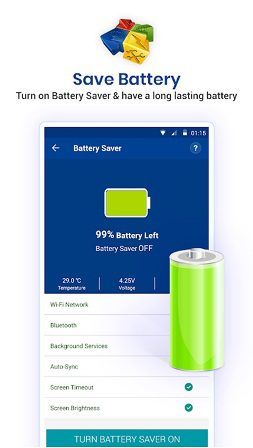 Malware Protection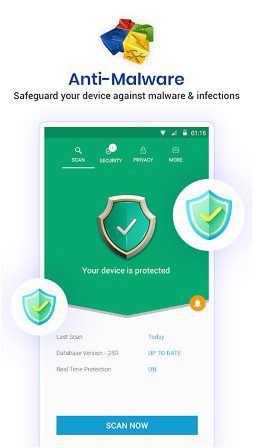 This is another powerful feature of the app that helps you keep your data security and privacy intact. Here, you will find four different features of the app including:
Scan option to scan your device storage to find and clean threats that could cause privacy breach issues. Click on Privacy Checkup button to see all these threats.
Security option of the app allows you to make changes in device setting to manage installations from unknown sources. It also allows you to enable developer mode from here.
Privacy feature of the app allows you to view all permissions acquired by different apps. Here, you can manage or remove these permissions effortlessly.
Under More Options, you will find additional features including scan options, view scan logs, whitelist apps, and share the app. You can also click on About button to know more about the app.
File Explorer
File explorer feature of the app allows you to manage all files on your device. Here, you can view all files in different folders and easily manage them.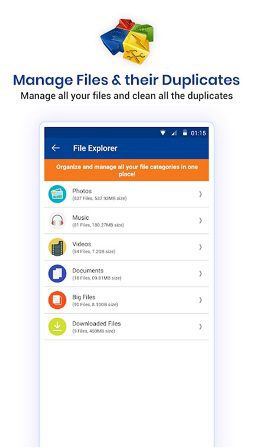 WhatsApp
Use this feature of the app to manage WhatsApp media on your device. It includes managing photos, videos and other media files received through WhatsApp.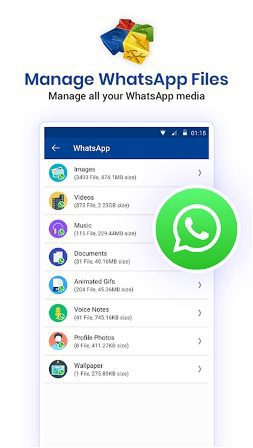 Hibernate Apps
To access this feature, you need to grant certain permissions to the app. Once done, it will show you installed apps on your device including system and user apps. Now you can hibernate any of these apps using this feature. Using this feature, you can optimize your device for better performance.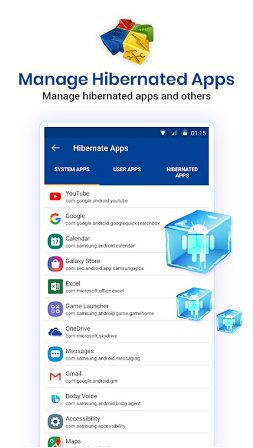 Game Speedup
Here, app will ask you to add your favorite apps into the game speed up list. Now whenever you will play these games, the app will optimize your device resources to offer you seamless gaming experience. Here, app fetches all your installed games on device, but you can also choose to add games manually.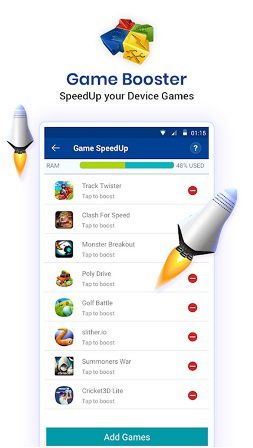 App Manager
App Manager helps you view and manage all apps on your Android device. It allows you to archive these apps or uninstall them if needed.
Settings
Under Settings, you will find below options:
It allows you to turn on or off the app notifications.
It allows you to set auto cleaning hours. You can also turn on or off this feature.
It offers Ignore List option which could be used to exclude scanning of selected app.
It offers multiple language options to select from.
The Verdict of the App
If you have plans to clean, optimize and secure your device, then Cleaner for Android should be your choice. This powerful Android cleaner app offers tons of useful features to keep your device in good health. Try this advanced Android cleaning app to experience seamless user experience.