Speak to DVD ripper, it is of sure that most of users are familiar with DVDFab DVD Ripper. It's one of the top ranked DVD ripper or even the best choice in many users' eyes. Its reputation is closely glued to its years of DVD decryption and ripping technology development, strict attitude, sophisticated technologies, good after-sale service and reliability.
First of all, when we consider purchasing a DVD ripper, we prefer a powerful DVD decrypter in addition to a professional DVD ripper, cause you know, if there is a choice to help us save money while saving much effort, then why not? Anyway, a decrypter is not cheap then, especially a good decrypter. DVDFab DVD Ripper just kills two birds with one stone. It can easily strip all DVD off all kinds of protections embedded in just the seconds of source loading process, and never fail. Besides the protections, it can also remove the region code restriction to help you play any DVD on any player or device produced in different countries.
We all know, a DVD ripper is actually a DVD copier and converter, which copies the original content from the source DVD, and then convert it to a hard drive, video format, audio format or a device in support of video playback. DVDFab has a rich profile library, which can easily rip any DVD to any video or audio format, or device in support of video playback. With it, you can rip DVD to not only video formats like MKV, WMV, FLV, AVI, VOB, etc, audio formats like AC3, WMA, MP3, AudioCopy, etc, but also to mobile or portable devices like smart phones, tablets, game consoles, TV boxes, 3D devices, etc. In addition, you can change DVD to the lifelike 3D video to enjoy the supreme video experience that just like in the theater, while enjoying the professional 3D effects like SBS 3D, Top/Button 3D, anaglyph 3D, with many options provided.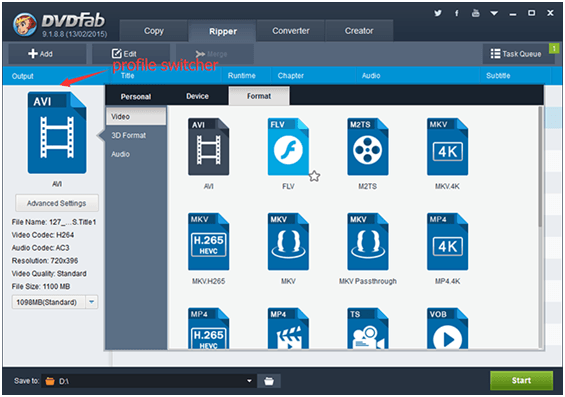 To crown it all, you can totally determine what will output, and how would the output video look like. You can select the titles, audio tracks and subtitles from the embedded items recognized by DVDFab you want to save. You can set all the video and audio parameters with regard to the output video with Sothink's Advanced Settings. And you can even edit and brand the output video with your marks and to make it more suitable for your need thanks to the built-in video editor, like trimming any parts you need only off the original DVD, cropping the display area with the provided ratio including 4:3, 16:9, 2.35:1, 2.39:1, or customizing it with any ratio you like, and area you need. You can rotate the display area with 90°clockwise or counterclockwise, add external subtitles if the default ones are not enough for you, add a picture as a logo or add some words to mark it. And you can also adjust the output video effect like brightness, contrast, saturation, etc.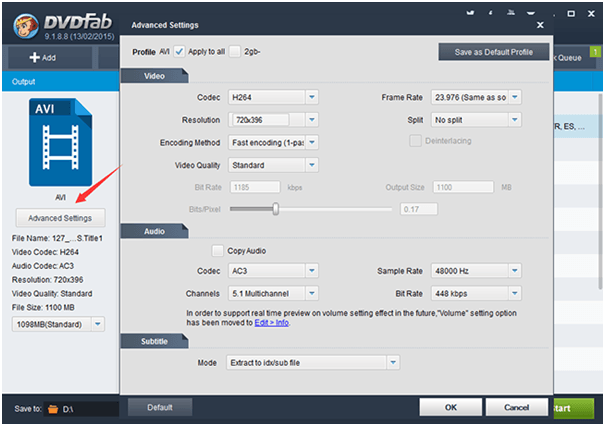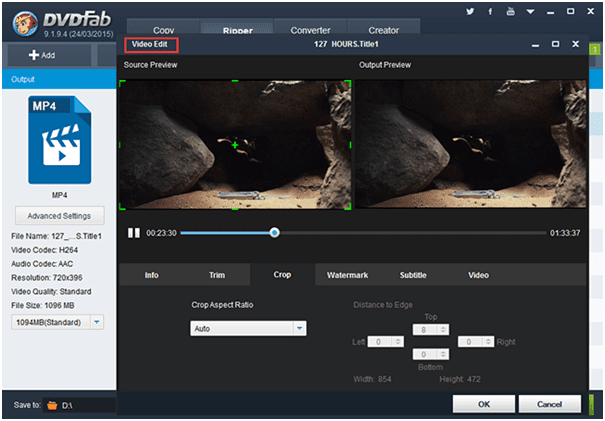 Without all these specific customizations, DVDFab is a super easy-to-use DVD ripper, the whole process is just as simple as: load the source -> choose one profile -> click the Start button to rip DVD. However, no matter how much you edit and customize the output video, the ripping speed is ensured. Usually, to rip DVD to a normal format, you just need several minutes to 10 minutes according to the tests. And that's not for sure, you know, different PC has different specs, and performs differently. The original source size and writing speed of the write media also have a big impact on the processing time.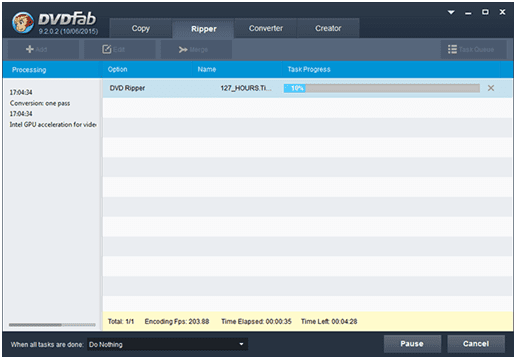 It's a common knowledge that ripping may result in certain quality loss to some extent. However, when checking the output video, I still hard to find the distinct difference between the source and result with my eyes. DVDFab has kept the original quality maximally.
Anything you are not sure about during the using process can be well solved from DVDFab's customer service. It's highly effective and considerate. So, choosing DVDFab for me means choose safety, ease, reliability, and high-end.
Author Bio: Ailsa Pimenova is a professional software reviewer, keen to share the great video tools, also pay close attention to the newest developments in audio & video software.