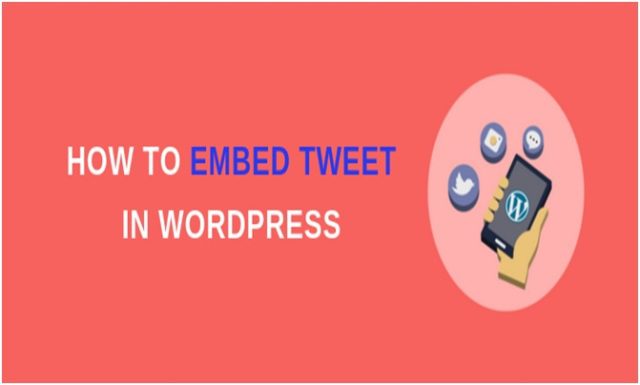 Twitter is among the largest most popular social media networks in the world with many individuals, companies, and celebrities using it. Twitter messages are usually short but carry a lot of weight in terms of information if you look at them carefully. For this reason, many websites and WordPress Blogs have used tweets to develop their content ideas, some even use them on their headlines.
Tweets are selling points in blogs and websites, depending on where are whom it's coming from. If you are running a WordPress blog, it's important to embed real tweets into your content to make it interesting. Fortunately, there are many ways to incorporate Twitter in WordPress one of them is using the Twitter widget. In this article, we are going to show you how you can embed actual tweets into your WordPress website.
Benefits of Embedding Tweets in WordPress
Embedding Tweets in your WordPress makes it easier for you to quote tweets inside your posts
Using real tweets inside your post makes it more engaging and interesting
This also shows that you are updated with current events and also acts as social proof
Using quotes from Twitter make them look more authentic
The authenticity of your tweets makes your readers interested in the conversation
Tweets are also used as sources of information
Embedding actual tweets make your blog authoritative
How to Embed Tweets in WordPress
WordPress is the most popular and flexible CMS. One of the reasons why many web owners are building their sites on this platform is how it makes it easy to embed third-party services in your blog posts and website pages. Users can easily embed Tweets, Facebook updates, YouTube videos, and many more items in their blogs. Embedding other services into a WordPress website uses a method called Embed. What this method does is allow you to add the URL of a third-party website. WordPress will then ask them for embed code.
WordPress only allows white listed Embed services to be added, and Twitter is one of them. What makes it even better is how the new WordPress block editor adds more user-friendly options to embed tweets. WordPress has a built-in Twitter embed block that allows you to insert tweets in your posts and pages seamlessly. That said, let's see how you can embed tweets in a WordPress blog.
This guide will explore both the classic and Gutenberg editor. To carry out this task successfully, you don't require additional plugins or code. Since Twitter provides embed links for tweets the process is as easy as copying and pasting.
Finding the Embed Link
Finding the embed link is the first thing you need to do. This is pretty simple since every tweet has a link you can use. Head over to Twitter and find the tweet you wish to embed. You will notice a downward arrow on the top right-hand side of the tweet. Select the Embed Tweet option after you've clicked on it. You will see a pop-up window highlighting the embed link. There is a preview showing how the tweet will look once you've embedded it in your WordPress website. Copy the embed link. Once you have copied the embed link, go back to your WordPress blog and paste it.
Embedding Tweets in Gutenberg
If you are using Gutenberg editor, just paste the copied link in the appropriate block. You can do it directly inside the page or post editor. Create a new post or page or open an existing one and click on the "Add Block" button.
In the search bar, type Twitter and select the Twitter block. Paste the copied Twitter URL into the block and click on the "Embed" button. The actual Tweet will be placed by WordPress into the editor. While doing this ensure that you've placed the block in the desired location and save changes. The Tweet is now visible on your WordPress blog and anyone can see it.
Embedding Tweets in the Classic Editor
If you have disabled Gutenberg editor, you can also embed tweets using the classic editor which fully supports this process. Start by creating or opening an existing post and once you are inside click on the Text editor tab. In the location where you want your tweet to appear, paste the embed link. Going back to the visual editor a portion of it will be seen. However, on the live page, it will appear as an actual tweet. You can see how the tweet looks once you are done.
Conclusion 
You have now successfully embedded a tweet in your WordPress blog. The beauty of it is that WordPress allows you to embed as many tweets as possible in any post or page. If you are going to embed a tweet, ensure that you mention your source to help you build the credibility of your claim. Leaving out your sources to back up your claim won't prove anything at the end of the day and this is not professionalism. We trust that this article was helpful to you as a WordPress Developer and you can now embed tweets in your WordPress blog. As you have seen, it is not that hard and anyone running a WordPress blog can do it. Tweets are not the only social elements that can be embedded in a WordPress site, you can also embed Facebook updates and YouTube videos in your posts.
About Author:-
Naman Modi is a Professional Blogger, SEO Expert & Guest blogger at ebuilderz.com, He is an Award-Winning Freelancer & Web Entrepreneur helping new entrepreneur's launches their first successful online business.